Best Kombucha Drinks of 2019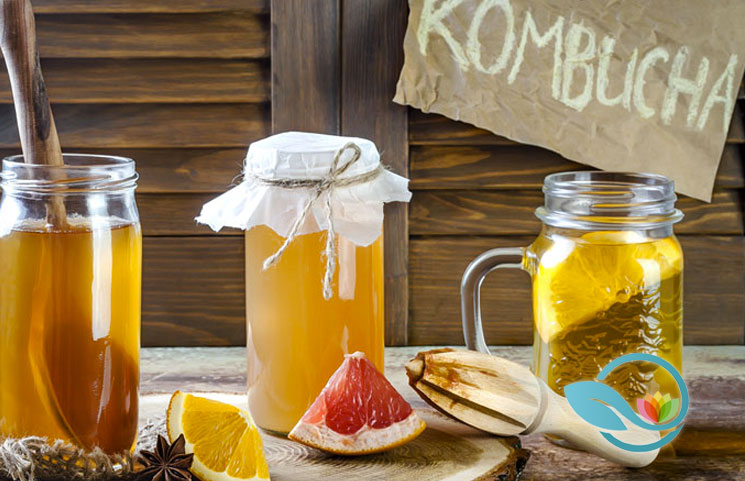 - ad -

Kombucha is one of the trendiest beverages of the last five years. Some people drink kombucha for digestive health. Others like the taste and find it easy to drink kombucha all day long.
As kombucha has skyrocketed in popularity, the number of kombucha products has also risen. Today, there are more kombucha beverages available from major retailers like Amazon and Walmart than ever before.
Which kombucha tastes the best? Which kombucha comes with the most natural ingredients? Which kombucha provides the best combination of value and quality?
Best Kombucha of 2019
Discover our rankings of the best kombucha you can buy today.
GT's Kombucha
GT's Living Foods offers a range of kombucha beverages, kefir, and similar products. The Los Angeles-based company claims to create "living food for the living body". GT's kombucha and kefir deliver live, active cultures to your digestive tract, helping your body maintain normal digestive health. The company's founder, "GT Dave", has been crafting kombucha since 1995 – long before it went mainstream.
You can find GT's kombucha beverages online at Amazon or at stores throughout the United States and Canada. It's one of the bestselling and most recognizable kombucha beverages in North America. The company also claims to manufacture its kombucha in authentic, handmade batches to this day.
GT's offers two core kombucha products, including Kombucha Organic & Raw and Synergy Organic Kombucha. Each bottle delivers billions of probiotics across multiple strains. There are typically between 25 and 50 calories per serving and 5 to 15g of sugar. It's also available in a range of natural flavors. The popular "Trilogy" flavor is flavored with raspberry juice, lemon juice, and fresh pressed ginger juice.
Brew Dr. Kombucha
If you want to maximize probiotic bacteria and minimize sugar, then Brew Dr. Kombucha is one of the best options available today. The beverage is USDA Organic Certified and made from organic cane sugar. It's also non-GMO and 100% raw.
Brew Dr. Kombucha is made by Townshend's Tea Company. The company's popular "Herbal Uplift" kombucha flavor (sold on Amazon for around $6 per bottle), contains filtered water, organic sencha green tea, organic cane sugar, organic yerba mate, organic peppermint, organic nettle, organic alfalfa, organic lemon balm, and live probiotic culture.
Brew Dr. Kombucha certainly isn't the cheapest kombucha on the market. However, if you're willing to pay a premium for high-quality, USDA Organic Certified ingredients, then Brew Dr. Kombucha may be the right choice for you.
Tealixer Herbal Kombucha Dr. Marigold
At first glance, Tealixer Herbal Kombucha might look more like craft beer than kombucha. A 12 pack is sold on Amazon for around $36. The kombucha is packed into convenient 12 fl. oz. cans – like a normal-sized beer or soda.
Tealixer is generally praised for its taste, although it also contains higher sugar content than many other kombuchas on this list. each 12 oz. can contains 9g of total sugars (0g of added sugars).
One of the benefits of Tealixer's kombucha is that it contains more than just kombucha: it's an "elixir" containing "restorative herbs" like dandelion, echinacea, meadowsweet, and hawthorn. Tealixer even takes this a step further by infusing the herbs with natural flavors like mango, marigold, rose hips, orange peel, and Ceylon tea. The end result is a fruity, floral flavor that's nutritious and delicious.
Wonder Drink Kombucha
Wonder Drink Kombucha is one of the more affordable kombucha beverages on this list, priced at around $35 to $40 for a 24 pack of 8.4 oz cans. There are six flavors available, including Asian Pear and Ginger, Cherry, and Grape, among others.
Key ingredients include filtered water, organic cane sugar, organic brewed black tea, organic brewed oolong tear, and pear flavor along with live bacterial cultures. Many people enjoy the taste of Wonder Drink Kombucha. However, that strong taste also comes at a cost: there are 15 g of sugar in each 250mL (8.4 oz) can, making this one of the more sugary options on this list.
B-tea Kombucha Raw & Organic
B-tea Kombucha Raw & Organic certainly isn't for everyone. The beverage is heavily fermented, which gives it a sharper alcohol taste than most other supplements on this list. Some people like it. Others don't.
One thing we particularly appreciate about B-tea, however, is the lower sugar content. Because of the longer fermentation process, there's less sugar in the finished product. Each 16 oz bottle contains just 4g of sugar, making this one of the lowest-sugar kombucha supplements on this list. Each bottle also contains a rich blend of probiotics with less than 80 calories.
B-tea comes in three different flavors. You can order one flavor or a variety pack. All options are very affordable: a pack of 6 x 16 oz bottles is priced at around $25 whether buying a variety pack or a single flavor. If you don't mind the strong flavor and want to limit sugar content without breaking the bank, then B-tea's kombucha is one of the best options.
Latta Kombucha
Latta Kombucha is another USDA Organic Certified kombucha beverage sold on Amazon at a price of $20 for six bottles, making it one of the more affordable kombucha supplements on this list ($3.33 for each 16oz bottle).
Like other kombucha beverages, Latta Kombucha contains high levels of powerful probiotics. It's available in three flavors, including green tea, lemon balm, or original (which is a combination of black and Darjeeling teas).
One of the things we appreciate about Latta Kombucha is that each bottle contains only two grams of sugar, which is great for those seeking to limit their sugar content while still enjoying kombucha. The main issue, of course, is that some people find the taste of Latta Kombucha to be unpleasant. It's been described as "like vinegar". (Note: check the label of Latta Kombucha before you buy; although the online descriptions say 2g of sugar in each 8 oz bottle, some people say their bottle listed 9g of sugar in each 8 oz bottle, which is a significant difference).
Latta Kombucha is imported from the Pilsner Region of Czech Republic. However, there are no preservatives.
Yogi Green Tea Kombucha
Yogi Green Tea Kombucha is unlike other kombucha supplements on this list: it comes in teabags instead of a liquid beverage. Yogi makes a handful of different green tea flavors, including a super antioxidant variety and a kombucha flavor. A package containing 96 kombucha teabags is priced at around $40 to $55 on Amazon.
Each teabag contains a proprietary blend of teas, herbs, and kombucha in a proprietary formula. The formula includes 1820mg of organic green tea leaf, organic lemongrass, organic spearmint leaf, and organic kombucha. Organic passion fruit flavor and organic plum flavor have been added for flavor. The ingredients are all USDA Organic Certified and non-GMO.
It's unclear how many probiotics make it through the brewing process. Yogi emphasizes the high antioxidant levels in their tea more than the high probiotic content. However, if you don't mind brewing your own kombucha and want to limit sugar intake, then Yogi's Green Tea Kombucha is a popular and affordable option.
Get Kombucha Kombucha Pro
Just like the Yogi Green Tea Kombucha formula above, this product uses a unique kombucha delivery method compared to every other supplement on this list. It comes in the form of a dropper bottle: you add a few drops to the beverage of your choice to get living probiotic cultures.
Get Kombucha offers a range of different varieties, including the highly-concentrated "Kombucha Extract' option along with the Liver Cleanse, Kidney Cleanse, Heart Health, and Kombucha Pro varieties. Each bottle (which is good for about a two month supply) is priced at around $20 from Amazon.
Overall, Get Kombucha's Kombucha Pro tea is ideal for those who want the health boosting benefits of kombucha tea without relying on bulky bottles or unpleasant taste. For those who want to sip on kombucha throughout the day, however, this may not be ideal.
KÖE Organic Kombucha
KÖE Organic Kombucha is available in 12 packs from Amazon in multiple creative flavors, including raspberry lemon, mango, and raspberry dragonfruit. The 12 oz cans are priced at around $30 to $40 for a 12 pack, which is about average compared to other kombucha beverages on this list.
While many people appreciate KÖE Organic Kombucha for its easy-drinking taste, the kombucha also contains more sugar than most other beverages on this list. There's a total of 20g of sugar in each 12 oz can, making this one of the most sugar-rich beverages available today.
KÖE also uses more unique ingredients than other kombucha supplements. In addition to kombucha and sparkling water, for example, the beverage contains ginger, raspberry, citric acid, green tea extract, and green coffee bean extract. All ingredients are USDA Organic Certified.
Theory of Kombucha Gut Health Powdered Drink Mix
Most of the kombucha beverages on this list come in the form of a liquid. Theory of Kombucha, however, makes a popular powdered kombucha beverage that may be the right choice for certain people. Each package contains twelve drink packets for about $20. The drink packets contain lemon, ginger, and 2 billion CFUs of probiotics.
Other listed ingredients include a prebiotic blend, ginger, apple cider vinegar, a tea blend, and stevia leaf extract. Because Theory of Kombucha uses stevia instead of sugar, this is a zero sugar product. Don't like the taste of vinegar you get with other kombucha products? You may like Theory of Kombucha: there's no vinegar taste. Plus, the convenient packages can be taken on-the-go and poured into any bottle of water for an easy dose of kombucha anywhere.
Health-Ade Kombucha
This is another mainstream kombucha beverage that can be found on store shelves across the United States. Health-Ade's kombucha is priced at around $50 for a 12-pack of 16 oz bottles, making it slightly more expensive than the average bottle of kombucha on this list. Each bottle contains 14g of sugar and 80 calories.
Key ingredients include filtered water, kombucha culture, organic black and green tea, organic evaporated cane juice sugar, and cold-pressed organic pomegranate juice. That's it. It's a no-nonsense kombucha beverage with a small range of high-quality ingredients.
Because Health-Ade doesn't contain preservatives, delivery range can be limited. Amazon may only ship Health-Ade to customers in southern California, for example. You may be able to find it from other retailers, however.
Captain Kombucha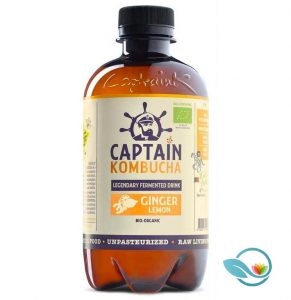 Captain Kombucha describes itself as a "legendary bubbly drink". The beverage is available in six different flavors, including Original, Ginger, Coconut Summer Beach, Cayenne Pepper, Pineapple Peach Splash, and California Raspberry. You can buy a variety box containing all of the flavors on Amazon.
One of the drawbacks of Captain Kombucha is that it nearly has the same sugar content as a bottle of soda: there are 24g of total sugars in each bottle of kombucha. Many reviewers have also complained about the short expiry dates, claiming that their entire case of kombucha was set to expire within 5 to 14 days of receiving it.
Plus, despite the high sugar content, some don't even like the taste of Captain Kombucha, describing it as "fermented and fuzzy". Nevertheless, Captain Kombucha is still a relatively popular kombucha product on Amazon.
Our Rankings
Kombucha beverages vary widely based on a number of major factors. Our editorial team combed through reviews, independent analysis, and scientific studies to compile the rankings above. Here are some of the factors we took into account with our kombucha rankings:
Ingredients:
Some kombuchas contain just two or three ingredients. Others contain a dozen ingredients. We emphasized kombuchas with a smaller range of proven, natural ingredients over those with unnecessary additives.
Probiotic Content:
Many people take kombucha for gut health. We emphasized kombucha with a strong dose of live probiotic cultures (some even contained prebiotic cultures).
Label Transparency:
Some kombuchas package everything into a proprietary formula. Others clearly label the dose and name of every ingredient. We preferred kombuchas with transparent, clear labels.
Organic Certification:
Whether certified by USDA or QAI, we focused specifically on kombuchas with organic certification. Generally, most kombuchas are organic certified by either USDA or QAI.
Sugar Content:
Some of the kombuchas above had just 2g to 4g of sugar per serving. Others had as much as 25g of sugar per serving, making them similar to a soda. We emphasized kombucha with low sugar content, although we also featured a range of kombuchas with all different levels of sugar.
Taste:
Kombucha preferences are very subjective. Some people prefer the vinegar, alcohol taste of kombucha that's gone through a long fermentation process, for example. Others prefer a sweeter kombucha with higher sugar content. We looked at reviews and performed our own taste tests to rank the kombuchas above.
Price and Value:
We understand not everybody can afford to pay $20 for a bottle of kombucha. We tried to feature a range of kombucha beverages for all budget levels. However, we still emphasized good value across all products.
Advertised Health Benefits:
Some kombuchas claim to cure you of every disease and ailment. Others claim to merely support good digestive health. We were wary of kombuchas that made bold, unrealistic claims about their health benefits.
Who Should Drink Kombucha?

Today, many people drink kombucha for its digestive health benefits. Kombucha is rich with probiotics (and, in some cases, prebiotics). Probiotics are 'good' gut bacteria that help your body break down food and extract nutrients. Prebiotics, meanwhile, are ingredients like fiber that your probiotic gut bacteria feed off of. Because of the presence of both, kombucha may reduce indigestion, bloating, constipation, and other digestive issues.
Some people take foods like yogurt or kefir to get a strong daily dose of probiotics. However, these foods are dairy-based and unsuitable for those who are lactose-intolerant. Some people take kombucha as a non-dairy probiotic alternative.
Some people also take kombucha to improve their immune system. This benefit is also traced back to your gut: a significant amount of your immune system is in your gut, and your gut bacteria play a crucial role in how your body handles toxins.
Others drink kombucha for general health and wellness: they claim it makes them feel energized, for example.
Finally, some people drink kombucha just because they like it. They need a beverage that's easy-to-drink throughout the day without flooding the body with sugar, calories, or caffeine. That's why some flashy startups have kombucha on-tap in the office.
Are any of these benefits backed by science? Or is kombucha just another over-hyped beverage backed by limited scientific evidence?
Benefits of Kombucha

Kombucha is prized for its digestive health benefits. Because kombucha delivers high levels of probiotic bacteria to your body, it's been linked to a number of digestive health benefits. And, because a healthy digestive system is connected to virtually every other process in the body, better digestion is linked with a range of other health benefits.
Various studies have reinforced certain benefits of kombucha.
This study published in Comparative Clinical Pathology, for example, suggested that kombucha could boost immune system efficiency and reduce the risk of infections. In the study, researchers separated a large group of chickens into two groups. One group received kombucha extract and the other group received a control diet.
Researchers found that chickens in the kombucha group had better gastrointestinal health and better immune system resistance compared to the control group. Because of this, researchers concluded that kombucha could boost immune system activity, and they believed these benefits would extend to humans as well.
Other studies have compared kombucha with dairy-based probiotics like kefir and yogurt. One study led by researchers in India was published in Food Bioscience in 2018. The study found that kombucha delivered a high dose of probiotics and other nutrients because of its fermentation period. The dose of probiotics was similar to the dose found in products like kefir and kimchi.
Additionally, researchers in that study described a range of health benefits associated with the probiotic bacteria in kombucha. Kombucha led to lower cholesterol levels, better immune system efficiency, increased calcium absorption, better protein digestion, and improved synthesis of B vitamins like folic acid, for example.
Based on this research, kombucha is an effective probiotic substitute for the 70% of people worldwide who are lactose intolerant.
In addition to containing probiotics, kombucha contains several species of lactic-acid bacteria that have additional probiotic functions. In other words, kombucha could improve gut bacteria levels and supplement gut bacteria in multiple ways.
Many of the kombucha supplements above also prominently advertise their high levels of antioxidants. Antioxidants neutralize free radicals throughout the body, reducing inflammation and possibly preventing disease.
Beverages like green tea are prized for their high antioxidant content. However, kombucha is also increasingly being seen as an antioxidant-rich beverage. Many kombucha supplements use antioxidant-rich green or black tea, for example, to produce kombucha. Green and black tea contain antioxidants called polyphenols, and these polyphenols survive to the final product. That means kombucha may have many of the same health benefits associated with green tea – including weight loss, improved cardiovascular health, and neutralization of free radicals within the body.
Certain studies have supported the antioxidant activity of kombucha – at least in animal studies. This study published in the Journal of the Science of Food and Agriculture in 2008, for example, showed that mice given a kombucha extract could enjoy certain health benefits.
Mice were intentionally fed a high-cholesterol-inducing diet. Some mice were given a kombucha extract as part of their diet while other mice followed a control diet. Mice receiving kombucha had lower levels of cholesterol and higher levels of antioxidant activity than mice in the control group. Overall, the mice receiving kombucha were healthier than the mice receiving the control diet.
Other studies have suggested that kombucha could have a hepatoprotective effect, which means it protects the liver from damage. This study published in the International Journal of Molecular Science in 2019, for example, showed that kombucha could reduce the risk of certain types of liver diseases.
In the study, researchers observed that that kombucha tea protects hepatocytes in mice from lipid toxicity by influencing lipid metabolism, reducing the risk of non-alcoholic fatty liver disease and limiting inflammation.
Other studies have reinforced the ability of kombucha to restrict liver toxicity caused by toxic chemicals. This study published in the Journal of Microbiology and Biotechnology in 2009, for example, showed that kombucha tea could revert toxicity in the liver. Researchers exposed rats to certain toxins, then gave rats kombucha tea, black tea, or enzyme-processed tea. Researchers found that kombucha tea was "more efficient" than the other two types of tea. They believe the effect was linked to antioxidant molecules produced during kombucha fermentation.
Some people take kombucha to kill harmful bacteria in the body – like candida yeast. This study published in the Journal of Food Biochemistry in 2012, for example, showed that kombucha made from black or green tea has strong antibacterial properties and is particularly effective at targeting infection-causing bacteria and candida yeasts.
You'll notice that kombucha has a vinegar-like flavor. This flavor comes from the presence of acetic acid produced during the kombucha fermentation process. Acetic acid is also abundant in vinegar. Acetic acid has its own bacteria-killing properties: this study indicated that acetic acid can kill many potentially harmful microorganisms.
Other studies have suggested kombucha could reduce the risk of heart disease – similar to how green tea reduces the risk of heart disease. Heart disease is the world's leading cause of death.
Multiple studies on rats have shown that kombucha could significantly improve two markers of heart disease, including LDL ('bad') cholesterol and HDL ('good') cholesterol levels in as little as 30 days.
In this study published in 2012, for example, researchers found that rats with diabetes given kombucha tea experienced "curative effects", particularly in terms of liver-kidney function. Because of this effect, researchers concluded that kombucha tea "can, therefore, be considered as a potential strong candidate for future application as a functional supplement for the treatment and prevention of diabetes."
Another study published in Pharmaceutical Biology in 2015 led to a similar conclusion. Researchers found that kombucha "induced attractive curative effects on hypercholesterolemic, particularly in terms of liver-kidney function in rats". Researchers found that rats treated with kombucha experienced improvements in various markers of kidney and liver function, among other positive biological markers.
Other studies have focused specifically on diabetes and kombucha. Type two diabetes affects 300 million people worldwide. This study on diabetic rats published in 2012 showed that kombucha slowed down the digestion of carbs, reducing blood sugar levels. Like the studies listed above, kombucha also led to improved liver and kidney function.
Kombucha made from green tea, meanwhile, appears to be particularly beneficial for regulating blood sugar levels. This study reviewed 300,000 individuals with green tea and found that they had an 18% lower risk of becoming diabetic, for example. A separate study showed that green tea can naturally reduce blood sugar levels.
Finally, kombucha has been studied for its ability to target cancer cells. During some in vitro (test tube) studies, kombucha was observed preventing the growth and spread of cancerous cells. Researchers believe this effect was linked to the high concentration of tea polyphenols and antioxidants in kombucha.
Other studies on polyphenols have reinforced this effect, showing that polyphenols block gene mutation and prevent the growth of cancer cells while simultaneously promoting the death of cancer cells. Because of these effects, tea drinkers are less likely to develop various types of cancer.
One final thing to note about kombucha is that it's healthy when made properly – but can be downright dangerous when made improperly. Multiple studies – including this one published in the Journal of Intensive Care Medicine in 2009 – have shown that contaminated or over-fermented kombucha can lead to serious health problems or even death.
Some people who make their own kombucha at home also inadvertently make kombucha with high alcohol content – as much as 3% or 4%. Typically, a commercial kombucha beverage contains 0.5% alcohol or less (they are required to contain less than 0.5% alcohol by law to be considered a non-alcoholic beverage). You may be drinking brewed-at-home kombucha thinking it's alcohol-free when in reality, you're inadvertently boozing all day long.
Kombucha studies have skyrocketed in popularity in recent years. Some of the most exciting studies on kombucha's potential health benefits have only been released in 2018 and 2019. As more research comes out, we're beginning to see just how potentially powerful kombucha could be. To date, many studies have focused on rats or mice. More studies need to be done on humans to verify the health benefits of kombucha.
Side Effects of Kombucha

Generally, kombucha is well-tolerated in every major study on humans or animals. There are few reported side effects of kombucha.
The safety of kombucha only extends to commercially-made kombuchas. When brewing your own kombucha at home incorrectly, you could expose yourself to significant health risks.
A report from the CDC, for example, outlined a series of illnesses – including one fatal illness – linked to an Iowa town in 1995. The illnesses were traced back to home-brewed kombucha.
Novice brewers – or even experienced kombucha brewers – may store their kombucha at room temperature, for example, and avoid sterilizing their equipment. Others get their SCOBY or kombucha starter kits from dodgy sources.
Even storing your kombucha in a ceramic container could cause issues. The container could be coated with toxic chemicals that enter the solution, for example, because of the acidic nature of the beverage.
Another issue is with alcohol content. Because kombucha naturally ferments, it always contains some level of alcohol. By law, commercial kombucha products must have less than 0.5% alcohol to be sold as non-alcoholic beverages. Depending on the fermentation time of your home-brewed kombucha, however, alcohol content can vary considerably. Some people have tested their kombucha to find alcohol concentrations as high as 3% to 4%, for example.
This level of alcohol content can be problematic for a number of different reasons. You might be susceptible to even small amounts of alcohol, for example. Or, alcohol could interact with your medication. You might drink your kombucha all day at work, only to find you're over the legal limit when you drive home. Keep in mind that an average American light beer contains 3% to 4.2% alcohol, so certain home-brewed kombucha could be similar to light beer.
Ultimately, the side effects are limited when drinking commercial kombucha from reputable manufacturers. If you're using low-quality manufacturers or brewing kombucha at home, however, then you could expose yourself to health problems and side effects.
Recommended Dose of Kombucha

There have been few studies that have recommended specific dosages of kombucha in humans. Certain studies have indicated health benefits in rats and mice, but few studies have shown a specific dose of kombucha leads to specific health benefits.
Generally, however, typical kombucha intake is between four and 16 ounces per day. Many of the kombucha supplements above come in 8oz, 12oz, or 16oz containers, making it easy to control your dose.
Keep in mind that most kombucha contains sugar. Some kombucha beverages even contain an amount of kombucha similar to a soda (say, 25g of more per bottle). If you're controlling or monitoring sugar intake (like if you're diabetic), then make sure you check the sugar dosage on your kombucha bottle.
FAQs About Kombucha
Q: What is kombucha?
A: Kombucha is a fermented beverage typically made from sweetened green or black tea. Some people specifically call the beverage "kombucha tea" to distinguish it from kombucha bacteria or yeast.
Q: How do you make kombucha?
A: Kombucha is made by fermenting sugared tea using a SCOBY. You add green or black tea to a container with a SCOBY, and kombucha is made as the mixture naturally ferments.
Q: What is a SCOBY?
A: A SCOBY is a symbiotic culture of bacteria and yeast. It's a living microbial system sometimes called a "mother" or "mushroom". Generally, the SCOBY contains several species of bacteria, including living probiotic bacteria that could enhance gut health.
Q: Is kombucha healthy?
A: Certain studies on kombucha have suggested it could improve digestive health, immune system efficiency, and kidney or liver function. However, many of these studies have been performed on mice and rats – not humans. Multiple studies have confirmed the health benefits of green and black tea, but few largescale human studies have confirmed the health benefits of kombucha specifically. Early studies in animals, however, have been promising.
Q: Is kombucha safe?
A: Commercial kombucha is generally safe to use. However, homebrewed kombucha could contain toxins, contaminants, or high alcohol volume that could make it toxic. At least one fatality and multiple illnesses in the United States has been linked to homebrewed kombucha.
Q: Does kombucha have alcohol?
A: Commercial kombucha is required by law to contain less than 0.5% alcohol by volume to be considered a non-alcoholic beverage. However, homebrewed kombucha can have alcohol content as high as 3% or 4% (say, if you let it ferment for a long period of time).
Q: Can I buy kombucha as an alcoholic beverage?
A: Certain kombucha, alcohol, or craft beer makers have branched into the kombucha industry by making kombucha beverages with alcohol content of 5% or higher. These products are sold wherever alcoholic beverages are sold, and you need to be of legal drinking age to buy them.
Q: Where does kombucha come from? What's the history of kombucha?
A: Kombucha is a new and trendy beverage. However, it's been consumed by humans for centuries. Some suggest kombucha originated more than 2,000 years ago, while others suggest kombucha only originated within the last 200 years. We know for (almost) certain that people in east Russia drank kombucha in the early 1900, and the beverage spread across Europe from there.
Q: Where do I get a SCOBY?
A: To brew your own kombucha at home, you'll need to buy a SCOBY. You can buy a SCOBY from someone who has an existing kombucha brewing operation (the SCOBY grows and can be separated over time). Alternatively, you can buy kombucha brewing kits from Amazon and other major retailers that contain everything you need to brew your own kombucha.
Final Word on Kombucha
Kombucha is a trendy beverage that has risen in popularity in recent years. Many people drink kombucha for its purported digestive health benefits. Certain other studies have indicated other potential benefits of kombucha, including improved heart health, better blood sugar control, reduced symptoms of diabetes, improved immune efficiency, and better kidney and liver health.
Many kombucha studies to date, however, have involved rats or mice – not humans. More large-scale human studies are needed to verify the health benefits of kombucha. Based on today's research, however, kombucha may have powerful benefits on multiple bodily systems. Consider choosing one of the kombucha supplements above to maintain your digestive health.