8 Best Home Remedies To Combat Hair Loss For Men And Women In 2019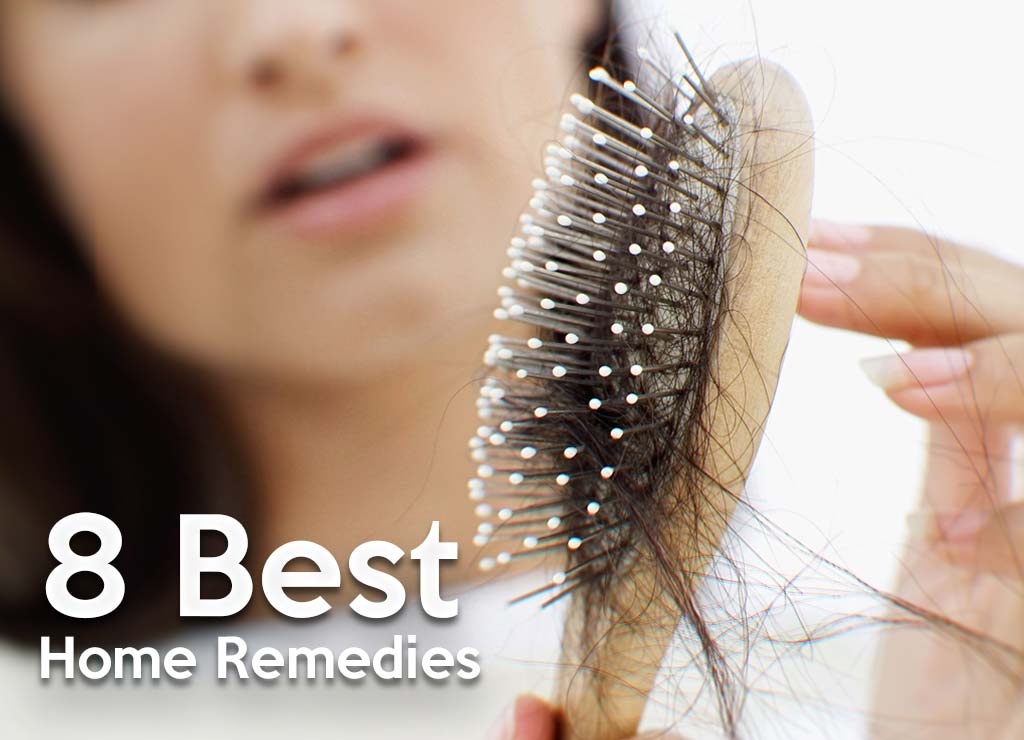 - ad -

If you are looking for an inexpensive and safe approach to prevent hair loss then you have come to the right place. It can be very frustrating to wake up with strands of your hair all over your pillow. If you are losing your hair do not lose hope because you are not alone. Hair loss is a common problem that people can experience at some time in their lives.
Hair loss can occur as a result of protein deficiency, anemia, vitamin deficiency, heredity, chemotherapy and thyroid disease. Researchers have also suggested that stress can cause hormonal changes that can result in hair loss.
Best Home Remedies To Combat Hair Loss
If you haven't managed to stop hair fall by taking hair supplements without seeing any visible result then try natural remedies. These home remedies have effective components that will stimulate your hair follicles, regrow bald patches and curb hair loss.
Apple Cider Vinegar
Apple cider vinegar is a natural and organic ingredient you can use to combat hair loss. It contains several powerful nutrients that can nourish your hair and prevent hair fall. Many people think that apple cider vinegar is only good for salad dressing, but it can also be used for the treatment of hair problems.
Researchers have confirmed that the natural acid in apple cider vinegar can destroy the bacteria and fungus that cause hair loss. You can also use it to get rid of the excess chemicals that accumulate on the scalp which can cause hair breakage.
How To Use Apple Cider Vinegar
Get 75ml of apple cider vinegar
1 liter of water
Mix the apple cider vinegar with the water to form a solution
Wash your hair with a mild shampoo
Then use a cup of this solution to rinse your hair
Stinging Nettles Root
Stinging nettle is a green-leaved plant belonging to the family of Urticaceae. Stinging nettles root is a powerful and natural ingredient many people are using to stop or lessen hair loss. Researchers have shown that stinging nettles root extract can stop the activities of the hormone responsible for male and female pattern baldness. There are several bioactive compounds in nettles root that can nourish your hair.
Due to its effectiveness in promoting hair growth, nettle root extract can be found in a number of shampoos and hair conditioners. Nettles root can be taken orally and you can find it in many hair loss treatment products. You can also apply nettle root extract topically on your scalp to treat hair loss.
Green Tea
Green tea is an important medicinal tea you can't afford to miss when you want to curbs hair fall. Many people only know that green tea can improve health but they never know it can be used in the treatment of hair issues. Researchers have revealed that epigallocatechin gallate in green tea can prevent hair loss and promote hair growth.
The polyphenolic antioxidants found in green tea can prevent various scalp problems that lead to hair loss. A 2005 study by the National Center for Biotechnology Information indicated a significant hair regrowth among rodents that received green tea extract for six months.
How To Use Green Tea
Boil 3 or 4 bags of green tea in 3 cups of water
Allow to cool down
Wash your hair and rinse with green tea
You can repeat this process twice a week to get best results
Warning: Remember to avoid washing your hair each day when you want to apply green tea as it can make your hair lose organic oils. You can only wash your hair the first day and bypass it the next day.
Rosemary Leaves
Rosemary leaves play an important role in combating hair loss because of their antibacterial, antiviral and anti-fungal properties. Researchers have revealed that rosemary leaves can stimulate hair growth, especially after chemotherapy and stress.
You can use these leaves to get rid of dandruff and improve your scalp health. Rosemary is a green herb that will give your hair delightful smell because of its captivating herbal scent. The leaves are good at curing scalp infections.
Rosemary leaves can stimulate hair follicles and condition your hair strands. You can also use this herb to darken your hair and enhance its natural color.
How To Use Rosemary Leaves
Get fresh or dried rosemary leaves
Boil a few cups of water for 10 minutes
Pour the boiling water on the leaves and cover for at least a day
Use the solution to rinse your hair
Geranium Essential Oil
Geranium is a wonderful herb you can use to nourish and protect your hair from fall. Geranium has several rich bioactive components that make it an excellent agent to cure many hair conditions. Herbal specialists have suggested that geranium flower extract has been utilized for many centuries in several countries like China and Egypt to treat various health issues.
Even in this modern age, geranium is used in the treatment of several hair and scalp conditions. Health professionals have confirmed that geranium essential oil contains antioxidant compounds which stimulate your hair follicles and keep your hair healthy. The oil can remove impurities that deposit on the scalp and stop scalp irritation.
How To Use Geranium Essential Oil
Get geranium essential oil.
Apply the oil thoroughly on your scalp and hair.
Allow it to stay for about 30 minutes for maximum absorption.
Wash off with a mild shampoo.
Green Coriander Leaves
Green coriander is a natural ingredient you can apply to boost your hair growth. Coriander leaves contain essential nutrients that can make your hair long and strong. Coriander is a popular natural hair treatment agent that Indians and Chinese are using to treat hair loss issues.
Coriander is a global herb which has a multitude of uses and health benefits. Herbal specialists in countries like Morocco, Egypt, Saudi Arabia and Japan are using coriander leaves to treat diabetes. The leaves have antimicrobial properties that combat scalp infections which may weaken the root of your hair.
Coriander leaves are rich in minerals and vitamins that help prevent baldness. Scientists have shown that carotenoids found in coriander help in hair regrowth.
How To Use Coriander Leaves
Grind some fresh coriander leaves in a blender.
Add some water and grind thoroughly to make semi thick paste.
Apply the paste on your scalp.
Make sure you apply the paste properly on the areas of your hair you want to grow.
Leave the paste on your scalp for 20 to 30 Minutes.
Cover your head with a shower cap for better absorption.
Wash off with cold water.
You can repeat this process 2 or 3 times in a week
Flax Seeds
Flax seeds are loaded with natural ingredients like omega-3 fatty acids, dietary fibers, vitamins and many other minerals that nourish the hair. The seeds improve scalp and follicles health by repairing worn out hair structures. Hair loss due to nutritional deficiency can also be treated with flax seeds.
Some people lose their hair as a result of heavy hair products they used. Fortunately, you can use flax seeds to get rid of those dangerous chemicals from your hair and change the condition of your hair. It can also be used to treat dry scalp and prevent the risk of hair breakage.
How To Use Flax Seeds
You need flax seeds oil. The oil is obtained by pressing the ripened or dried seeds of the flax plant.
Heat the flaxseed oil in a bowl for a few seconds.
Massage the flaxseed oil deep on your scalp and hair for about 15 minutes.
Once your scalp and hair are fully soaked with the oil then cover your head with shower cap for about 30 minutes.
Then wash your hair with a mild shampoo.
You can repeat the process 2-3 times a week.
Parsley
Parsley is an excellent herb that can help combat issues like hair loss, dandruff and scalp infections. Researchers have confirmed that parsley contains useful nutrients that counteract the effect of nutritional deficiencies that cause hair loss. A 2001 study by the National Institutes of Health has shown that flavonoids in parsley can combat hair loss.
Parsley is also loaded with high concentration of copper, which helps you to maintain your natural hair color. Most active components in this herb can stimulate scalp health and promote hair growth. Parsley's anti-microbial properties make it a powerful herb for curing dandruff, infected hair follicles and other infections that leads to hair loss.
How To Use Parsley
Gather a few sprigs of parsley.
Get a little water.
Blend the parsley sprigs thoroughly to form a smooth puree.
Massage the green lotion on your scalp.
Cover your head with a warm towel or shower cap and leave for an hour.
Wash off with a mild shampoo.