Your Super: Nutritional Organic Superfood Powder Health Products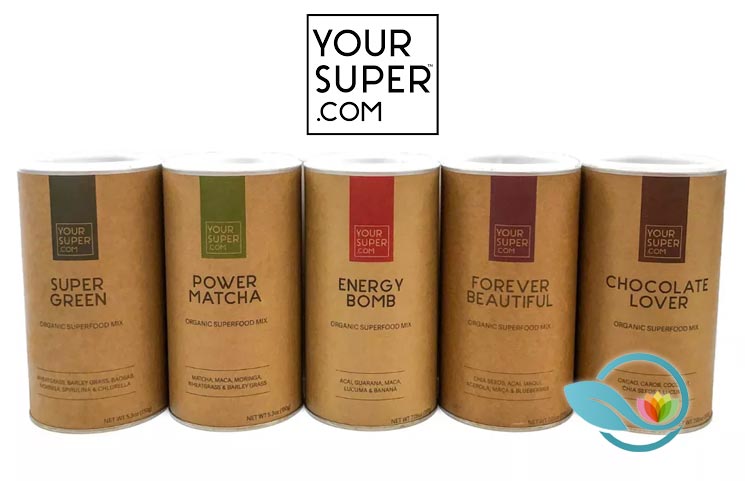 - ad -

Eating healthy is not easy. It takes time, commitment, dedication, and the ability to create healthy meals that men and women can feel good about consuming on a regular basis. Those who are looking for more convenience and simplicity when it comes to eating healthy may want to consider a new brand on the market that offers health products that can be bundled together. The health bundles make it easy to eat well on a regular basis. With that, this review would like to introduce Your Super Health Products.
About Your Super Health Products
Your Super is a health product brand that offers products that make it easier for men and women to eat well on a regular basis. The brand's flagship products are its mixes, which come in a wide-range of flavors. The mixes are simple to incorporate into one's health routine, and they provide key nutrients, minerals, and other substances that are stellar for the body. With the brand's mixes on hand, users can experience the full benefit of substances that may be able to promote energy, weight loss, muscle gain, and so much more.
An Online Test to Determine What the Body Needs
Your Super makes it extremely convenient for men and women to find the right products for their needs. Those who visit the brand's website can an online test that is featured on the main page. The online test helps users figure out what type of products offered by the brand would work best for them based on their needs and expectations. Very few brands on the market provide this quality, which is just one of the many reason why users may want to check out what this brand has to offer.
Superfoods Sourced from a Transparent Supply Chain
Your Super Health Foods also sources all of its ingredients from farmers and producers around the world. Further, the brand explains on its website that whenever possible, it sources its products regionally and fair-trade. The brand believes that it matters where one's superfoods grow, and as a result, it is picky to choose only the best that the farms have to offer.
In addition, all of the ingredients are tested by third-party independent labs to ensure that they are truly healthy and organic. Those who are interested in learning where the ingredients come from can do so on the brand's website. This level of transparency is difficult to come by with other brands.
Vegan and Plaint-Based Proteins
The brand also offers vegan and plant-based protein mixes, particularly the Muscle Power and Skinny Protein formulas. These two products are derived from plants, such as pea and hemp proteins. The plant powder is particularly easy to digest and is easy on the body. Those who use this products can also enjoy from high absorption rates so that they can experience the full benefits of the formulas. Both of the mixes feature 60% protein, which means 18g protein and 30g plant protein powder. This high level of protein not only keep users full and satisfied, but it can also be used by the body to develop a toned and lean figure.
The Potential Benefits of Your Super
There are a number of potential benefits that users can experience as a result of using the brand's products. The brand explains on its website that consumer show use the mixes on a regular basis have shared benefits, such as:
Increase in energy
Sick less often
Fewer allergies
Better skin
Healthier weight
Focus
Less hunger
A reduction in inflammation
These are just a few of the many advantages that users may be able to look forward to. Keep in mind that the benefits depend upon the type of formula that users implement into their lifestyle, and how they respond individually as well.
Your Super Summary
Overall, Your Super may offer users products that they can be fully satisfied with. To learn more about the individual mixes and to place an order, just visit the brand's website today.