MEND Regenerate: Medical Sports Nutrition for Muscle Performance?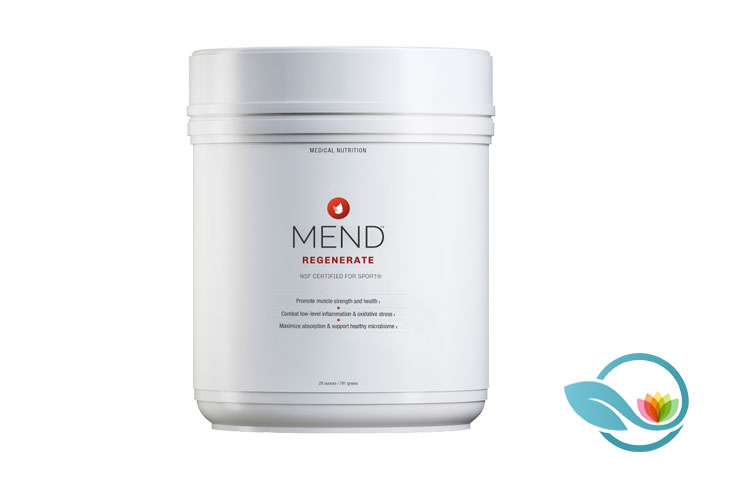 - ad -

Science-backed reports have confirmed that consuming a blend of proteins enhances a prolonged delivery of amino acids to skeletal muscles. Hence, proteins are good for people who are looking to address muscle health problems resulting from aging or physical activity. With the many protein supplements in the market though, choosing the best can be tough.
We review top-rated products' features to help you make an informed choice. Today, our focus is on MEND Regenerate, an award-winning muscle wellness supplement.
About Mend Regenerate
Mend Regenerate is a medical sports supplement with 34 vital nutrients that help at improving oxidative stress, reducing low-level inflammation, and supporting a healthy gut. This, as a result, makes MEND Regenerate a good choice for enhancing muscle health, performance, and well-being among sportspersons or those who work out frequently.
Key Features and Benefits of MEND Regenerate
A Blend of Proteins
MEND Regenerate is a blend of essential proteins. Protein is a crucial nutrient in older age, and dietary proteins provide amino acids needed for muscle protein synthesis. More importantly, amino acids absorbed in the body have a stimulatory effect on the synthesis of muscle proteins after feeding. Therefore, the recommended protein intakes may vary based on age. Older people might need more of this in order to maintain nitrogen balance and protect them from the loss of sarcopenic muscle.
Whey Protein
MEND Regenerate's protein complex contains whey protein isolate and whey protein concentrate. These are absorbed rapidly together with casein that requires more hours to be digested. As whey increases the synthesis of proteins, casein blocks the breakdown of proteins. The combination of these two is considered to be ideal.
Whey protein isolate and whey protein concentrate are included in MEND Regenerate to enhance absorption and healthy digestion. These reduce the amount of fat, carbohydrates and lactose while offering the high quality of proteins required to support aging muscles. Casein offers a prolonged amino acid concentration plateau in the blood plasma that lasts up to 7 hours. This results in a sustained release of amino acids into the bloodstream.
Enhances Muscle Tissue Volume and Health
MEND Regenerate preserves and increases the volume of lean muscle and its output during resistance training.
Enhances Stamina and Endurance
By improving muscle output and improving circulation, MEND Regenerate helps improve stamina and endurance. This supplement can be used to improve strength for daily living and performing activities, as well as Increase energy and vitality when used with resistance training.
Flavors
MEND Regenerate is currently available in vanilla and chocolate/cocoa flavors. Vanilla MEND Regenerate is NSF Sport certified for professional sports and hence more costly. The company intends to add more flavors in future.
Other Ingredients
Other MEND Regenerate's key ingredients are BCAA complex, HMB, L-GLUTAMINE, MCT, Aminogen, Resveratrol, Fructooligosaccharide, COQ10, Creatine monohydrate, green tea extract, grape seed extract, vitamins A, B Complex, C, and D3, magnesium, sodium, potassium, Selenium and Leucine. Each of these ingredients plays a crucial role in the body.
Purchasing MEND Regenerate
Mend Regenerate can be purchased from an orthopedic surgeon, doctor or from the Mend online shop. Currently, a pack retails at $69, but you can save 10% by subscribing for delivery, buying it at $62.10.
How to Take MEND Regenerate
The recommended way of taking Mend Regenerate is blending it into a smoothie. This aids maximum nutrient absorption. You can find several smoothie recipes on Mend's website.
Is Mend Regenerate Worth Buying?
MEND Regenerate protein complex offers a scientific blend of three quality proteins meant to help in digestion, improve protein synthesis, and as well prevent the breakdown of proteins. With the many benefits, the price is fair and this product will most likely give you value for money. We hence recommend Mend Regenerate to physically active individuals and aging persons looking for a muscle wellness solution.