Top 10 Treadmills for Men and Women Over 60 Years Old Doing Physical Exercise Activity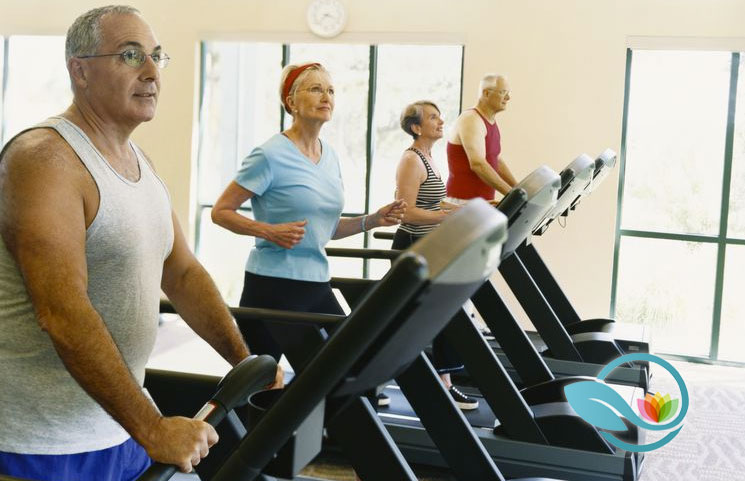 - ad -

Older adults can benefit greatly from regular physical activity. According to the Center for Disease Control and Prevention, physical activity does not need to be strenuous for one to realize the benefits – rather, significant health benefits can be realized by moderate physical activity on a daily basis. Those who are looking to incorporate more physical activity into their day can either attend a gym or can use an at-home machine, such as a treadmill. Treadmills are ideal because they can provide the tools one needs for moderate exercise. A treadmill is also convenient and there are many options out there that users can choose from.
Top 10 Treadmills for Men and Women Over 60
Here are 10 at-home machines that users may want to consider:
The LifeSpan TR2000e Electric Folding Treadmill
The LifeSpan TR2000e Electric Folding Treadmill is described on Amazon as a "simple, safe, and convenient eFold technology [that] electronically folds with the press of a button." The product has a dual-purpose USB port that allows users to charge their mobile device and it saves one's exercise results for upload onto a free club account. This feature enables users to better track their workout performance. The treadmill also has an optional Bluetooth receiver that supports ActiveTrac apps so that users can get the most of their workout routine.
It is important to note that the product's maximum weight is 300 pounds. The treadmill also had a lifetime frame and motor warranty, five year warranty on parts, and a one year labor warranty. The machine is quiet, sturdy, and is built to last. If one orders the product through Amazon, it does not come assembled. Those who purchase the treadmill can pay an additional $97.31 for assembly – however, this price could change.
The treadmill is also priced at $1,199.00 on Amazon.
Exerpeutic TF1000 Ultra High Capacity Walk to Fitness Electric Treadmill
The Exerpeutic TF1000 Ultra High Capacity Walk to Fitness Electronic Treadmill is described on Amazon as a "Electric walking treadmill with 1.5 horsepower high-torque motor." The treadmill has adjustable speeds, up to 4 miles per hour in 0.1 mph increments. The belt is 20-inches-wide, it is extra long, and it also has safety handles. The users can view their performance on an LCD display monitor. The performance mechanisms include calories burned, time, distance, speed, and pulse. The treadmill also supports up to 400 pounds.
The treadmill's frame is also foldable, the motor comes with a five year warranty, and the frame has one year warranty. The treadmill's power makes it a prime option for those who are looking to maintain a consistent fitness routine. The treadmill does not come assembled when purchased through Amazon. The assembly costs $72.98. As for the treadmill, it costs $427.99. These prices may change.
ProForm 505 CST Treadmill
The ProForm 505 CST Treadmill is a multi-feature treadmill. It has a 2.5 cph Mach Z commercial motor, quick incline control that allows it to go from 0 to 10%, and it also features a 20"x 55" treadmill belt and proshox cushioning to absorb movement.
Those who choose this treadmill may also want to consider the membership as well, which provides users with unlimited workout programs and experiences. The membership may be free for the first month.
The treadmill also features a monitor where users can view their performance during their workout routine. A few of the performance features include Ekg heart rate, time, and calories burned. The max weight for this treadmill is 325 pounds.
It also appears that the counsel does not activate without registration. This is a quality to take into account when opting for this treadmill. Those who are not interested in activating and subscribing to the platform may want to opt for a different product. The treadmill is currently priced at $599.00 on Amazon, and there is also a coupon option. It does not come assembled. Assembly costs $72.98.
Nautilus T614 Treadmill
The Nautilus T614 Treadmill is a fitness machine that enables users to "set individual exercise goals." It features 12% motorized incline, 22 programs, StrikeZone cushioning, and a 2.75 CHP motor that offers reliability, high responsiveness, and performance for the user. The performance tracking feature enables users to set their exercise goals and meet them. The machine also comes with a 5.5 blue blacklit LCD display that features the workout programs.
The machine is priced on Amazon at $799, without expert assembly. Expert assembly costs $72.98.
Landice T7 Treadmill
The Landice L7 Treadmill is described on Amazon as providing a "health-club quality workout in the comfort of your own home." The device features "whisper-quite tread belts" that allow users to workout without worrying about too much nose. The belts also feature an ergometric design to prevent gradual injury that occurs with impact workouts. The machine also has a console with advanced technology, the device is user friendly, and users can even surf the internet as they perform their workouts.
In addition, the device is designed with the latest engineering technology that is combined with quality craftsmanship. The treadmill also comes with 4 horsepower for continuous duty drive. The treadmill is currently unavailable on Amazon, therefore the price is not available as well. However, those who are interested may be able to find it elsewhere or they can check back on Amazon from time to time.
LifeSpan TR1200i Folding Treadmill
The LifeSpan TR1200i Folding Treadmill is an electric treadmill that is foldable, portable, and motorized. Despite its compact features, the device is also a heavy-duty machine. It has a high capacity of 2.5 horsepower motor, a 20"x 56" walking belt surface, and it has 15 levels of adjustable incline. The device is also a quiet one and users can store it in their office or home.
There are 21 trainer programs that target weight loss, healthy living, sports, training, and heart rate. The product also comes with Bluetooth connectivity, and a lifetime warranty. The max weight that the device can withstand is 300 pounds. The treadmill is sold by third-party sellers on Amazon.
NordicTrack T Series Treadmill
The NordicTrack T Series Treadmill is a high-tech treadmill with a 10" full color capacity touch display. Like some other treadmills on the market, this one may require users to maintain a membership to realize the full benefits that the treadmill has to offer.
It also features a2.6 chp drive system, a walking belt that is 20 x 55 , easy lift assist, and 1.9" precision and balanced non-flex rollers. Tit also has a quick speed control mechanism that can go from 0 to 10 mph. The quick incline control enables users to manage their workouts more easily. The max weight capacity is 300 pounds. The device also comes with a lifetime frame and motor warranty and a 1-year warranty on parts and labor. The device is priced at $899.00 on Amazon and expert assembly is an extra $72.98.
Xterra Fitness TR150 Folding Treadmill
The Xterra Fitness TR150 Folding Treadmill is a treadmill with a 16" by 50" running surface. IT comes with a 5 inch LCD display that is easy to read and enables users to review their speed, incline, distance, time, calories, and pulse. The speeds can vary as well, going from 0.5 to 10 mph, which makes it a positive option for those at different fitness levels and who are looking to progress as well. The product also has 12 present programs with an unmatched variety.
Moreover, the product has 3 manual incline settings for variety in workouts. For ease of workout, the device also features side rails. The treadmill is currently priced at $319, and expert assembly is an extra $97.31.
Sunny Health & Fitness Force Fitmill Manual Treadmill
The Sunny Health & Fitness Force Fitmill Manual Treadmill is a heavy-duty device that comes with multi-grip handrails for sweat-resistant rail support. It also features amble tread deck, meaning it has a large running service that spans 53" x 16". The max weight is 300 pounds and the treadmill is entirely self-powered. It has adjustable resistance and a fixed incline so that users can enjoy from a stellar workout.
There are also 16 different resistance levels so that users can experience the benefit of a full-body cardio routine. The dual structure flywheels also provides uses with a stable and smooth response. Keep in mind though that the flywheels also require high energy demand from the users to get started. The machine is currently priced on Amazon at $407.14, and an extra $72.98 for expert assembly. There is also currently a coupon available on Amazon as well.
Sole Fitness F80 Folding Treadmill
The Sole Fitness F80 Folding Treadmill is a foldable device with 3.5 continuous duty horsepower. The speeds can vary from .5 mph to 12 mph, and the incline can be adjusted to 15 different levels. It also features flywheels and rollers that provide users with smooth, frictionless action and a quiet workout. The device supports up to 375 pounds.
The display is large and vibrant and provides users with insight into their track distance, calories burned, heart rate, and more. Users can also use the display to increase or decrease their speed, they can toggle through options with the side bar controls as well. The device also comes with a lifetime warranty. The product is not available on Amazon, but it is on the brand's website. On the website, it is priced at $1,399.99.