New University Study Shows Prebiotics Improve Sleep and Release Stress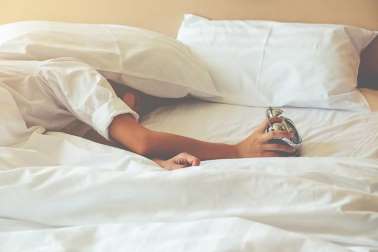 - ad -

Everyone knows that melatonin, valerian and chamomile are amazing against insomnia, but how about dietary fibers? A study conducted at the University of Colorado Boulder has discovered that the way prebiotics influence metabolites and gut bacteria can improve sleep and relieve stress. The research may result in 2 completely new treatments for the over 70 million people in the US struggling to get enough sleep. Robert Thompson, PhD, has led the study and concluded that prebiotics aren't only essential for passing up stool and improving the digestion, but also for a good night's sleep. Here are his exact words on the discoveries his study made:
"It is feeding the bugs that live in our gut and creating a symbiotic relationship with us that has powerful effects on our brain and behavior."
What Are Prebiotics…
Prebiotics are nothing else than dietary compounds that can't be digested by the human body, yet still serve as nourishment for the bacteria that's in the guts. Not all fibers are prebiotics, but leeks, onions, certain whole grains and artichokes surely are.
…and What Did the Study Involve?
The study was conducted on adolescent male rats kept on either prebiotic-infused chow or a standard one. Those on prebiotics where given galactooligosaccharides, which are present in lentils and cabbage, milk fat globular protein, which is present in dairy, lactoferrin, a compound present in breast milk, and polydextrose, an additive that works as a sweetener. Physiological measures of the rats were taken before and after stress, from fecal matter. The rats were on their diets for 7 weeks before having their first sampling of fecal matter, after which they were on the diets for 11 weeks. The tail stress shocks they went through were inescapable. Their sleep was as well measured through vivo biotelemetry.
The Study's Results
The rats that consumed a standard chow diet were unhealthier and experienced increases in their bodies' temperature, also a decrease in their healthy gut diversity, right after the stress moments. Those on prebiotics had no problem. They spent more time in non-rapid-eye-movement (NREM) sleep and after stress, more time in rapid-eye movement (REM) sleep in order to recover. Monika Fleshner, the Stress Physiology Laboratory director at the University of Boulder and a senior author for the study had this to say:
"We know that this combination of dietary fibers helps promote stress robustness and good sleep and protects the gut microbiome from disruption. With this new study, we wanted to try to identify the signal. Our results reveal novel signals that come from gut microbes that may modulate stress physiology and sleep. Armed with this information, we might be able to develop a targeted therapeutic that boosts the molecules that buffer against stress and tamps down the ones that seem to disrupt sleep."
It is no wonder deep sleep supplements like Resurge have soared in popularity as consumers awaken to the potential of helping the body lose weight while sleeping. Now it is more clear than ever that getting restorative rest each and every night will start to have profound compounding effects on the body day in and day out.