Le-Vel THRIVE Plus RESTORE: New Premium Fiber Digestive System Beverage Launches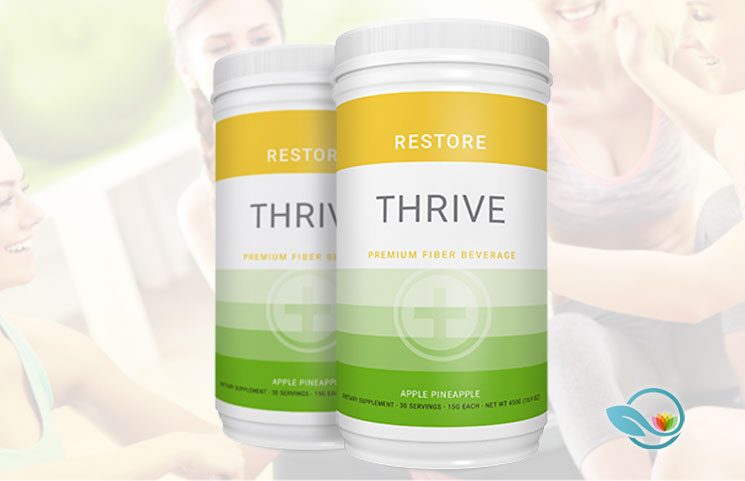 - ad -

THRIVE RESTORE is a supplement that is formulated to promote better digestive health and to support weight management in consumers. The formula, which is available in an apple pineapple flavor, is available through Le-Vel.com.
What is THRIVE RESTORE?
Whether it is holiday season or the time for summer barbecues, the average consumer's digestive system can go through a lot. Even with time to prepare meals at home, the balance in the digestive system can be disrupted, causing everything from pain to nausea to disease. The creators of THRIVE RESTORE developed a remedy that can help with these issues.
According to the official website for THRIVE RESTORE, the use of this supplement is meant to:
Remove digestive waste
Promote a healthy appetite
Maintain digestive regularity
Manage weight goals
Read on below to learn about what makes the THRIVE RESTORE formula so effective.
THRIVE RESTORE Ingredients
The THRIVE RESTORE formula is made up of a variety of ingredients, including:
Pea fiber
Apple powder
Apple pectin
Psyllium husk
Citrus pectin cellulose
Orange fruit
Flax seed meal
Inulin (from agave)
Oat fiber
Fennel seed
Rice bran
Cinnamon bark
Slippery elm bark
Prune fruit
Aloe vera gel
Fiber is a critical component of any diet, as it helps to keep bowel movements regular, while preventing diarrhea. However, despite working as a supplement that promotes healthier digestive properties, the formula only contains 7 grams of fiber in the form of pea fiber, psyllium husk, cinnamon bark, slippery elm bark, and the many fruits included.
It also offers two grams of sugar for a slight bit of sweetness to the Apple Pineapple flavor.
Directions for Using THRIVE RESTORE
The THRIVE RESTORE canister offers 30 servings, though it is unclear if it includes a scoop for the powder. Still, the user only needs 15 grams to get the benefits, which can be blended into water, juice, or any other beverages.
Since this is a supplement, it should not have any interaction with medications. However, if the user is presently on a prescribed regimen or medication, it would be in their best interest to speak with a doctor before adding THRIVE RESTORE to their daily routine.
Purchasing THRIVE RESTORE
When it comes to buying THRIVE RESTORE, there's a catch – only registered customers of Le-Vel.com can make a purchase or even shop for the product. Registration itself only take a few minutes, but consumers will have to be connected with a Le-Vel Promoter in their own country. The customer can choose to pick one or have one assigned.
Contacting the Creators of THRIVE RESTORE
Even with the information available about the THRIVE RESTORE product online, consumers may find themselves with additional questions. Customers can choose to either speak with their assigned Le-Vel Promoter or to speak with the main customer service department via phone or email.
THRIVE RESTORE Summary
The THRIVE RESTORE formula is available for any adult that needs a little support to keep their digestive system operating optimally. It doesn't include probiotics or prebiotics, but primarily delivers the necessary dose of fiber that every individual need. While there is little information available about the product publicly, registering on the Le-Vel official website with a Promoter will allow consumers to make a purchase and learn more.