Tom Brady, NFL's Greatest Quarterback, Shares Healthy Diet and Workout Secrets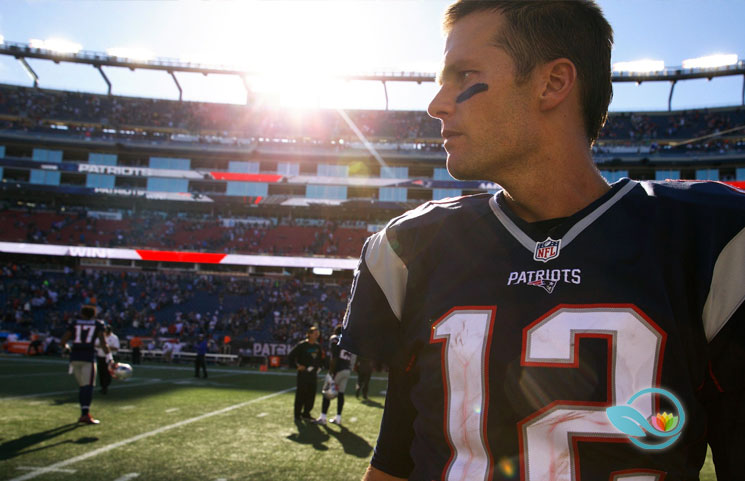 - ad -

Tom Brady has been in the NFL for 20 years.
He recently collaborated with physical therapist Alex Guerrero to form a fitness brand called TB12.
Tom Brady is one of the most popular men of the NFL, even to individuals who aren't sports fans. Brady recently sat down with Men's Health to discuss his career, his goals, and more. As the writer Ben Court of Men's Health settled in with Brady for a brief practice session, he reflects on the career that Brady has already had as a Hall of Famer from 2001 to 2015, bringing in five Super Bowl wins. The second part of this career involves another two league championships, as well as a suspension, injuries, scandals, and a lawsuit. However, none of these negative moments in the last decade have lost his place as one of the top 200 draft picks during this two-decade long career.
When it comes to other topics, it should come as no surprise that Brady is unwilling to keep his eyes on anything but the prize. Between family and football, there's no room to spread the love anywhere else, and his fans likely are happy to see him exactly where he is. Even discussing the days that will inevitably come in the future without playing football, Brady already has plans in the works.
TB12, Brady's company, is focused on becoming a popular fitness brand. He opened a gym in Boston over the summer, though he'll hopefully be bringing additional locations to New York City and Los Angeles in the coming year. Still, TB12 has a lot of other opportunities set up, between newsletters, workout videos, brain gains, protein supplements, and more.
To summarize the company, TB12's goal is "to redefine strength, health, and wellness for an entire generation." While Brady may have many people who may not ever support the Patriots or just find some way to dislike him, it is clear that betting against the 199th draft pick of 2000 may not be seeing the bigger picture here.
Brady is a man who carefully chooses how to express himself, especially considering how anything can be skewed in social media. Speaking to Men's Health, Brady opened up about the moment that he decided that he was all wrong about his views on physical fitness and strength training.
"You gotta understand – I was like every other American kid. I believed if you want to get good, you gotta go squat and bench, and it's all I ever did."
In 2006, after three Super Bowl wins, Brady was dealing with severe tendinitis, leading him to take time off practice and seek out the help of Alex Guerrero, who has a background in traditional Chinese medicine. Through this therapy, Brady and Guerrero worked on pliability, which Brady explains, "We didn't even call it pliability then, because we had to come up with a word for it." He continued that Guerrero worked with his tendons and biceps, completely eliminating the pain that Brady experienced, helping with everything from shoulder pain to an ACL injury that happened eleven years ago.
Nowadays, every training session that Brady has with Guerrero starts with a deep-force massage that relieves tension in 20 different muscle groups, which is followed by a 40-minute workout. Most of this workout centers around speed, agility, and core stability, which includes high-resistance-banded movements, lunges, squatting, and more. The workouts are followed by another session on the treatment table, but with significantly less force, in an effort to increase blood flow and eliminate lactic acid.
The TB12 Sports Therapy Center at Patriot Place was opened by Brady and Guerrero in 2013, providing treatment to approximately 3,000 people of all ages, even children. Most of the clients that this twosome services can fit into one of two groups – athletes under age 20 that want greater edge and athletes in their 40s that want to keep their peak where it is, according to John Burns. Burns is the CEO of TB12.
The facility has no weights, but instead features multiple bands of different resistance levels. However, the main focus of this gym, and what sets it apart from other gyms, is the necessity for deep-tissue work to be integrated into nearly any workout. Before the workout begins, the physical therapist and trainer screens for imbalances before creating a customized routine. The Men's Health writer went through a session himself, commenting,
"There's a lazy person's appeal in the structure of the workout."
Brady's focus with TB12 appears to be more on the health perspective, rather than being "like a cyborg." He stated,
"No one has to be Tom Brady. I just get to be Tom Brady. You get to be you. Everyone has a choice. But if you want to be good at sports, you have to work hard at it. If you want to be healthy, you have to work at it."
However, he adds that, if someone wants to become healthy, then having a poor diet and inefficient workouts isn't the way to do it.
To read the full story, consumers can pick up a copy of the September 2019 issue of Men's Health, learning more about Brady's family life and his routine.