Testicuzzi: New Testicle Hot Tub Gives Men Heated Massages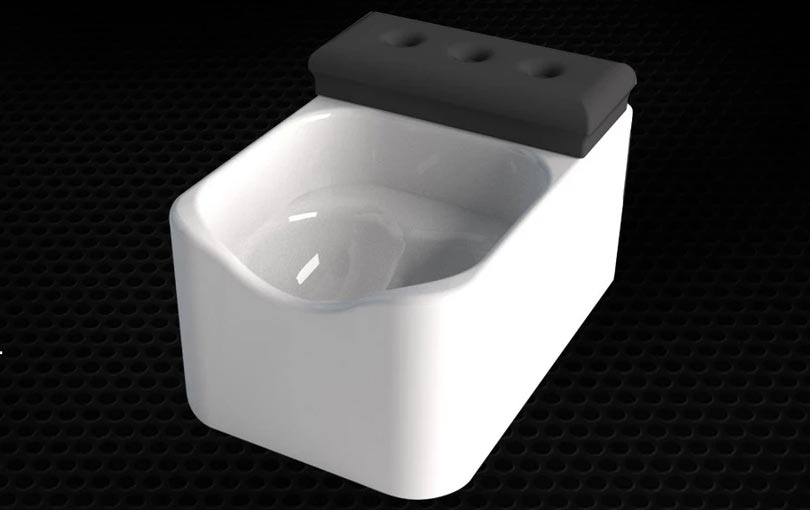 - ad -

Testicle health is significant, especially when it comes to men over the age of 30. In this regard, it is worth pointing out that as per a whole host of research data, it appears as though one in every two hundred and fifty males end up suffering from testicular cancer at some point in their life. Furthermore, it's been observed that the average age at which a person can be diagnosed with testicular cancer is around 33.
In its most basic sense, the Testicuzzi can be thought of as a private hot tub for one's testicles. With its design and overall size dimensions, the machine measures in at around 3.5 inches wide, 3.5 inches tall, and 5 inches from front to back. As a result of its ergonomic design, the unit can provide one's private parts with instant relief.
From an operational standpoint, one can see that the Testicuzzi is powered using a battery supply hub. Not only that, but it also comes laden with an efficacious vibrational unit that gently massages one's testes using water (which one can preheat if desired).
A Closer Look at Testicuzzi
As per the official product website, the idea for Testicuzzi came about when a group of friends (passionate about male health) decided to come up with a novel invention that could help them enhance their overall sexual and reproductive health. After a few weeks of intense ideation and development, the group then proceeded to 3D print the first version of this unique hot tub.
Since then, the Testicuzzi has seen several improvements being made to its initial design, so much that there are now several variations of the product available in the market for purchase. In all, there are three variants that users can currently choose from. These include:
Black Edition Testicuzzi
White Edition Testicuzzi
Limited Edition Gold Testicuzzi.
Why Choose Testicuzzi?
(i) Ergonomic Design: The product features a highly compact and ergonomic design that allows one's testicles to be cradled in a manner that is not only tender but medically helpful for the optimization of the individual's sexual health.
(ii) Silicone-based: According to the manufacturer's specifications, the Testicuzzi features a soft silicone pillow-based setup that allows the user to maximize their overall personal comfort experience.
(iii) Non-Abrasive + Tender: Owing to the smooth plastic finish that the device makes use of, an individual never has to have his private parts come into contact with any abrasive surfaces.
(iv) Unique Bubble Pump Design: The innate pumping system that comes pre-installed within the Testicuzzi allows for the optimal amount of bubbles to massage one's testis. Thanks to this feature, users can feel at ease as well as maximize their sexual health in an effortless manner.
(v) Battery-Based Operation: As mentioned in an earlier section, Testicuzzi uses a battery-powered design that allows users to carry around the unit in a completely hassle-free fashion.
How Does One Use the Device?
Before we delve into the question of how one should use the Testicuzzi hot tub, it is worth pointing out that several medical health specialists believe that it is of utmost importance that men over the age of 30 get their testicles examined regularly.
To use, all one has to do is heat some water (to a temperature that they see fit) and then switch on the bubble bath pump. Following this, the user can then proceed to dip their testes in the Testacuzzi and let them soak for as long as they want. Since there are no chemicals involved, it is entirely safe to use the device for long periods (without the occurrence of adverse side effects).
Pricing and Availability
The easiest way to place an order is by visiting the official product website. At the time of writing this review, a single unit of the Testicuzzi is available for a base price of $69.69. As mentioned earlier, there are three color variants to choose from (jet black, white and limited gold).
Also, due to the ongoing Covid-19 situation, deliveries may take up to three weeks (depending upon local lockdown restrictions). Payments can be made via a host of safe and secure avenues, including Paypal, Mastercard, Visa, etc.