SeedSheet Review: Grow a Fresh, Organic Herb Garden from Home?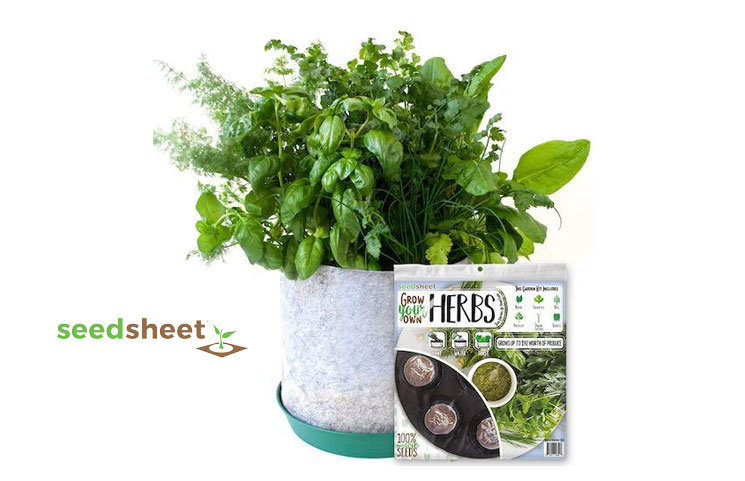 - ad -

SeedSheet is a gardening aid that makes it easy to grow fresh, organic herbs.
Featured on Shark Tank in 2018, SeedSheet is designed for beginner and intermediate gardeners alike. You buy a SeedSheet herb garden, then grow delicious herbs in your backyard, balcony, or kitchen.
Each SeedSheet is a DIY kit designed to be straightforward to use. Just plant it, water it, and enjoy.
Is SeedSheet legit? Is SeedSheet worth the price? Find out today in our SeedSheet review.
What is SeedSheet?
SeedSheet is an all-in-one herb garden that can be grown anywhere in your home or backyard. Each DIY kit provides up to $92 worth of organic, non-GMO produce.
You get six herbs in each kit, including basil, cilantro, parsley, dill, onion greens, and sorrel.
SeedSheet is designed for gardeners of all levels of experience. Just plant the garden, water it, and enjoy the herbs.
SeedSheet also comes with an app. The app will tell you when to water your herb garden and when your herbs are ready to eat. As the official website explains, "your garden will talk to you".
How Does SeedSheet Work?
SeedSheet is a customizable roll-out garden featuring dissolvable pods – similar to laundry pods.
Each pod contains soil and organic, non-GMO seeds. The pods are optimally arranged across the sheet with ample space between, allowing for the best possible growth.
All you need to do is water the sheet to activate each pod. The garden still start growing herbs with no herbicides, pesticides, or weeding required.
SeedSheet can work on balconies, backyards, patios, and more.
SeedSheet Features & Benefits
SeedSheet advertises all of the following features and benefits:
Organic Seeds: All SeedSheet seeds are organic and made in the United States. There are no chemicals, pesticides, or engineered ingredients.
All In One: SeedSheet claims to contain everything you need to grow your own herb garden.
BPA-Free: SeedSheet comes in a fabric gardening container that is BPA-free, unlike certain other plastic gardening kits.
Mobile App: SeedSheet claims to be the garden that talks to you. There's a SeedSheet mobile app that texts you when plants need to be watered or when herbs are ready to eat.
6 Herbs Included: Your SeedSheet kit includes six herbs, including basil, cilantro, parsley, dill, onion greens, and sorrel.
$92 Worth of Produce: Each SeedSheet kit claims to contain up to $92 worth of organic, non-GMO produce.
Easy to Use: SeedSheet emphasizes its ease of use – even if you have a green thumb, you can grow a full herb garden in virtually any environment.
What's Included with SeedSheet?
Each SeedSheet kit includes everything you need to start growing your garden:
1 SeedSheet with seeds
1 saucer
1 fabric gardening container
You also get access to the free mobile app for Android or iOS.
SeedSheet Pricing
SeedSheet is available at the following prices:
1 Herb Garden: $34.99 + $7.99 Shipping
3 Herb Gardens: $69.98 + Free Shipping
5 Herb Gardens: $104.97 + Free Shipping
8 Herb Gardens: $139.96 + Free Shipping
The sales page for SeedSheet has an upsell for a Salad Garden ($24.49). The Salad Garden contains 8 types of salad ingredients, including beet greens, golden frills, French breakfast radish, spinach, pea shoots, red Russian kale, arugula, and tatsoi.
You can pay online via credit card or PayPal. SeedSheet is available through GetSeedSheet.io and SeedSheets.com.
GetSeedSheet.io exclusively lists the kit-sized SeedSheet. However, a larger, garden-sized SeedSheet is available through the official website at SeedSheets.com
About SeedSheet
SeedSheet is a Vermont-based company created by Cam MacKugler, who got the idea for the product while house sitting a friend's 80 acre farm. He loved the fresh vegetables he got while staying there, although he didn't think he could start his own garden. That's when he got the idea to create a user-friendly garden.
MacKugler started a Kickstarter campaign for SeedSheet in summer 2015, raising over $30,000 and shipping 250 ready-made gardens to early backers.
MacKugler appeared on Shark Tank in 2018, seeking $500,000 in exchange for 10% equity in his startup. Cam accepted a deal from Lori, who offered $500,000 for a 20% share. After Shark Tank, SeedSheet's sales rose significantly. The company sold $2 million worth of products. Today, SeedSheet also offers the ability to customize your SeedSheet for larger gardens.
You can contact SeedSheet via the following:
The company appears to sell products through multiple websites, including the official website at SeedSheets.com and separate websites at GetSeedSheet.io. However
SeedSheet Final Word
SeedSheet is a DIY garden kit featuring dissolvable seed pods. Just plant the garden into the included container, water the garden as needed, and enjoy delicious herbs. Each garden contains six herbs, and you can grow it on a patio, balcony, apartment, kitchen, or anywhere else.
To learn more about SeedSheet and how it works, visit them online.