Body Transformation Blueprint by Sean Nalewanyj: 2021 Review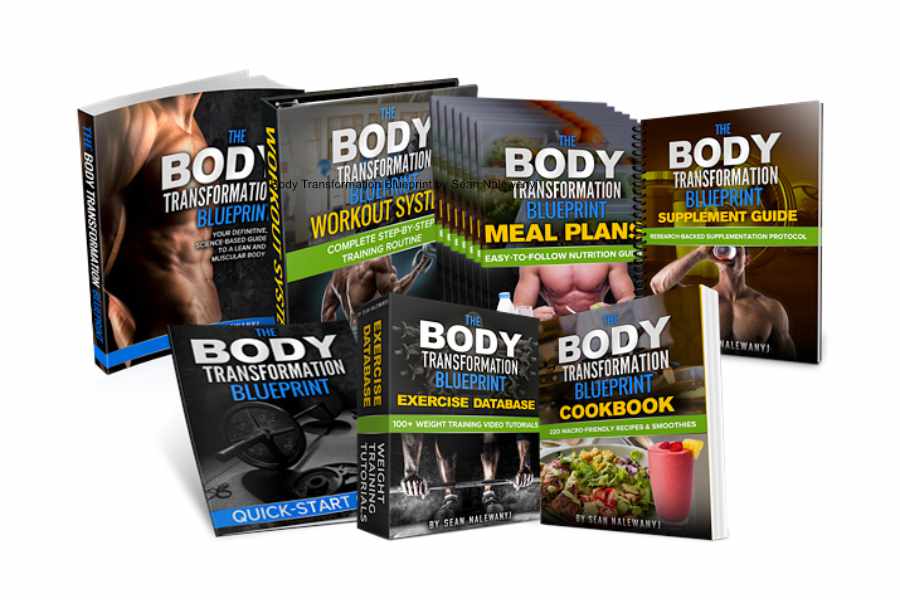 - ad -

The Body Transformation Blueprint program is, according to their official website, a best-seller and the longest-running one for skinny men and hard gainers to maximize and streamline their fat loss and muscle gain results in only months, all without hiring a fitness trainer or going to the gym every week. This in-depth course consists of The Body Transformation Blueprint in the form of an eBook, supporting modules that contain specific exercise routines, info on the supplements that can be used, meal plans, videos with instructions, and much more. Besides, it's claimed to be based on scientific principles for effective muscle building and explains how muscular weight can be gained without getting fat. As a matter of fact, it's focused on losing fat.
Who Created The Body Transformation Blueprint?
The Body Transformation Blueprint was created by Sean Nal, who was also super skinny and didn't know what to do to put on muscle mass. It is a perfect thing when a program is made by someone who has gone through the same experience.
According to Sean, skinny men who find it very difficult to put on muscles and gain strength can greatly benefit from his advice because he has been in the same shoes and managed to overcome the situation.
A Peek Inside The Body Transformation Blueprint
As mentioned, The Body Transformation Blueprint consists of plenty of materials on how men can become stronger and more muscular. The program is balanced, easy-to-follow, and well-structured, with step-by-step instructions shown by Sean on what needs to be done.
Furthermore, the program includes the healthiest and tastiest low-calorie meal plans that minimize fat gain and promote muscle growth and a supplementation guide that presents the best bodybuilding supplements out there. There are also high-quality instructional videos presenting how each important lift should be executed.
Here is the content in The Body Transformation Blueprint explained in detail:
The Body Transformation Blueprint eBook
This is the program's main course. It consists of 260 pages and comes in digital format, which means it can be downloaded. As far as the information it contains, this is created around Sean's extensive and wide personal experience in the area of natural bodybuilding.
Sean says he made sure every muscle building, burning fat, and strength uplifting strategy, as well as information he presents here, is scientifically backed, not to mention it doesn't involve going to the gym. This eBook is claimed to be the fitness Bible every man needs because it allegedly contains golden advice on powerful exercising and nutrition principles many personal trainers have no idea of yet.
It should be mentioned and noted that Sean is also is a certified trainer.
Complete Step-by-Step Training Routine
This module contains 3 different types of exercise routines: the ones for beginners, those for the men who are in the intermediate phase, and workouts for those who are already advanced and now looking to maximize muscle gain in all their body's important muscle groups.
It consists of specific instructions on the steps that need to be taken, how many reps and sets have to be done, how to warm up the body, and much more. The workout routines presented in this part of the program are easy to perform every week, not to mention optimized and well-balanced, Sean says.
The muscle growth principles explained in The Body Transformation Blueprint eBook are all put into practice here, without fuss, meaning they're made to be as easy-to-follow as possible.
In contrast, the workout routines focus on the most effective 3-day splits for each body part. These splits structure all the exercises being done at the gym, usually 3 times a week. Sean says they bring about more muscle gain, though, as, in his opinion, training smart is much more important and efficient than training hard.
According to him, even skinny men who want to gain muscle as hard don't need to go to the gym every day to get the body they have always dreamed of. As a matter of fact, he thinks it's counter-productive to exercise too much and that rest days are the most important because they're the ones in which muscle tissue gets to grow.
Optimized Bodybuilding Meal Plans for All Calorie Counts
With the Optimized Bodybuilding Meal Plans for All Calorie Counts, men get the most specific, and customizable meal plans that have been optimally and carefully designed to maximize muscle gain and support an overall state of good health, all while limiting fat gain. These meal plans are, according to Sean, easy to make and not at all expensive, with many options for ingredients so that anyone can choose whatever they like to eat the most.
Extra Modules
The Extra Modules consist of Video Instructions, Recipes, Progress, and Email Coaching. They're being offered as a bonus. The videos they present are instructional on how to perform each set of exercises presented by the program, as a matter of fact so easy-to-follow and understand that even a man who has never trained for muscle gain before can stick with them without risking getting in any way injured.
What's also great about the Extra Modules is that they also offer FREE access to Sean's direct email for those who may need a second opinion on what they are doing. This is just like having a personal trainer answer any question and provide guidance to achieve the best results. The Extra Modules also include printable trackers for the progress of workouts, meal plans, and measurements. Finally, included in the Extra Modules, there's also a bodybuilding cookbook containing high-protein and natural recipes for meals and snacks.
How to Buy The Body Transformation Blueprint?
The entire The Body Transformation Blueprint program can be bought only from the product's official website, where's it currently sold at the price of:
$77 + VAT ($14.63), a total of $91.63
For more questions and info about the course, Sean can be contacted through the following:
Email: [email protected]
Address: Sean Nalewanyj 408-601 Broughton St. Victoria, BC, Canada V8W 1C7