Copper Fit ICE Knee Sleeves: Menthol & CoQ10 Infused Compression Sleeve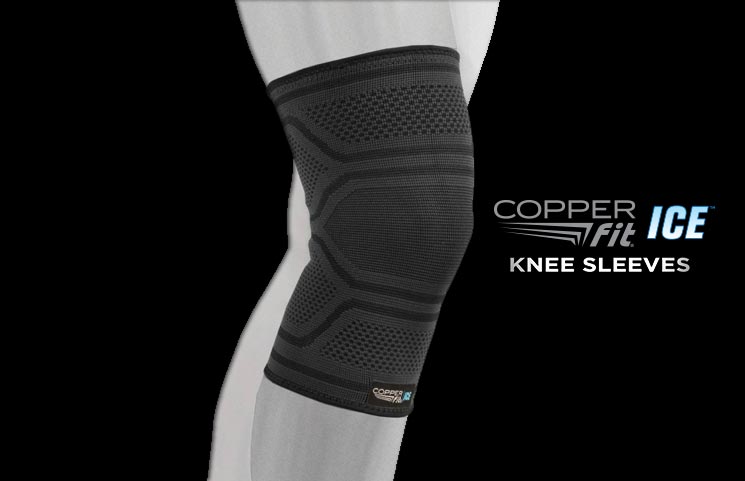 - ad -

Did you know that knee pain affects millions of people on a daily basis? Were you aware that when proper care is not sought, it could have a lasting effect on one's overall mobility, not to mention independence? Knee pain could arise due to weight gain, diseases or injuries. According to Classic Rehabilitation, Inc., the knee is composed of different muscles and ligaments. Moreover, it is viewed as a complex joint because the slightest of injuries can heavily impact its range of motion.
What can consumers do to ensure that their knees function at full capacity? This is where it is most fit to direct the spotlight at Copper Fit ICE. Whether consumers are engaged in intense sports, daily physical activities or are accustomed to knee aches, the Patented Copper Fit ICE sleeve is expected to come in handy. The following review will expound on the different facets of this respective sleeve and how consumers can take advantage of it.
What are Copper Fit ICE Knee Sleeves?
Copper Fit ICE is a compression sleeve "a patented micro-encapsulation technology delivering the cooling sensation of Menthol and the energizing properties of CoQ10 with every move you make. The more you move, the more ICE delivers!" and designed to support one's knees. Made to be worn all day, consumers can expect temporary relief for aches and pain.
How do Copper Fit ICE Knee Sleeves work?
Copper Fit ICE works every time consumers move. In doing so, the knee is exposed to menthol and CoQ10. Menthol is defined as an organic compound that is obtained from mint. It is said to house various properties which allows it to act as an analgesic, and anti-inflammatory agent. According to a 2014 study that looked at the acute effect of topical menthol on carpal tunnel syndrome, participants experienced a reduction in pain intensity.
CoQ10, which stands for coenzyme Q10, is a substance that can be naturally found in the body and in foods including animal organs, eggs and dairy. As for its role in fighting chronic pain, a study found in the journal of Antioxidants and Redox Signaling reported that mitochondrial dysfunction and a deficiency in CoQ10 leads to fibromyalgia. Upon increasing CoQ10 doses, participants not only saw a reduction in pain, but also fatigue levels, morning stiffness and tender points to name the least.
Frequently Asked Questions (FAQs)
Q. What role does copper play in Copper Fit® ICE?
A. Although one might have assumed that copper plays the only key role in the Copper Fit ICE sleeve, it is actually copper, menthol and CoQ10. As for the use of copper, it has been incorporated to minimize exposure to bacteria, fungus and microbes. In fact, it is also an essential trace element found in our very bodies responsible for cellular functioning.
Q. What sizes do Copper Fit ICE Knee Sleeves come in?
A. According to the official webpage, Copper Fit ICE is offered in two sizes:
S/M: 12" to 16"
L/XL: 16" to 20"
To see which size fits best, consumers are asked to measure around their knee cap. As for its length, it ranges between 10.25" and 10.5".
Q. What are the benefits of Copper Fit ICE Knee Sleeves?
A. Based on the advertisement, there are a number of perks that arise from wearing the Copper Fit ICE sleeve. These include:
Its anti-chafing property, which implies that the skin won't be irritated by the material
Its all-day support design
Temporarily relief of muscle and joint aches
Its compression aspect, which is said to improve circulation and reduce swelling and further damage
Q. Who do I contact in regard to my Copper Fit ICE?
A. For any questions or concerns regarding Copper Fit ICE, consumers are strongly urged to contact customer service in the following ways:
Email: [email protected]
Phone number: (800) 326-4915
Mailing Address: Ideavillage Products Corp, 155 Route 46 West, Wayne, New Jersey 07470
Q. How do I maintain the Copper Fit ICE Knee Sleeves?
A. Because the Copper Fit ICE sleeve's lining makes use of a patented micro-encapsulation process, improper laundering could deteriorate it and prevent it from effectively functioning. While the website does not readily mention how to go about caring for it, previous customers have noted that each purchase comes with a recommendation on proper wash.
Q. Will I have to worry about it slipping from my knee?
A. No, according to the claims made, the Copper Fit ICE sleeve has a silicone grip that prevents slippage and bunching. Hence, it will it stay the same way one puts it on.
Q. What are the benefits of using a compression type sleeve for injuries?
A. Known for providing circulatory and muscle support, and often prescribed by physicians, compression products can be used to help treat blood clots, varicose veins and avoiding thrombosis, to avoid blood pooling in the extremities, and even treat low blood pressure. Compression devices can help with reduced recovery time for muscles, stiffness, soreness, and pain, improved circulation and oxygenation of working muscles, and prevent strain and fatigue by keeping muscles from being cold.
How much do Copper Fit ICE Knee Sleeves cost?
The current going price of one Copper Fit ICE sleeve is $19.99. There are no shipping and handling fees attached and consumers are also offered a 30-day money-back guarantee. In the case of the latter, consumers are held responsible for shipping fees incurred in the process of returning the sleeve. That said, Hawaii and Alaska will be subjected to an additional $10 surcharge.
Who is behind Copper Fit ICE?
Copper Fit ICE is brought to consumers across the globe by none other than Ideavillage. Ideavillage is recognized for being a pioneer in TV-to-retail model since 1999. As a company, their goal has always been to help bring innovative ideas to life. To learn more about Ideavillage, click here.
Copper Fit ICE Knee Sleeves Final Thoughts
The knee is one of the most complex joints in the body. While consumers are likely to take its role lightly, its significance is only highlighted the moment an injury or pain is felt. The obvious reason is that any damage to it can limit one's range of motion.
With the Copper Fit ICE sleeve, consumers can anticipate continuous and temporary relief on a daily basis. It includes copper, menthol and CoQ10, which have been extensively studied to prevent bacteria formation and promote a diverse list of chronic relief respectively. In addition, its compressing nature is also said to be advantageous because it improves circulation while preventing further damage of any sort.
As for its affordability, it is slightly on the higher end because the average knee sleeve costs anywhere between $12.99 and $22.99 for a pair rather than for a single unit. That said, what helps Copper Fit ICE stand out is the copper embedded in the material as well as its ability to provide cool relief from the the energizing benefits of CoQ10 with every move you make. To find out more about the Copper Fit ICE sleeve, click here.