Copper Fit Angel SLEEPER: New Posture Pillow for Back and Side Sleepers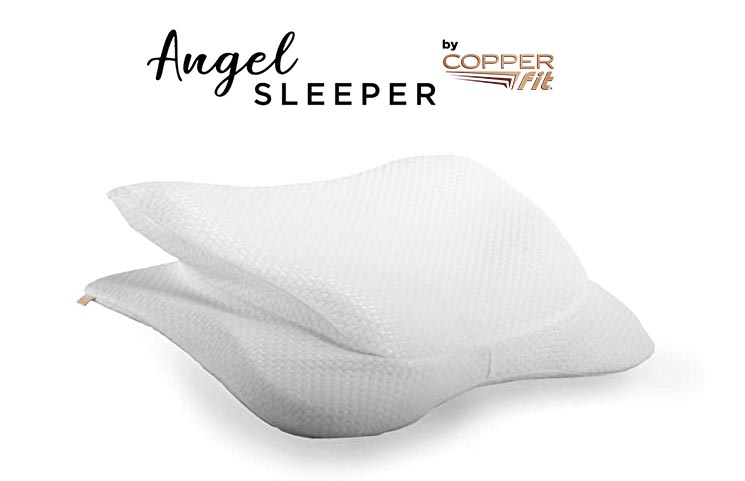 - ad -

Angel SLEEPER by Copper Fit, is a pillow designed to improve the posture of consumers that sleep on their side or back by aligning the neck with the spine. These sleeping positions tend to put uneven pressure on the spine. The Angel SLEEPER is copper-infused to reduce odor and made with a polyester fabric that wicks away moisture as you sleep for a more restful and relaxed sleep.
What Does Angel SLEEPER Do For Users?
Everyone has a certain way they like to lay while sleeping to help them fully relax. While the position may change throughout the night, there are many that favor their side or back, depending on the way they breathe, or find the most comfortable. There are many studies on the role that pillows can play in improving sleep and spine alignment, leading Copper Fit to develop their own pillow to help.
The pillow, Angel SLEEPER, offers the ideal height at 22 x 15 x 5 inches to maintain perfect alignment of the spine and posture while sleeping, and the design also has a place for the arm to rest comfortably too, made specifically for consumers that favor their side while sleeping. And consumers can choose from Standard or King size. Some consumers seek out flat pillows to help them sleep better, but these pillows often have incredibly thin stuffing and don't last or provide support for the neck and spine. Consumers that prefer a plush material may enjoy the texture, but their neck ends up bent in a way that can cause major problems in their neck such as nerve pain, tendonitis, herniated discs and more as time passes. The height level provided by Angel SLEEPER ensures that consumers don't sacrifice their relaxation at the mercy of their health and posture.
Made of adaptive memory foam, with bacteria and order control from the copper infused pillow covering, this pillow is designed to contour to the specific user, no matter who buys it. Memory foam has gained in popularity in the furniture industry over the last few years, primarily for the way that it can create a customized level of comfort that other materials don't offer. In this pillow, there is an arm cut-out as well, ensuring that consumers can keep their regular sleep position without any personal adjustments.
Frequently Asked Questions About Angel SLEEPER
The industry is rich with pillows that help alleviate many types of pain, especially when it comes to neck pain. Let's go a little more in-depth with some questions that customers may have about Angel SLEEPER made by Copper Fit and all of it's benefits.
Q. What type of pain is relieved by aligning the back correctly?
A. Regular pillows put uneven and inclined pressure on the neck and spine, which is why many people experience muscle stiffness and soreness in the morning. With the alignment created by Angel SLEEPER, consumers can eliminate neck pain, shoulder pain, and back pain without changing anything but their pillow.
Q. How long will it take to find relief with Angel SLEEPER?
A. Due to the impressive support offered with memory foam, the pillow may take about five to ten days to fully adjust to the user's neck and head shape to alleviate pain. Back sleepers should sleep on the lower side with the neck roll positioned under their head, while side sleepers should sleep on the higher side. While the memory foam adjusts, the company recommends keeping a pillow under (as a back sleeper) or between their legs (as a side sleeper) for the best posture.
Q. What pillowcase will users need for Angel SLEEPER?
A. Though Angel SLEEPER is available in both a standard size and a king size pillow, customers won't need to purchase a pillowcase at all. This product comes with its own copper-infused, machine-washable pillowcase.
Q. What makes the copper-infused material special?
A. The pillowcase included with this order is specially designed to fit this particular style of pillow, and the copper-infused material helps to eliminate odors and bacteria. Copper's natural properties have been used by cultures around the world for centuries and offers more protection against deterioration than stainless steel or silver can. It isn't irritating to the skin, even for consumers that have a greater sensitivity than others.
Q. How much bigger is the king size Angel SLEEPER than the standard size?
A. The king size pillow is 25% longer, though both sizes offer the same level of comfort and relief.
Q. What payment methods can be used for this order?
A. The website accepts PayPal and most major credit cards.
Q: Where can consumers learn more about Angel SLEEPER?
A: If the information available online here or on the official website doesn't answer a specific question, customers can still reach out to Copper Fit's customer service team. For any question, reach out via phone (866-304-4261) or by email: [email protected]
Buying Angel SLEEPER
Exclusively offered by Copper Fit's official website for Angel SLEEPER, consumers can order the standard size for $39.99 or the king size for $59.99. Though a single pillow will force users to pay a shipping fee, purchasing two pillows at once will qualify the order for free shipping, regardless of the size they choose.
Order status can be checked at: customerstatus.com/. However, if the user orders this posture pillow and doesn't like the way it works for them, the company provides a 30-day money-back guarantee.
The Angel SLEEPER Bottom Line
Everyone needs a good night of sleep with the right bedding, and that's a priority shown with Copper Fit's creation of the Angel SLEEPER pillow. The design helps to eliminate bacteria and odors while keeping the posture of the user correct while sleeping, inherently alleviating pain and soreness from incorrect posture and the use of the wrong pillow. While there are many memory foam products out on the market right now, Angel SLEEPER by Copper Fit has many distinct advantages.
Find the Copper Fit Angel SLEEPER on Amazon.