Science Natural Supplements Immuno Complete: Cellular Defense and Immunity Support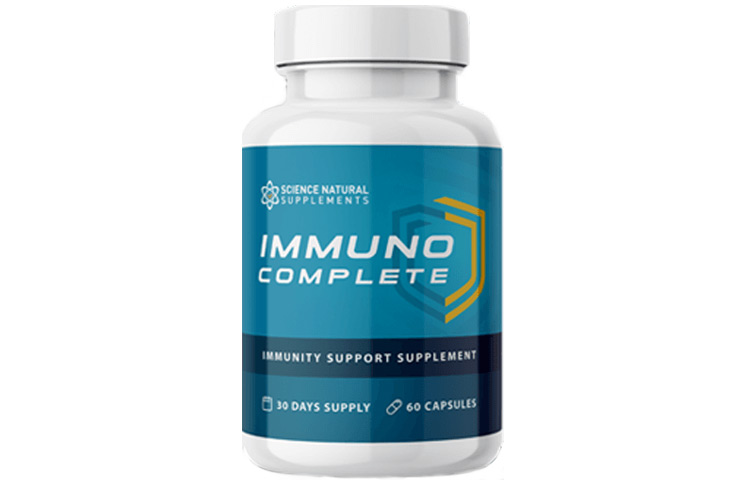 - ad -

Did you know that an infection can go as far as damaging cells? Were you aware that cell damage is equivalent to the immune system taking a hit? The term immune system was coined not to represent one organ, but instead a group of organs and other components. In order for it to function at its full potential, there needs to exist a balance among organs, tissues, cells, proteins you name it!
Together, these components join forces to fight off free radicals and other dangerous toxins. Because one relies on the next, a single damage can induce a chain reaction. This chain reaction is what makes consumers vulnerable to common illnesses. Hence, it is crucial that one actively fortifies their immunity to achieve optimal health and wellness. This is where it is best fit to introduce Immuno Complete, a supplement that focuses on applying ancient and traditional approaches to bettering health.
What is Immuno Complete?
As hinted in the supplement's name, Immuno Complete is a dietary supplement intended to support one's immune system through the use of super nutrients. Made in capsule form, each serving is expected to help consumers overcome common illnesses, while ensuring the body is in an equilibrium state.
How does Immuno Complete work?
Immuno Complete is said to work by protecting cells from damage, pollution and pathogens. According to the Founder of Science Natural Supplements, Cody Bramlett, select ingredients serve as nutrition to cells. In particular, these entail vital nutrients and antioxidants that cells need so that they can strengthen the body's whole immunity.
What ingredients are in Immuno Complete?
The Immuno Complete formula is an extensive one, as it includes 20 ingredients altogether. Here's a brief overview of how the ingredients contribute to the immune system:
Vitamin C
Vitamin C is an essential nutrient with a high content of antioxidants. Its role entails boosting the immune system by providing support to cellular functions. What makes this nutrient unique is that it serves as a barrier to pathogens and provides protection against oxidative stress. In terms of common illnesses, vitamin C has been found to rid one of inflammation and could prevent and/or eliminate infections.
Vitamin E
Just like vitamin C, vitamin E also houses a powerful antioxidant. When consumers have a vitamin E deficiency, they are more likely to experience an increase in infectious diseases and tumors. Hence, its ingestion could help with cellular immunity, prevent premature signs of aging and could aid in recovery.
Selenium
Another essential nutrient and potent antioxidant is selenium. According to a 2013 review, selenium's influence on immune responses was studied specifically in regard to its potential in fighting viral infections, pathogens, allergies and asthma, the overall aging processes, and with some evidence, cancer immunity.
Proprietary Blend
The Science Natural Supplements' proprietary blend accounts for most of the Immuno Complete formula. The selected ingredients have been mainly used in traditional medicine. In particular, these ingredients combined house bioactive properties, polyphenols, antioxidants, polysaccharides, anti-inflammatory and antiviral properties, vitamin C, flavanols, anthocyanins, and phenolic acids – all of which aid in promoting better cellular health, giving a good fight against infections and viruses and ultimately, increasing immunity.
These ingredients are none other than:
Graviola Leaf
Raspberry Fruit
Green tea
Beta-Glucan
Pine Bark
Essiac Tea Complex
Grape Seed
Mushroom Complex
Quercetin Dihydrate
Pomegranate
Olive leaf
Arabinogalactan
Cat's claw
Panax Ginseng
Lycopene
Frequently Asked Questions on Immuno Complete (FAQs)
Q. How do I take Immuno Complete?
A. To make the most out of Immuno Complete, consumers are recommended to take two capsules per day. This is deemed sufficient to shield one's defense mechanism against harmful toxins and viruses.
Q. What are the proclaimed benefits of Immuno Complete?
A. As disclosed, some of the potential benefits of taking Immuno Complete include cellular repair support, the ability to fight off common colds and viruses and as the name suggests, to possibly boost one's immune system. Others include:
Supports health circulation and blood pressure levels
Reduces inflammation
Promotes cellular health
Exonerates one's system of free radicals
Q. How long will it take before I feel positive differences?
A. Bramlett affirms that the key to seeing results rests in consistently taking Immuno Complete. That said, results are surely to vary on a case-by-case basis, so one can anticipate changes within the first couple of days to a matter of months.
Q. What is the nutritional breakdown of Immuno Complete?
A. Based on Immuno Complete's nutritional facts, each serving represents 30mg of vitamin C, 20mg of vitamin E, 20mcg of selenium and 1512 mg of a proprietary blend. Other ingredients found in this supplement include gelatin, magnesium, stearate, silicon dioxide, and microcrystalline cellulose. As for possible allergens, Immuno Complete contains soy.
Q. Who do I contact regarding my Immuno Complete purchase?
A. In the event that any questions or concerns rise in regard to the formula or orders placed, the best way to handle this is to contact customer service through:
How much does Immuno Complete cost?
With the purchase of one Immuno Complete, consumers will get an additional three for free. Hence, a 4-month supply of Immuno Complete will cost $68.99 (with shipping of $19.99). In addition to such a deal, each bottle will be backed by a 180-day "bullet proof", 100% money-back guarantee.
About Science Natural Supplements
As previously mentioned, Science Natural Supplements was founded by Cody Bramlett. Bramlett started his career as a gym owner and trainer who helped people attain unique weight management goals. Having pleased many people health-wise, the one person that he was unable to help was his father, who at the time experienced chronic pain.
This led him to find ingredients that can better his condition. What started as a mission to fight chronic pain motivated Bramlett to find natural solutions for memory problems, lack of mental focus, and low energy among others. Hence, he created Science Natural Supplements as a one-stop shop that includes natural solutions to the most common health issues in today's society.
Science Natural Supplements Immuno Complete Final Thoughts
Based on the analysis above, it is clear that Science Natural Supplements focused on bringing together ingredients that boost one's immune system. What makes the Immuno Complete formula exceptional is that it largely relies on natural ingredients to limit potential side effects. Who can forget the current going price in which 4-months of supply is offered for a measly $68.99 after shipping!
Besides the fact that most of these ingredients have been studied in relation to its immunity response, the more ancient ones were not. So, whether or not one will experience side effects in the long run remains unclear. But, based on the nutritional values, it seems like they might be present in lower quantities. Ultimately, it might be best to consult a health practitioner, especially those who take medication, prior to placing an order. To find out more about Science Natural Supplements' Immuno Complete, click here.