Diabazole Review: Healthy Blood Sugar Level Support Supplement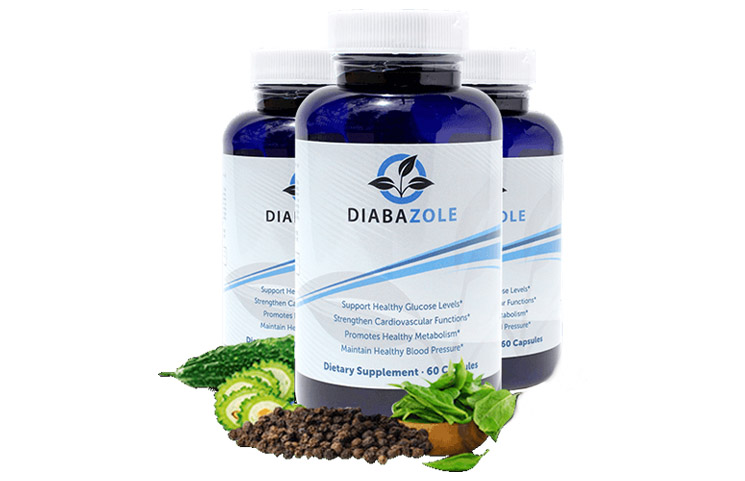 - ad -

Healthy blood sugar levels are incredibly important, especially for aging Americans. As we age, our body's ability to properly regulate blood sugar can decline steadily, leading to a number of negative health impacts.
Diabazole is a nutritional supplement that claims to support healthy blood sugar levels. By taking two capsules of Diabazole daily, you can purportedly manage your blood sugar with no side effects. The supplement is marketed to people with pre-diabetes, type I diabetes, and type II diabetes who want to control their symptoms.
Will Diabazole really control diabetes symptoms and manage your blood sugar? How does Diabazole work? Find out today in our comprehensive Diabazole review.
[toc]
What is Diabazole?
Diabazole is a supplement that claims to manage blood sugar, keeping your blood sugar in a normal range and preventing it from getting too high or low.
The supplement is made by RX Pharma Solutions, LLC. Supplement companies are not allowed to advertise health benefits or make claims of having the ability to treat disease, yet Diabazole seems marketed specifically to people with diabetes seeking to control symptoms of their illness – including diabetics who want an alternative to diabetes medication. In fact, RX Pharma Solutions even claims their ingredients are supported by doctors:
"The natural ingredients in our potent proprietary blend has been used for years by naturopathic doctors. Unlike prescribed pharmaceutical medications this all-natural supplement has no risky side effects."
The supplement website adds that the formula "has the potential to help support healthy blood sugar levels in all individuals including those who suffer from Pre-Diabetes, Type II Diabetes, and Type I Diabetes."
Diabazole is priced at $75 per bottle, making it one of the most expensive nutritional supplements we have reviewed. Clearly, RX Pharma Solutions believes in its supplement. Let's take a closer look at how this all-natural formula controls blood sugar.
How Does Diabazole Work?
Diabazole claims to use all natural ingredients and a proprietary formula to control blood sugar. You take two capsules daily to manage blood sugar without the side effects of traditional diabetes medication.
To control blood sugar, Diabazole uses a " potent proprietary" blend of vitamins, minerals, and herbal extracts. The supplement does not appear to have high doses of any specific ingredient, which is surprising given the high price of the formula.
Vitamins: Diabazole contains 83% of your daily value (DV) of vitamin C, 50% DV of vitamin E, 100% DV of biotin.
Minerals: Diabazole contains 31% of your DV of magnesium, 50% DV of zinc, 50% DV of manganese, and 56% DV of chromium.
Herbal Extracts: Diabazole contains 10mg to 50mg of herbal extracts like bitter melon extract, licorice extract, and cinnamon herb powder, among other herbal extracts.
Scientific Evidence for Diabazole
RX Pharma Solutions has not conducted any clinical trials on Diabazole. The company does not even link to other scientific studies or clinical trials involving individual ingredients.
At first glance, Diabazole seems like a weak multivitamin with random herbal extracts added. The formula contains seven vitamins and minerals at a lower dose than you would see in a typical multivitamin. These vitamins and minerals should support various aspects of your health – especially if you're not already getting enough vitamins and minerals in your diet.
Of course, you don't have to pay $75 for a bottle of multivitamins. So clearly, the company believes its herbal extracts give the supplement added effectiveness.
There's some evidence that bitter melon extract can lower the body's blood sugar. Bitter melon has properties that act like insulin, which helps bring glucose into the cells for energy. The consumption of bitter melon can help your cells use glucose and move it to other areas of your body – including your liver, muscles, and fat. Today, you can buy bitter melon extract supplements for $10 to $15 online. They typically contain 1,500mg of bitter melon extract per serving and claim to support blood pressure and blood sugar. Diabazole contains just 50mg of bitter melon extract.
Guggul extract, meanwhile, is a resin extracted used in ayurvedic medicine for centuries. A chemical in guggul called guggulsterone affects the production of cholesterol by the liver. Some studies suggest that guggul can lower cholesterol, although there's limited research on guggul extract overall. Guggul extract supplements typically use dosages of 500mg to 750mg.
Some diabetics take a cinnamon powder supplement to curb blood sugar by lowering insulin resistance. One study found that taking 1,000 to 6,000mg of cinnamon for 40 days lowered cholesterol by 18% and blood sugar by 24%. There's just 50mg of cinnamon extract in each serving of Diabazole.
Most other ingredients in Diabazole are similar: they have shown some evidence of reducing blood sugar in some small studies, but contain a dose that's much too small to have any significant effect on your body.
Overall, there's no evidence that Diabazole can reduce blood sugar, treat diabetes symptoms, or help diabetics manage any other effects of the illness. Some ingredients have been linked with these benefits, but the dosages are far too small.
Diabazole Ingredients
Diabazole lists all its ingredients and dosages online on the official product website. As mentioned above, some of the ingredients have been linked to blood sugar management and other benefits, yet the dosages are generally much smaller in this formula than what is used in other supplements and studies.
About RX Pharma Solutions, LLC
Diabazole is made by a company named RX Pharma Solutions, LLC, which also does business under the name Biologic Solutions LTD.
The company has one address in Scottsdale, Arizona, as well as a separate address for a 'sister company' in Edinburgh, UK. Both companies make a range of nutritional supplements and appear to have been launched around 2015.
You can contact RX Pharma Solutions via the following:
Phone: 1-855-638-2030
Email: [email protected]
Mailing Address (USA): 17470 N Pacesetter Way, Ste 15, Scottsdale, AZ 85255 USA
Mailing Address (UK): Morrison Street The Exchange, Edinburgh, United Kingdom, EH3 8EB
Frequently Asked Questions About Diabazole
Blood sugar problems are complicated, and it's hard to find substantive information online about the leading alternative health treatments to this popular issue. This section should answer some of the most commonly asked questions about Diabazole, as well as the company behind it.
Q: What causes blood sugar problems?
A: This is a big question. Generally speaking, blood sugar can be caused by a number of different conditions. Diabetes, for example, can cause either high or low blood sugar in the body. As we age, the likelihood that we will experience blood sugar problems increases steadily.
Q: Can supplements help improve blood sugar?
A: In some cases, yes. We advise consumers to be cautious and manage their expectations concerning any given blood sugar solution. Many supplements don't include a sufficient amount of core ingredients to improve your blood sugar significantly. Generally, you should contact your doctor if you have blood sugar problems. It's never bad to get a second opinion.
Q: What ingredients are in Diabazole?
A: This supplement includes a relatively long list of ingredients, including bitter melon extract, licorice extract, and cinnamon herb powder, and several other extracts. Additionally, the supplement contains around 31% of your DV of magnesium, 50% DV of zinc, 50% DV of manganese, and 56% DV of chromium. Finally, Diabazole also contains 83% of your daily value (DV) of vitamin C, 50% DV of vitamin E, 100% DV of biotin.
Q: Should you contact your doctor before using Diabazole?
A: We recommend contacting your physician before using any new supplement, as some supplements could interfere with your treatment plans set out by your doctor. However, no prescription is required for this supplement, as it is not technically classified as a drug.
Diabazole Pricing
Diabazole is priced at $75 per bottle, although you can lower the price to $28 per bottle by buying 12 bottles at a time. Here's how pricing breaks down:
1 Bottle: $74.95
3 Bottles: $149.95
6 Bottles: $239.88
12 Bottles: $339.00
All prices include shipping.
Each bottle contains 60 capsules (30 servings). You take two servings per day to control blood sugar.
Diabazole Refund Policy
Diabazole appears to have a 30 day refund policy, although there's limited information about that refund policy available online, with just the address listed below for returns to be shipped back to. To contact the company behind Diabazole by phone or email at;
Phone 1-855-638-2030
Email [email protected]
RX Pharma Solutions, LLC / Biologic Solutions LTD
17470 N Pacesetter Way, Ste 15
Scottsdale, AZ 85255 USA
Diabazole Final Thoughts
Diabazole is a high-priced diabetes supplement that claims to manage blood sugar – yet has limited evidence supporting its benefits.
The supplement contains several good ingredients – like cinnamon and bitter melon extract, both of which were shown to control blood sugar in certain small studies. However, Diabazole contains just 50mg of each ingredient, while most studies use dosages of 1,000mg or more.
Overall, you can find plenty of better supplements for a fraction of the price of Diabazole.