Immunity by Force Factor: Immune Boosting Supplement with 16 Ingredients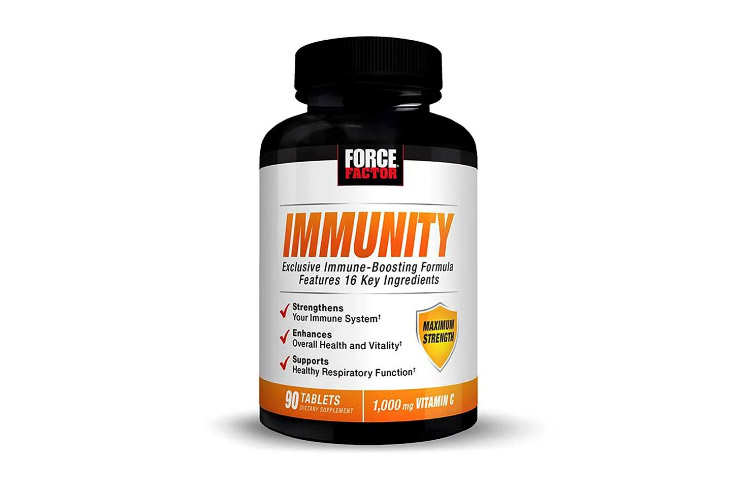 - ad -

Immunity by Force Factor is a supplement that helps consumers to defend their respiratory and immune systems, with the use of 16 exclusive ingredients. The formulas ingredients include vitamins A, C, D3, E and Elderberry along with others. Requiring users a once daily dose, but consumers may have to wait a little longer before they get it.
What is Immunity?
The spread of the pandemic has proven to be very frightening for the public, left with no way to truly protect themselves apart from the use of face masks and hand sanitizer. For that reason, the sale of immune-boosting supplements has skyrocketed in the public's own efforts to strengthen their body against diseases and viruses, but the sad reality is some immune supplements on the market only provide small amounts of what you need to support a healthy immune system. The scientists behind Force Factor Immunity believe they have only used the most beneficial ingredients possible. Force Factor has been a trusted brand for quite some time, so it should be no surprise that they've developed a product that may work for superior immune health possible.
Immunity by Force Factor, as reported by Stack3D.com, offers many of the known ingredients that help to improve the immune and respiratory systems, including zinc and vitamin D3. Though the key to this remedy is to improve the body's response to disease, it also helps to increase overall health and promotes better respiratory function.
Still, none of this is possible without the right blend of ingredients and taking the 3 tablets daily with breakfast.
Immunity by Force Factor Ingredients
In Immunity, users will discover all 16 of the standout ingredients, each of which have their own ways of improving the functioning of the respiratory and immune systems. The top of the list has many vitamins and minerals that are offered for daily support, including vitamins A, C, D3, and E, zinc, and selenium.
The way that Immunity ends up standing out is with the Immune Response Amplification Matrix, which is made up of:
Quercetin dihydrate
Wellmune
Elderberry
Echinacea purpurea extract
Ginger extract
Acai berry extract
LactoSpore
BioPerine
Quercetin offers an impressive role as an antioxidant, flushing out the toxins and free radicals that could tamper with how effective the immune system against disease. In fact, this recipe has included many ingredients for their powerful antioxidants, like vitamin C, elderberry, and echinacea.
Still, the ingredients work in other helpful ways as well. Wellmune, which is a beta glucan from natural yeast, and garlic, specifically has been linked to strengthening the immune system, while vitamin D regulates it.
Both ginger and turmeric are connected to a better anti-inflammatory response, which reduces the amount of pain that users experience as well. LactoSpore, however, is a probiotic, which has previously been used exclusively for the benefits to the digestive system. However, there's been recent research to indicate that it can be used for more, like reducing irritable bowel syndrome and supporting the immune system.
BioPerine has a benefit that doesn't directly impact the immune system. Instead, it enhances all of the other ingredients to make their effects more amplified.
Buying Immunity by Force Factor
When Immunity becomes available on Force Factor's website, customers will be able to get 90-tablet bottle for $29.99. However, in the meantime, the only thing to do is wait for it to be publicly released, as it won't be available in stores initially.
Immunity by Force Factor Summary
Immunity by Force Factor is presently unavailable on the official website, though it is presently labeled "coming soon" for consumers that want to keep an eye out. Even with the slight disadvantage of having a proprietary blend for the majority of the ingredients, consumers will still be able to get substantial benefits when it is in stock. If this formula proves to not offer the benefits that consumers hope for, they can contact customer service to get a refund.