Foundation Digest Reviews – Do Enzymes Work for Avoiding Bloat?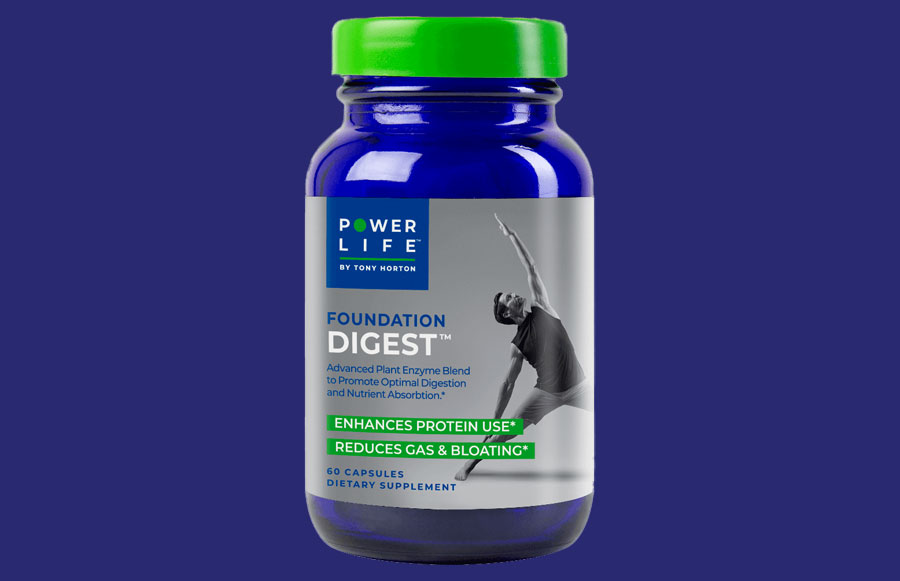 - ad -

Foundation Digest is a formula by Tony Horton, helping users increase their protein and eliminate digestive difficulties like bloating and gas. The formula is made with plant enzymes and is incredibly easy for the body to absorb.
What is Foundation Digest?
With the many different foods that people put into their bodies every day, it is rather surprising that more people do not have difficulty with digestion. Even someone that doesn't indulge in fast food or sweets can still fall victim to marketing ploys used by grocery stores that claim to have healthy foods. It is common to have difficulty with digestion at some point, especially after big meals or foods rich in protein. These natural processes become more difficult with age, but the creators at Power Life (namely Tony Horton) have developed a product to help individuals of all ages called Foundation Digest.
Foundation Digest isn't a probiotic, and it isn't an antacid. Instead, it works with the natural need for healthy bacteria and enzymes in the body to process the many different types of foods that go into it. It isn't very complicated, only including three main ingredients (two blends and one extract) to do all the work. This formula won't eliminate problems like irritable bowel syndrome, GERD, or lactose intolerance. Still, it can give the body the enzymes needed to avoid bloating, gas, and related concerns.
How Foundation Digest Works
This formula is seemingly effective due to the digestive enzyme blend, which is also known as DigeSEB Super. In the 200mg proprietary blend, users will find:
Amylase
Protease I, II, and III
Lipase
Alpha galactosidase
Cellulase
Glucoamylase
Diastase
Lactase
Serrapeptase
Bromelain
Invertase
This collection of enzymes is crucial to breaking down the various nutrients that consumers eat regularly, like dairy products, protein, carbohydrates, and fat.
The only other ingredients in this formula include:
Protease Enzyme Blend 175mg (which only includes Prohydrolase) and 125mg artichoke extract. While the main purpose of Prohydrolase is to ease the bloating that can be caused as the body digests protein, the artichoke extract eliminates toxins from the body and helps the small intestine and liver break down fat.
To ensure that consumers get all the benefits they need, the creators recommend taking one capsule before their two biggest meals of the day. If the meals are extremely high in protein or especially large, users may end up needing two capsules for each of those meals.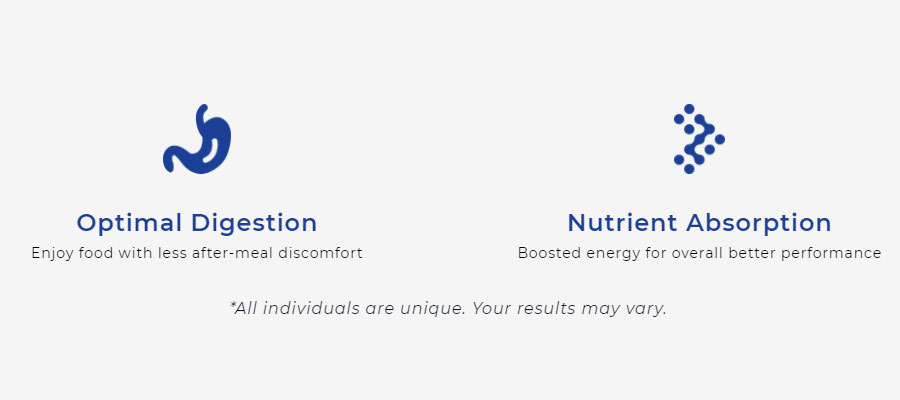 How to Buy Foundation Digest
Typically, users can purchase a single bottle of Foundation Digest for $59.95, but the website states that this package's formula is presently out of stock. When it is in stock again, users will have the choice of a three-bottle package ($161.85) or a six-bottle package ($305.70) as well.
If the user's order exceeds $50 (and all these packages do), they will qualify for free shipping.
Consumers who find that this plant-based digestive formula does not help them in the way they expected can request a refund within 90 days of their purchase.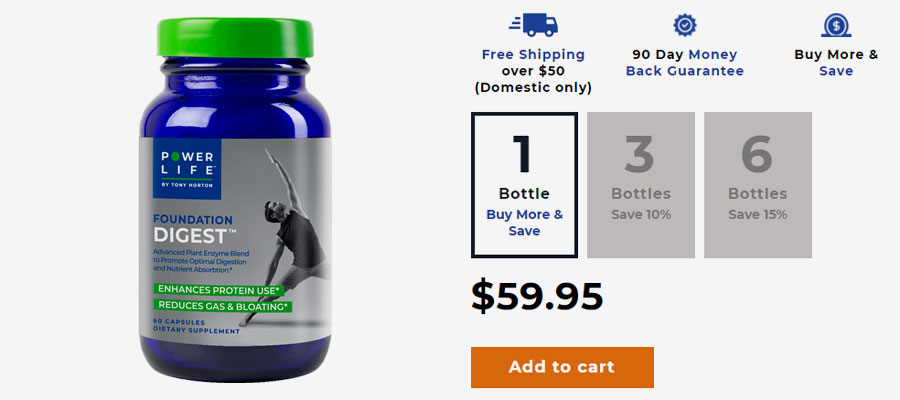 Frequently Asked Questions About Foundation Digest
Q: Can consumers order Foundation Digest in stores?
A: Currently, the only way to purchase this supplement is by visiting the official website for Power Life by Tony Horton. While the product is currently out of stock, users can check back to see what is available.
Q: What sets Foundation Digest apart from the other products that currently provide digestive enzymes?
A: While other products will address certain parts of the digestive system, all the ingredients in Foundation Digest work to digest almost anything that the user eats properly. With the ability to breakdown vegetables, protein, carbohydrates, and dairy, the creators even put their product through third-party lab testing to ensure that everything is what they say it is.
Q: What if this product is not effective for the user?
A: There is a possibility that the digestive enzymes will not be effective in some customers. Everyone has different dietary needs, and the company has planned for these differences with its careful selection of ingredients. However, they offer a return policy for any person that is not getting what they need.
Q: What is the best number of bottles to order?
A: Each bottle provides the user with 60 capsules, which means it contains enough to get through an entire month of use before needing another bottle. Most people will select the three-bottle option since it would allow them to keep up with the regimen for up to 90 days (the length of the return policy).
For any other questions, consumers can call the company at 855-462-2496, or they can send an email to [email protected]
About Power Life
Power Life, the company behind Foundation Digest, sponsors the GO campaign, a nonprofit organization that helps children get what they need for "a fair chance at life." Their sponsorship allows them to dedicate some of their profits toward struggling children worldwide, whether in a busy city like it Los Angeles or an impoverished area like East Africa. To date, Power Life has contributed $175,000 towards their emergency relief efforts.
Foundation Digest Summary
Foundation Digest delivers enzymes that the digestive system needs to properly process nutrients like protein carbohydrates rather than becoming uncomfortable with flatulence, bloating, and more. The remedy is easy to take each day, so long as the user takes it with their two largest meals. This product has digestive benefits and comes from a company that supports the welfare of children worldwide through a fraction of their funds.