ZenDEFENSE by ZenWise Health: Daily Immune System Defense Supplement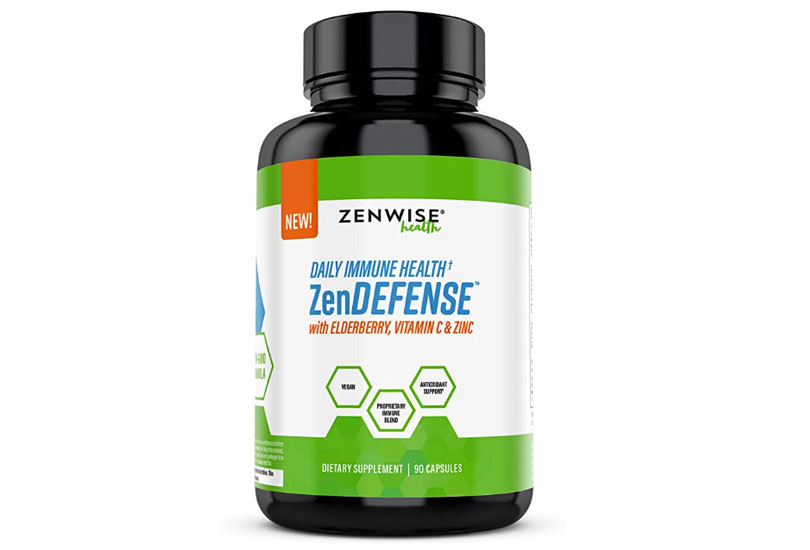 - ad -

The immune system plays a major role in human wellness. Home to cells, tissues, proteins, and organs to name the least, sometimes it encounters disruptions from germs, free radical damage and other unwanted viruses. With most of its function focusing on the digestive system, it becomes ever so crucial to do what it takes to fortify it.
Zenwise Health has recently launched a new supplement called ZenDEFENSE. As per the supplement label, its goal is to enhance one's daily immune health. Curious to see what approach this health-focused brand has taken? Here's what has been disclosed thus far:
What is ZenDEFENSE?
ZenDEFENSE is described as an advanced immune supplement that aims to boost one's immune system while providing support throughout one's daily tasks. To be more specific, some of its proclaimed benefits include aid in cardiovascular function, inflammatory response and providing the necessary protection one's body needs against free radical damage.
What ingredients are found in ZenDEFENSE?
The aforementioned benefits are said to be possible due to three main ingredients, which are elderberry, vitamin C and zinc.
Vitamin C
As consumers might already know, vitamin C is a type of essential vitamin. It is water-soluble in nature and is found in a number of fruits and legumes. As seen on Healthline, Some of its associated health benefits include reduced risk of chronic and heart diseases, maintained blood pressure levels, ability to prevent gout attacks, reduced iron deficiency and most of all, boost in one's immune system.
Elderberry
Elderberry appears to have been chosen because it contains a plant-based source of vitamin C, anthocyanidins and flavanols. Dr. Axe describes anthocyanins as one of nearly 6,000 different types of polyphenol phytonutrients. Given that it is a flavonoid more than anything, it is deemed simply a powerful antioxidant. Some of its benefits include fighting premature signs of aging and oxidative stress, boosting one's immune and cardiovascular functions and aiding in exercise recovery.
Zinc
Zinc plays a major role on how one's bodily organs function. In particular, without zinc, one's immune function might start to fall apart, as well as one's overall growth and development, rate at which wounds heal, and protein synthesis among others.
Other ingredients found in the ZenDEFENSE formula that are meant to boost immune function, aid with cold and flu troubles, inflammatory support and skin and cardiovascular support include:
Magnesium
Selenium
Quercetin
Olive Leaf Extract
Turmeric
How much does ZenDEFENSE cost?
It seems like most Zenwise Health essentials range anywhere between $17 and $26. This price range reflects a 90-count supply (i.e. 45 days). Consumers also have the option to purchase the 14-count sample pack (i.e. 7 days supply).
Frequently Asked Questions (FAQs)
Q: How should ZenDEFENSE be taken?
A: Consumers are suggested to take two capsules per day or as directed by a health professional.
Q. Where can I purchase Zenwise Health products?
A. All of Zenwise Health products, including ZenDEFENSE, can be purchased exclusively online through Amazon.com, Walmart.com, iHerb.com and LuckyVitamin.com. One can also purchase directly from Zenwisehealth.com. It has been noted that these five establishments are surely to carry Zenwise Health essentials of utmost quality.
Q. Are Zenwise Health products GMP certified?
A. Yes, all Zenwise Health products have been GMP certified. This means that each product produced is consistent from batch to batch and has been controlled according to quality standards.
Q. Is there a refund policy?
A. Yes, according to the Zenwise Health official webpage, all products come with a 100% lifetime, money-back guarantee. Should one feel dissatisfied with ZenDEFENSE, it is a matter of reaching out to customer service by filling out the form here or in the following ways:
Email: [email protected]
Phone: (800) 940-1972
Address: 1000 N. West Street, Suite #1200-1690, Wilmington, DE 19801
What people saying about ZenDEFENSE
Based on 26 verified Amazon customers alone, ZenDEFENSE got a rating of 4.9 out of 5. Here are some of the pros and cons listed by them so far:
Pros:
Easy to swallow pills
Provides good immune protection
Helped rid one of cold amidst weather changes
Digestive issues, knee swelling, and restlessness were eliminated upon ingestion
Improved allergies
Additional ingredients used in ZenDEFENSE makes it stand out
Cons:
Who is behind ZenDEFENSE?
Zenwise Health is the creator behind ZenDEFENSE. Zenwise Health and on a mission to provide consumers with premium supplements that enhance one's quality of life regardless of age and walks of life. Ultimately, one is expected to experience a much happier, healthier and well-balanced life.
ZenDEFENSE by ZenWise Health Final Thoughts
ZenDEFENSE is an immune-boosting supplement that aids in enriching an array of bodily functions. The combination of elderberry, vitamin C and zinc seems to have impressed many customers to date. This doesn't come of surprise as the trio are recognized in their ability to relieve one of cold and flu symptoms among others.
Another reason why ZenDEFENSE could be considered rests in Zenwise Health's focus on quality, transparency and innovation. In particular, all of their products are said to have undergone independent third-party testing and come with detailed ingredients lists and allergen information. Most importantly, the team avows to work with industry experts to maximize each formula so that one's needs are met.
As for its price factor, given that it falls anywhere within the $17 to $26 range, it is clearly inexpensive compared to the standard. Not to forget the rich source of ingredients housed within each serving.
That said, the key drawback in using an ingredient like elderberry is that only a small number of studies have been evaluated for health conditions. Moreover, the National Center for Complementary and Integrative Health (NCCIH) disclosed that elderberry is usually combined with other ingredients, hence making it difficult to distinguish its key role.
In addition, one should bear in mind that if elderberry isn't handled properly in the processing and manufacturing procedures, then consumers might experience nausea, vomiting and/or severe diarrhea. However, no illnesses were reported in regard to its consumption so, it is generally accepted as a safe ingredient.
To learn more about ZenDEFENSE, click here.