Immuneti Advanced Immune Defense: Doctor-Formulated Immunity Booster?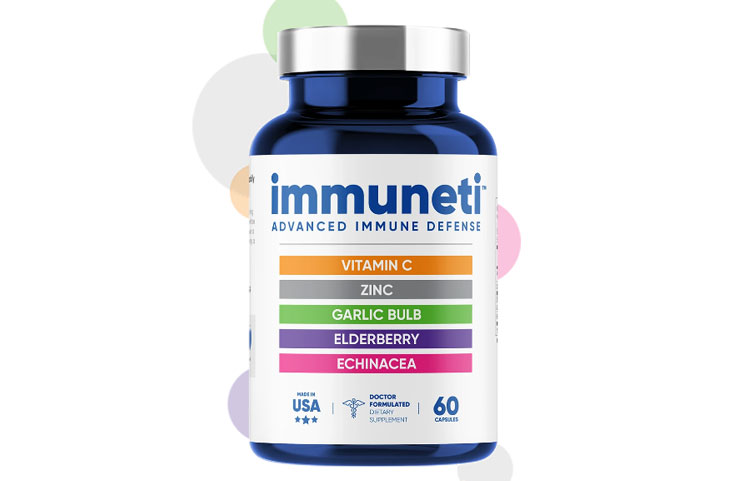 - ad -

As researchers across the globe continue to study the coronavirus, many have since advised the general public to boost their immune system. The reason for this rests in the mere fact that most cases have had symptoms that range from fever, dry cough and tiredness to sore throats, headaches and even loss of taste or smell in the rarest of cases.
How can one boost their immune system? While it is generally recommended to eat food high in antioxidants and other essential nutrients, supplements usually fulfill the daily recommended doses. With that in mind, the purpose of this review is to introduce the Immuneti Advanced Immune Defense. Factors including its intended purpose, ingredients, and affordability among others will be assessed throughout this piece. Here's what there is to know.
What is Immuneti Advanced Immune Defense?
The Immuneti Advanced Immune Defense is a doctors-formulated dietary supplement that supposedly provides the necessary nutrients and antioxidants one needs to fortify their immune system. Through the use of natural ingredients, one can anticipate reduced symptoms and durations of cold and flu while enhancing wellness.
What are the ingredients in the Immuneti Advanced Immune Defense?
One of the facets that make the Immuneti Advanced Immune Defense unique, as proclaimed by the team, is their ingredients list. To be more specific, it includes five ingredients, which are considered a complete package. They are:
Vitamin C (200% of the Daily Value)
Vitamin C, typically referred to as ascorbic acid to the food and supplement industry, is a vitamin that is an essential nutrient, i.e. which the body cannot produce, that serves as a healer of tissues and enzymatic production among others. It has been highly associated with its ability to strengthen the body's natural defense due to its rich source of antioxidants.
According to a 2017 review, taking vitamin C can prevent and treat respiratory-related infections. In such cases, consumers are urged to take anywhere between 100 and 200mg per day, as it is helps to "optimize cell and tissue levels." Depending on the severity of one's infection, a stronger dosage might be required.
Zinc (100% of the Daily Value)
Zinc is a trace mineral found in the body and is deemed crucial for enzymes health, metabolism, and nerve function among others. In fact, its deficiency can lead to underdevelopment in one's growth and immune cells' function. As per a 2008 study, zinc carries a number of therapeutic roles when it comes to, "acute infantile diarrhea, acrodermatitis enteropathica, prevention of blindness in patients with age-related macular degeneration and treatment of common cold."
Garlic (200mg per serving)
Belonging to the onion family, garlic is highly valued due to its source of vitamins C and B6, manganese, selenium and traces of fiber. It is commonly known for its ability to fight against illnesses, primarily the likes of the common cold.
As per Oregon State University's Micronutrient Information Center, it is garlic's compound called organosulfur that "exert antioxidant, anti-inflammatory, antimicrobial, anticancer and cardioprotective activities." Some of its reported benefits include improved serum lipid, reduced blood pressure, and reduced chances of cancer, gastric and colorectal cancer.
Elderberry (370mg per serving)
Elderberry has been around for some time now, as many continents have since used it in traditional medicine. Currently, its uses are found in supplements for flu, colds, constipation and other related conditions.
According to a 2016 study, where a randomized, double blinded placebo-controlled clinical trial was conducted, it was found that it has beneficial effects in terms of one's physical, respiratory and mental health. The researchers concluded that more studies are generally required, however, based on what they've found thus far, its uses were able to significantly reduce the duration of one's cold and "severity in air travellers."
Echinacea (200mg per serving)
Finally comes an herb that is native to the Rocky Mountains. It is called echinacea and has since been associated with increased blood sugar and pressure maintenance, reduced inflammation and the ability to fight off flus. In further researching its potential, it has been found that echinacea is popular among traditional medicine and is said to provide "remedies for strengthening the body's resistance to illness through effects on immune system components. " That said, whether this holds for the long run remains unclear.
Frequently Asked Questions (FAQs)
Q: Who is the doctor behind Immuneti?
A: As found on the official website, the doctor behind this formula is Dr. Amy Shah, M.D. She is described as a double board-certified medical doctor and wellness expert who completed her studies in Harvard, Columbia and Cornell Universities.
Q:  How should I take the Immuneti Advanced Immune Defense?
A: As suggested on the supplement, it seems like consumers should be taking one serving per day (i.e. 2 capsules). However, there is a lack in information in regard to the appropriate time of day one should take it and whether or not it should be taken with food.
Q: Are there any side effects to consider?
A: While the Immuneti team makes no mention of side effects, ingredients such as echinacea and elderberry might have some minor side effects that need to be addressed. These might range from stomach pain and rashes depending on whether consumers have allergies to the likes of nausea, vomiting and severe diarrhea respectively.
How much does the Immuneti Advanced Immune Defense cost?
It seems like there are a number of options to choose from when it comes to purchasing the Immuneti Advanced Immune Defense. Primarily, they are as follows:
1-bottle supply (1 month): $29
3-bottle supply (3 months): $57
Buy 4 get 1 free (5 months): $75
Considering the fact that not everyone might be able to pay in one shot, the team is currently allowing consumers to choose between one payment or four interest-free payments of $7.25, $14.25 and $18.75 respectively. Furthermore, for every purchase made, the Immuneti teal will donate a 6-month supply of essential vitamins to a child with malnutrition through their partnership with Vitamin Angels.
Finally, if the supplement does not bring satisfactory results, there is a 100% 30 days money-back guarantee in place. The following are ways to get in touch with customer service:
Email: [email protected]
Phone number: +1 (887) 221-1547.
Corporate Office: 16620 Stagg Street, Building H, Van Nuys, CA 91406. USA
Immuneti Advanced Immune Defense Final Thoughts
The Immuneti Advanced Immune Defense is a doctors-formulated dietary supplement that aims to strengthen one's immune system. Based on social media platforms, Dr. Amy Shah is generally looked up to, as she currently has a little under 7,000 followers on Twitter. She also seems to have been introduced on a number of platforms including WLFA.com, CNBC, and MindBodyGreen among others.
That said, when addressing the supplement itself, it highlights five key ingredients, which all have been used in traditional and modern medicine. In addition, they've all been studied to some extent on short-term consumption, as most minor illnesses, i.e. common colds and flus, don't usually surpass the 14-day mark.
As for its affordability, it is quite inexpensive given the ingredients list and amounts found per serving. This is definitely a benefit worth taking advantage of. Another facet that makes Immuneti attractive is the contribution the team is making towards supporting those in need!
On that note, there appears to be some drawbacks that need addressing. For starters, we know very little about Immuneti as a company and with supplements, consumers usually prefer to be fully informed while the company itself stays true to being transparent. That said, this is an easy fix, as one could get whatever information needed by contacting customer service.
Then comes the uses of the Immuneti Advanced Immune Defense. More specifically, there is a lack in studies on its long-term uses, hence, consumers are urged to consider this only over the short-term. Moreover, it is best to consult a health practitioner prior to ingesting it, as individuals with allergies may react differently.
To learn more about the Immuneti Advanced Immune Defense, click here.