United Naturals Synbiotic 365: Advanced Probiotic for Healthy Gut Digestion?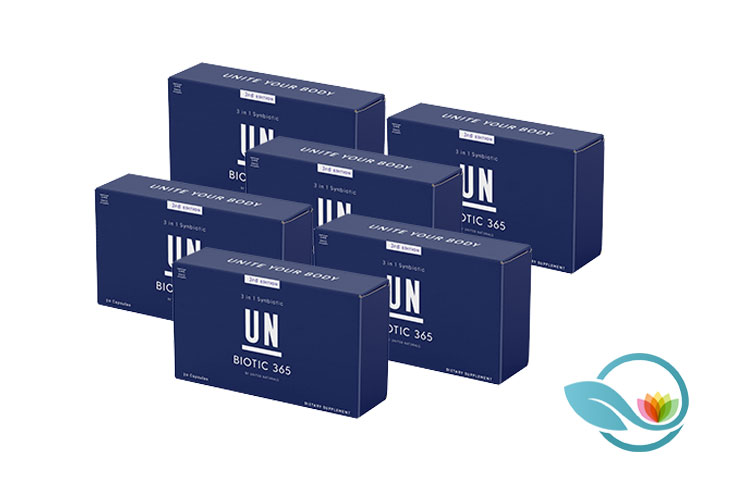 - ad -

Ever wonder what the significance of gut health is? The body naturally houses trillions of bacteria. Interestingly, not all bacteria are bad, as the goods ones are typically associated with heart, liver, digestive, brain, and immune health to name some among others. These good bacteria are typically referred to as probiotics.
Probiotics are living microorganisms that aid in improving gut health. Said ingestion can aid in the creation of good bacteria, while ensuring that bad bacteria are given a good fight. All this being said, the Synbiotic 365 Advanced Probiotic Formula does things slightly different, as it is deemed a 3-in-1 formula.
The following review will expand on the Synbiotic 365 Advanced Probiotic Formula and how it approaches gut health.
What is United Naturals Synbiotic 365?
As the name implies, the Synbiotic 365 Advanced Probiotic Formula aims to provide one's system with an adequate source of probiotic strains. Interestingly, the approach taken by the brand, UN Biotic 365, rests in not only eliminating bad bacteria in the digestive system, but also maintaining and producing good bacteria.
What's more is that the advanced probiotic formula helps to regain the good that's typically lost, which include metabolism, energy levels, blood health and many others.
What makes United Naturals Synbiotic 365 formula 3-in-1?
The Synbiotic 365 Advanced Probiotic Formula is deemed a 3-in-1 solution because it contains not only probiotics, but also prebiotics and an array of vitamin Bs. If the goal is to strengthen existing good bacteria in one's system, the best way to do so is by also consuming prebiotics.
Prebiotic is a type of fiber that nourishes existing bacteria. This is not to say that probiotics are not needed. In fact, both are needed, as prebiotic serves as fuel and probiotic is the presence of actual bacteria. Without the former, the latter will not prosper.
Next, we have the vitamin B family, which consists of eight family members (Thiamin, Riboflavin, Niacin, Vitamin B6, Folate, Vitamin B12, Biotin and Pantothenic acid). Generally speaking, they work by converting delivered nutrients into essential energy, help to increase the body's defense system, have the ability to repair one's DNA and aids in digesting and ridding the body of fat.
Finally, the types of probiotics housed within the Synbiotic 365 Advanced Probiotic Formula include Lactobacillus acidophilus (boosts the immune system while ridding the body of infections), Lactobacillus gasseri (promotes healthy gut microflora), Lactobacillus plantarum (carries anti-inflammatory properties, while boosting one's immune system), Lactobacillus casei (regulates digestive system and treats diarrhea) and Chicory root's inulin (commonly used for weight loss, constipation and diarrhea) among the 15 types infused. All combined deliver 30 billion CFU per serving.
United Naturals Synbiotic 365 Final Thoughts
Based on the analysis above, the Synbiotic 365 Advanced Probiotic Formula appears to have value due to its ability to serve as a multi-purpose formula. Not only does it focus on good bacteria production, it also ensures that said bacteria get the necessary nutrition to promote permanent strength required to defeat the bad.
Their approach towards gut health doesn't simply rest in pre and probiotics, but also enhancing the different functions in the body, all of which get direct hits if one's gut health is not on par. This has since been handled by including the entire vitamin B family, giving this formula a competitive edge.
Finally, when it comes to its price factor, it seems like the Synbiotic 365 Advanced Probiotic Formula is currently offered at $45 for roughly one box, followed by $119 for three and $229 for six boxes. The prices are definitely fair considering the fact that each serving offers three different components. To find out more, click here.