Solvaderm Skincare: A Look at the Skin Products and Treatment System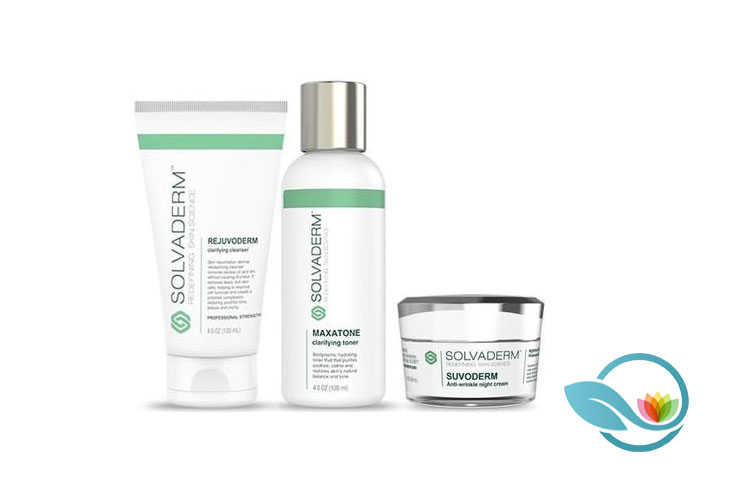 - ad -

The skin is the largest part of the body, and it protects the different organs from free radical damages and other toxins. When proper care isn't delivered, the skin's known protective facet loses quality, and eventually let's bacteria into one's system. Things only worsen from here, and to avoid such a mess comes Solvaderm.
Solvaderm Skin Care's approach to skincare is founded on scientific and clinical research. Ultimately, their goal is to ensure that the necessary research and development have been completed in order to contribute towards "correcting damaged skin, enhancing and preserving healthy skin and preventing future damage."
The following analysis will breakdown Solvaderm Skin Care with respect to its purpose, products offered and overall affordability.
What does Solvaderm represent?
Solvaderm specializes within the skincare industry. Their emphasis on botanical active ingredients and science is a big contributing factor to the skin essentials offered, which allow for innovative, of optimal performance and safe products.
Interestingly, the common ingredients found across the Solvaderm Skin Care line includes bio-engineered complexes and plant cells within antioxidants, all of which allows them to offer therapeutic treatments. Let's take a closer look at what has since been accessible.
What essentials does Solvaderm currently offer?
Given that Solvaderm prides itself in offering products that are exclusive, medical-grade, and combine patented ingredients at high concentrations; not to mention comprising of organic extracts, it becomes crucial to explore their product line.
Products have been broken down into categories, including skincare essentials, moisturizers and serums, as well as treatment packages. Here's a brief overview of what's being offered:
Dermpura ($24.99)
Dermpura is described as a skin-balancing cleanser. It is not only useful in deep-cleansing, but also in nourishing the skin, while repairing, and balancing it as well. According to the claims made, the aftermath potentially entails clean, balanced pH level, full and firm skin.
The key ingredients used in the product include Rose Hip Seed Oil (antioxidant-rich, protects the skin from free radical damage and boosts collagen production), Eriobotrya Japonica Extract (rids inflamed and irritated skin, while increasing moisture levels) and Chondrus Crispus Extract (contains essential nutrients that create balanced skin).
Eyevage ($74.99)
Eyevage is an anti-aging cream that claims to rejuvenate matured skin surrounding one's eyes. Within a matter of 12 weeks, consumers can expect to see a decrease in wrinkly presence, as the skin achieves a sense of firmness and smoothness.
The key ingredients responsible for said benefits are known for their anti-inflammatory and reparation (Vitamin K and Arnica Montana Extract), antioxidant (Oxido Reductases), correcting (Soybean Protein and Hydrolyzed Rice Bran Protein) and moisturizing abilities (Jojoba and Apricot Kernel Oil).
Juvabrite ($69.99)
Juvabrite was designed to lighten age spots and other possible irregularities in the skin's pigmentation. Ultimately, the goal is to restore one's skin's natural color, texture and tone without inducing any unwanted side effects.
Most of the ingredients used in this respective solution include lightening agents and proprietary blends, some of which include Seaweed Extract, Hyaluronic Acid, Grape Fruit Extract, Mallow Extract, and Peppermint Extract among others.
How much can one expect to invest in Solvaderm essentials?
The prices of Solvaderm Skin Care essentials rest in the type of skin concern one wants to treat and whether this requires a single product or a treatment (combination of products). On average, individual products can vary between $12.97 and $89, while treatments can easily exceed $250.
Solvaderm Final Verdict
Overall, Solvaderm Skin Care appears to approach skincare in the most effective way possible. This is solely based on their methodology which includes studying the skin, and what it requires for healing, treatment and maintenance. The fact that emphasis has been placed on clinical research is an added benefit, as this implies that results are obtainable upon several uses.
The ingredients used in making the skin care solutions a possibility seems to revolve around commonly known ingredients including the likes of hyaluronic acids, jojoba oils, and an array of vitamins among others for selective outcomes.
Given the fact that consumers are advised of potential results in at least 12 weeks' time, the prices paid for said essentials appear to be fair; not to mention extracts that have been deemed organic and safe for skin uses.
When it comes to trying to heal skin concerns, consistency and proper application are key. In the case of the latter, it is normally not clear as to where exactly an essential should be applied. To avoid this, Solvaderm Skin Care has created an animation in which consumers can follow as they apply their respective solution. This not only ensures consistency but prevents wastage
To learn more about the guidance provided by Solvaderm Skin Care in feasibly attaining your skincare goals, click here.