Chub Rub Reviews (2021) – Women's Natural Anti-Chafe Stick
- ad -

Chub Rub claims to be an all-natural formula that prevents chub rub and chaffing. All-natural means it doesn't contain any chemicals and uses only the natural ingredients that are known to moisturize, protect and energize the skin, as well as prevent thigh chaffing, the Chub Rub official website says.
How Does Chub Rub Work?
Easily gliding on the skin and creating a layer of friction that helps prevent the impact of rubbing thighs, the all-natural Chub Rub is a skin lubricant that allegedly prevents chafing, chub rub, thigh rub, and other friction-related problems. It can be applied on the bra band zone and around the midsection too, as well as on other areas of the body.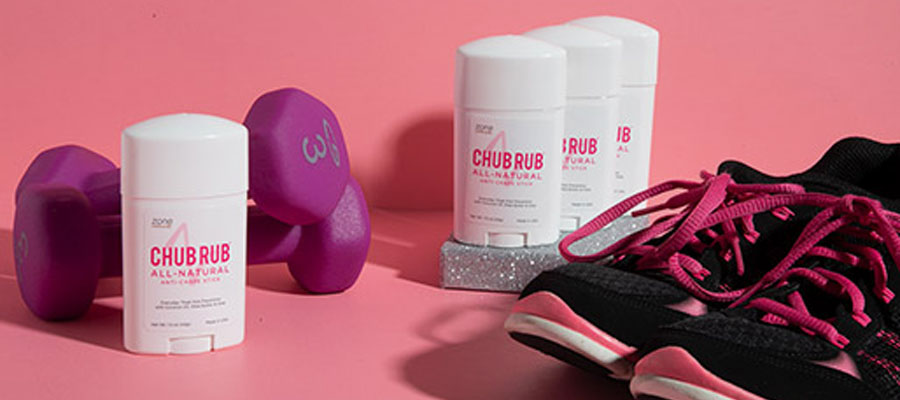 How Was Chub Rub Created?
Zone Naturals, the company that makes Chub Rub is dedicated to offering health solutions for the Plus Size Community. For almost 3 years, it says to have built solid relationships with many of the most famous Plus experts and influencers. Zone Naturals used the input and advice of the Plus Size Community on how their Chub Rub formula should work. The information received from Plus influencers was the most helpful, the company says, and it took 1 year to develop Chub Rub. Experts in the field worked tirelessly for this to happen. Zone Naturals provides products for active people, athletes, weekend warriors, and the Plus Size Community ever since 2001.
Chub Rub Features and Benefits
Here the features and benefits of Chub Rub, as indicated on the product's official website:
Perfect for preventing skin chaffing
100 free of chemicals and made only with all-natural ingredients
Containing organic coconut oil
PTPA Seal of Approval
Good for moisturizing, protecting, and energizing the skin
Stays on for hours and doesn't leave a greasy feeling when applied
Recommended by doctors
Featured in the media
Can be used daily and applied anywhere on the body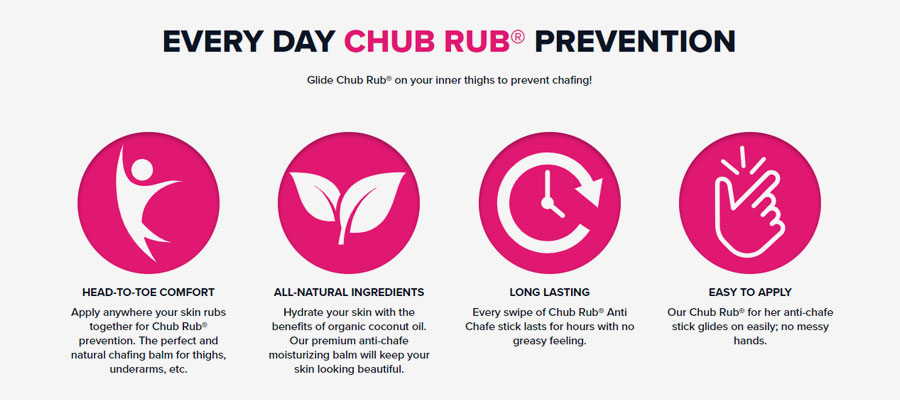 Why Chub Rub Prevention?
First of all, people who have problems with chafing and friction between their inner thighs could very much benefit from this formula, but there are many other reasons to try it, says the Chub Rub official website. These reasons are:
Comfort
Chub Rub can be applied anywhere the skin rubs together on the body, to provide comfort and relief from the pain caused by friction.
100% Naturals
As claimed by Zone Naturals, Chub Rub contains organic coconut oil and other 100% natural ingredients that hydrate the skin and keep not only healthy but also looking beautiful.
Long-Lasting Effects
Chub Rub is claimed to last on the skin for hours and to not leave a greasy feeling when applied.
Easy to Use
Chub Rub is said to glide easily on the skin, without making a mess around or staining the clothes. It only needs to be applied to the affected areas.
What Does the PTP Seal of Approval Mean?
Products with the PTPA Seal of Approval are evaluated by parents in North America that have agreed to test them in real-life environments, together with their entire family. Chub Rub having the PTPA Seal of Approval has been evaluated in the same manner, not to mention others who have bought and used it are very happy with the results it delivered. The PTPA Seal of Approval is one of the most recognized seals in the US and North America.
Where to Buy Chub Rub?
Chub Rub is available for sale on the product's official website, Walmart, Amazon, and other big retailers. However, on the official website, it comes at a very good price deal. When buying it from here, customers have to pay for 2 Chub Rub sticks only:
$19.95 + $4.95 shipping and handling
This offer is not available in other stores where Chub Rub is being sold. All Chub Rub sticks are covered by a 30-day money-back guarantee, which means unsatisfied customers can make product returns for a full refund of the money they have spent buying the products. Refunds won't be issued for requests made after 30 days from the day of purchase. Requests for refunds, as well as questions or inquiries about the product, can be sent to the following email:
Return Address: 9300 Marshall Drive, Ste. 200, Lenexa, KS 66215