Kaydia Clip: Natural Headache and Migraine Pain Relief Support?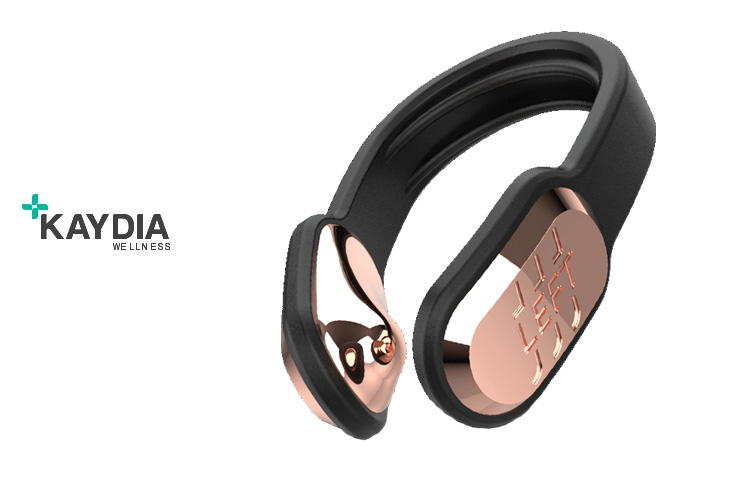 - ad -

The Kaydia Clip is a wearable device from Kaydia Wellness. By wearing the clip daily, you can purportedly stop headaches and migraines.
Kaydia Wellness claims the clip offers drug-free relief from migraines and headaches, using acupressure contact points to target specific points on your hand.
These are certainly some significant claims. We've seen several fraudulent devices come and go in the alternative healthcare industry in recent years. Some companies produce cheap gadgets that claim to relieve pain but do nothing of the sort. Because of this, we always recommend that sufferers of chronic pain consult their physicians before bucking and buying any new device.
Is the Kaydia Clip legit? Does it actually stop headaches and migraines? Is there any scientific evidence? Find out everything you need to know about the Kaydia Clip today in our comprehensive review of both the Kaydia Clip and the manufacturers behind it.
[toc]
What is the Kaydia Clip?

The Kaydia Clip is a small clip that loops around your hand. You place the clip between your index finger and thumb. The device firmly presses against HeGu Point LI-4.
By wearing the Kaydia Clip daily, you can purportedly "instantly stop the pain," according to Kaydia Wellness. The clip works particularly well against headache and migraine pain.
Overall, the goal of the clip is to provide natural relief from painful headaches and migraines. You can wear the device daily to ward off headaches. Or, you can wear it when you start to feel a headache coming on.
The Kaydia Clip is exclusively available through KaydiaWellness.com, where each clip is priced at $50.
How Does the Kaydia Clip Work?
The Kaydia Clip is made from plastic and copper. The plastic loops around your hand between your index finger and thumb, causing the copper to touch your hand in a specific place.
The high-quality copper stimulates the HeGu LI-4 acupressure point. By interacting with this pressure point, the Kaydia Clip can provide natural relief from pain.
According to Kaydia Wellness, the Kaydia Clip "stops headaches and migraines," providing "instant migraine and headache relief" after placing the device on your hand.
Kaydia Wellness also claims their device uses an ergonomic, award-winning, patent-pending design. The sales page interchangeably uses the terms "patented" and "patent-pending." It's unclear which device the patent uses – if any.
What is HeGu Point?
Some acupuncturists believe there's a dime-sized spot between the thumb and forefinger that can calm anxiety and pain – particularly headaches and dental pain.
This point is called the HeGu pressure point, also known as the HeGu LI-4 pressure point.
The HeGu pressure point (also known only as 'hegu') is one of 300 pressure points used in Chinese acupuncture. It's also one of the most-studied pressure points. Studies have linked the HeGu pressure point to pain relief. Other studies have suggested the HeGu pressure point works due to the placebo effect.
In any case, the Kaydia Clip claims to target this HeGu Pressure Point LI-4, wiping away pain quickly.

Kaydia Clip Features & Benefits
Kaydia Wellness advertises all of the following features and benefits:
High-quality copper that stimulates the HeGu pressure point
Flexible and adjustable clip design
Instant migraine and headache relief
Drug-free headache and migraine relief
Use an unlimited number of times
Scientific Evidence for the Kaydia Clip
Kaydia Wellness has not performed any clinical trials or scientific studies showing the Kaydia Clip works as advertised to stop headaches instantly.
The company does not cite any studies proving that copper can interact with your HeGu point to relieve headaches and migraines instantly.
Overall, Kaydia Wellness shares no evidence supporting any of its advertised claims. The company does not cite any studies proving the device provides instant headache relief or drug-free pain relief of any kind.
What do other studies say? Is there scientific evidence proving copper can touch your HeGu point to relieve pain?
We can't find any studies that specifically analyze how copper interacts with your HeGu point. Few studies have explored the HeGu point whatsoever.
As The Wall Street Journal explained in a recent write up, "HeGu hasn't been sufficiently studied to prove conclusively it alleviates pain."
However, one study found the HeGu point blunted the worst pain.

Other sources suggest the HeGu LI4 has been sufficiently studied. UCLA, for example, described "a point that has been extensively studied through randomized controlled trials and clinical research." The page cites studies showing the HeGu point can relieve headaches, constipation, general pain, and more.
Some studies even show the HeGu point can stimulate labor. Acupuncturists will recommend never applying pressure to a pregnant woman at that point.
However, none of these studies specifically involve copper. Many of the studies show you can stimulate the HeGu point with your hand: in many HeGu point studies, participants simply rubbed the point with their hands for 4 to 5 seconds.
Overall, there's no evidence that the Kaydia Clip (or any copper hand clip) relieves headache or migraine pain instantly. However, there's some evidence that stimulating the HeGu point (say, with your hand) for 4-5 seconds can reduce certain types of headache and jaw pain.
About Kaydia Wellness
Kaydia Wellness, a subsidiary brand of Hong Kong-based eCommerce company Strong Current Enterprises Limited, and sells hundreds of products online. The company seems to source products from cheaper suppliers in China, selling those products online at inflated prices.

You can contact Kaydia Wellness via the following:
Email: [email protected]
Phone (USA): 609-414-7087
Phone (Canada): 778-300-0854
Phone (UK & Ireland): 08708 200084
Phone (Australia & New Zealand): (02) 8607 8316
Mailing Address: 68308, G/F Kowloon East Building, 12 Lei Yue Mun Road, Kwung Tong, Hong Kong
Frequently Asked Questions About Kaydia Wellness
With so many scam pain relief devices on the market, it's recommended that consumers come prepared with several questions about any gadget they plan to buy. This section will answer some of the most commonly asked questions about Kaydia Clip, as well as the company manufacturing it.
Q: How is Kaydia Clip used?
A: Simply use the magnetic device to clip it firmly against the skin at the pressure point, which is noted in a couple of diagrams and pictures above. The company behind this product also recommends that the device be used at least 4-5 seconds at a time to provide substantive relief.
Q: Who created Kaydia Clip?
A: This clip is being manufactured by a company called Kaydia Wellness. This company is based out of Hong Kong, and they manufacture several similar wellness devices and gadgets. So far, we've been unable to find anything suspicious about the organization producing this new pain relief product.
Q: Is Kaydia Clip scientifically supported?
A: Generally, yes. The basic premise behind the pressure point where Kaydia Clip is used has been fortified by several scientific studies. However, it's not clear whether or not Kaydia Clip places sufficient support on the pressure point to make a difference in the pain experience.
Q: Can pressure points prevent the pain?
A: Absolutely. We always recommend that consumers speak with their physician about persistent pain before resorting to any alternative healthcare solution or gadget. But according to presently available research, the pressure point used by Kaydia Clip has been associated with substantial pain relief.
Kaydia Clip Pricing
The Kaydia Clip is exclusively available through KaydiaWellness.com, where it's priced at $50 per clip. You can lower the price slightly by ordering multiple clips at once. Here's how pricing breaks down:
1 x Clip: $49.99 + $8.95 Shipping
2 x Clips: $99.98 + $9.95 Shipping
3 x Clips: $112.48 + $10.95 Shipping
4 x Clips: $137.47 + $11.95 Shipping
You can pay online using a credit card or PayPal.
Kaydia Clip Refund Policy
The Kaydia Clip comes with a 30-day refund policy – although it only applies to unused, unopened products.
If you have used your Kaydia Clip and did not enjoy it, then you cannot request a refund. You can only request a refund if you received your Kaydia Clip, did not open it, and did not open the packaging in any way.
Kaydia Clip Final Thoughts
The Kaydia Clip uses copper to interact with an acupuncture pressure point on your hand. By wearing the clip, you can purportedly enjoy instant relief from headache and migraine pain.
There's some evidence that the HeGu pressure point on your hand is linked with headache and dental pain, and that you can relieve this pain using acupuncture and acupressure therapy. However, it doesn't seem to work for everyone, and other studies are less conclusive.
The price and lack of a refund policy are issues. If the Kaydia Clip worked as advertised, the manufacturer would offer a more generous refund policy – especially when you're spending $50 on a piece of copper and plastic.
Ultimately, you may be able to find better HeGu pressure point clips at this price range – including clips with a more generous refund policy than the Kaydia Clip.