Bulletproof Collagen Protein: Proven Amino Acid Building Blocks Powder?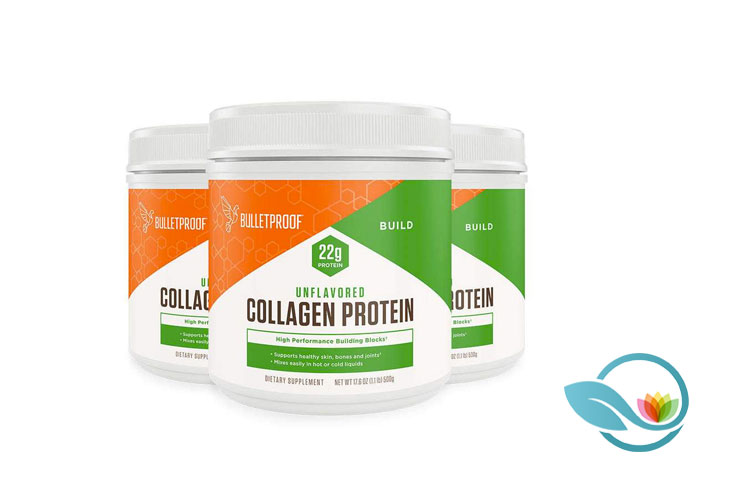 - ad -

Collagen is gaining traction as one of the most popular supplements on the market. As humans age, our bodies begin to produce less and less of the essential collagen needed to maintain a number of bodily functions. Collagen acts as the proverbial "glue" of the body, binding together skin, bones, muscles, and keeping the body glowing and healthy. Though the degradation of collagen supplies through a gradual production slowdown starting in our twenties is natural, collagen supplements can help the body to regain some of what it has lost.
But collagen proteins face a number of challenges before the average consumer becomes interested in adding it to their existing supplement regimen. For one, some collagen proteins are difficult to mix into most drinks, either coming with its own distinct flavor—or having a consistency which doesn't work in most popular mixes. Companies who are successful on the current market for collagen supplements have worked hard to find ways to make collage easier to use and ingest for consumers, who are growing increasingly picky about the quality of their supplements.
Bulletproof's 'Unflavored Collagen Protein' is a new product created by the popular supplement producer. Their collagen protein is both unflavored and concentrated, offering consumers the ability to maximize their skin hydration, joint and bone strength and support, as well as obtain a number of additional benefits. This unflavored collagen protein can be mixed into hot or cold foods and drinks of any consistency, making it the ideal way for many consumers to access the additional collagen protein they need.
Bulletproof Collagen Ingredients
The Bulletproof collagen protein powder luckily contains only one ingredient: hydrolyzed collagen powder. As a consequence, the product offers a purer supplement than a number of other organizations can provide. Additionally, the bioavailability of the product means that it can mix easier and remains thinner than other leading collagen supplement brands.
Naturally, the product is officially listed as containing a set amount of both protein and sodium. However, these "ingredients" are generally recognized as the edible composition of hydrolyzed collagen, which makes up the entirety of this Bulletproof edible supplement.
Bulletproof Collagen Benefits
Bulletproof's unique collagen supplement has a number of benefits, many of which are claimed on the site. According to the official Bulletproof collagen website, Collagen is abundant in the body, in total amounting to around 33% of the total protein inside the human body. As the body ages, its natural storage of this collagen begins to become less effective.
With the help of Bulletproof Collagen, consumers can start to recover their stock of collagen in a safe and fresh way. A unique benefit of the Collagen offered by Bulletproof is that it is completely free of taste. The flavorless substance is subsequently perfect for users who want to mix it into their food, drink, or smoothies.
About Bulletproof
In an industry with as literal governmental oversight as the supplement industry, readers should pay equal attention to both the company behind the product and the product itself. In the case of Bulletproof, the company offers a history and track record of professionalism and transparency within the supplement industry. Additionally, the organization offers far more than just the Bulletproof Collagen that users are coming to live. The company sells a unique coffee, cold-brew, protein, supplements, as well as regular foods and drinks.
The company was founded by Dave Asprey, who claims to have had a "lightbulb moment" while climbing in Tibet. He discovered that natural solutions—such as the yak butter tea given to him by a local—could be essential in the weight loss process, and help users to feel far better in the process, too. He grew the company from the ground up, eventually establishing it as an efficient and quality source for a number of easily-mixable supplements, coffees, and blends intended to help the bodies of their consumers become healthier and stronger.
Bulletproof Quality Assurances
The Bulletproof organization offers a number of different reasons why consumers ought to prefer their products. They boast a completely natural set of products, including no artificial products, soy, gluten, or junk. Additionally, the company claims to only use the most quality ingredients and never cut corners—"ever."