Top 10 Fitness Trackers: Buy the Best Smart Watch Activity Bands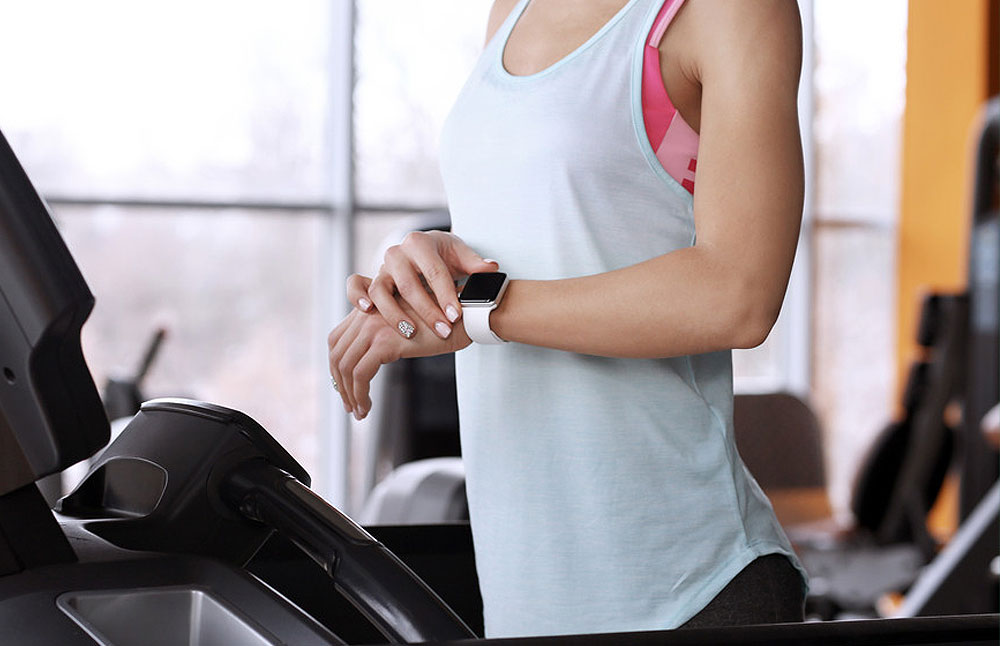 - ad -

Health trackers are watches and other devices designed to record and track information about the consumer's health. They also calculate the number of steps is taken and how many calories are burned.
Top 10 Fitness Trackers
Take a look below at some of the markets' top health trackers.
1. Garmin Vivosmart 4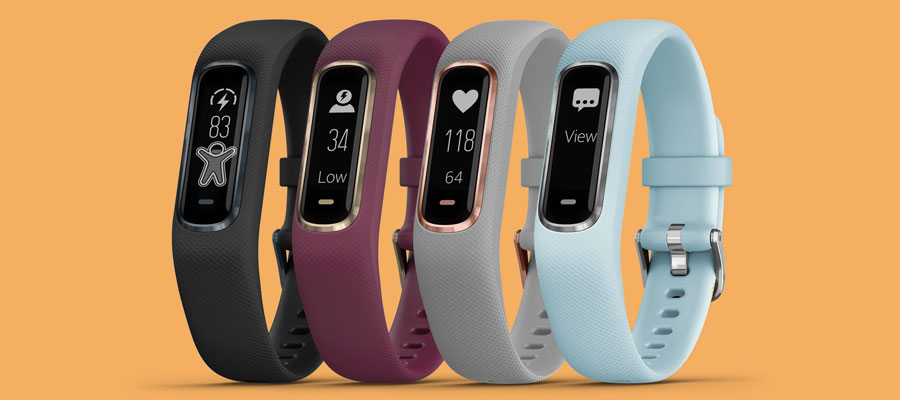 From your blood oxygen saturation to your REM sleep cycle, this sensor monitors everything. It also has features that are interactive, including a timer for relaxation. It will, of course, track all kinds of distinct workouts, like swimming.
For receiving calls and text messages, the Garmin Vivosmart 4 watch can also connect to your phone. It is our # 1 choice for the above-stated reasons.
2. Fitbit Inspire HR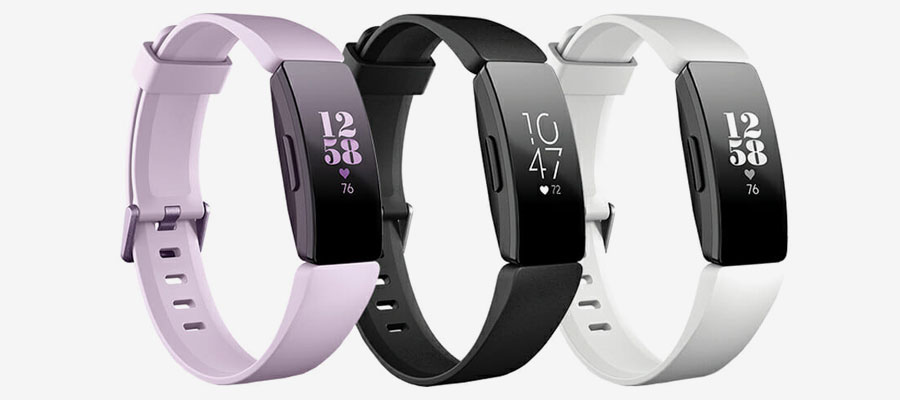 In the fitness tracker industry, Fitbit is a top brand and one of the most affordable choices in this particular watch. It tracks your heart rate 24/7 and monitors all kinds of metrics, including steps, distance, hourly activity, and how many calories you have burned.
We especially liked the extended battery life this watch has, and so recommended it for you.
3. LETSCOM Smart Watch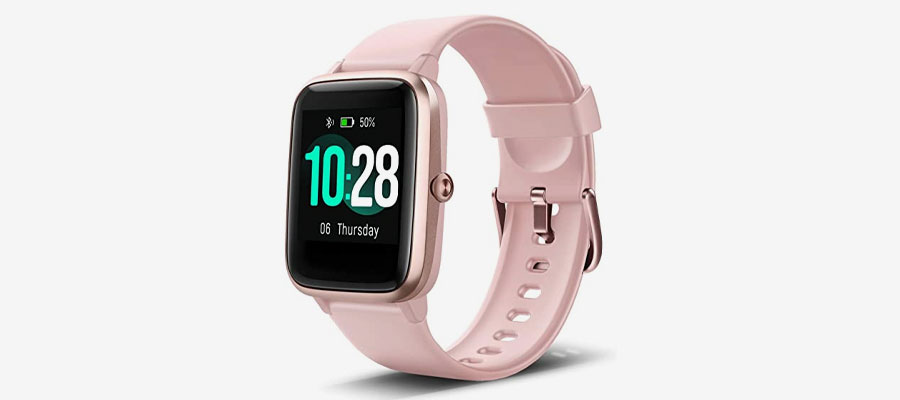 This watch is much less costly than most of the others on the market, making it a decent choice for the budget. Your heart rate, sleep, and many other standard variables can be monitored with it.
It also has a wider display screen than normal, which makes it ideal for seniors and those with poor eyesight.
4. Fitbit Versa 2
One of the top watches is Fitbit. It can sync with your phone to monitor your Spotify app, build playlists, and download Pandora stations. From your heart rate to how many floors you have climbed, it can measure anything.
It can also last for six days before re-charging is required.
5. Fitbit Charge 3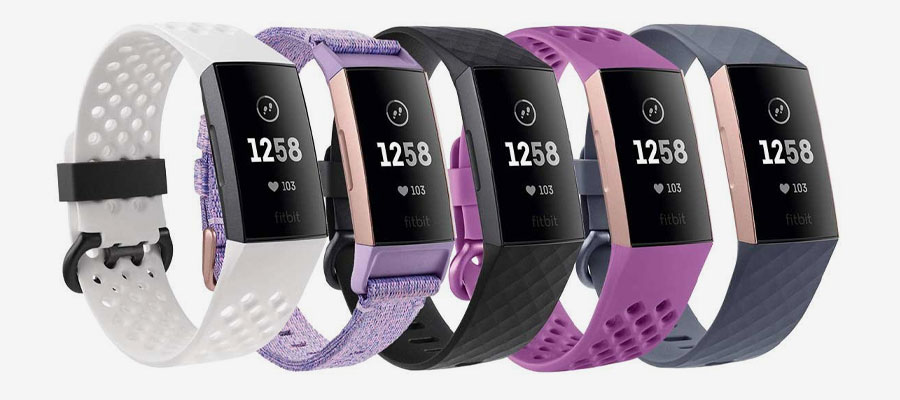 Use this health tracker to pick from 15 different workouts to monitor. One of the premium options when it comes to health monitoring is this watch. It can track your heart rate on an ongoing basis and has a seven-day battery life.
It is a little more costly than others, however, because of its premium features.
6. Xiaomi Mi Band 4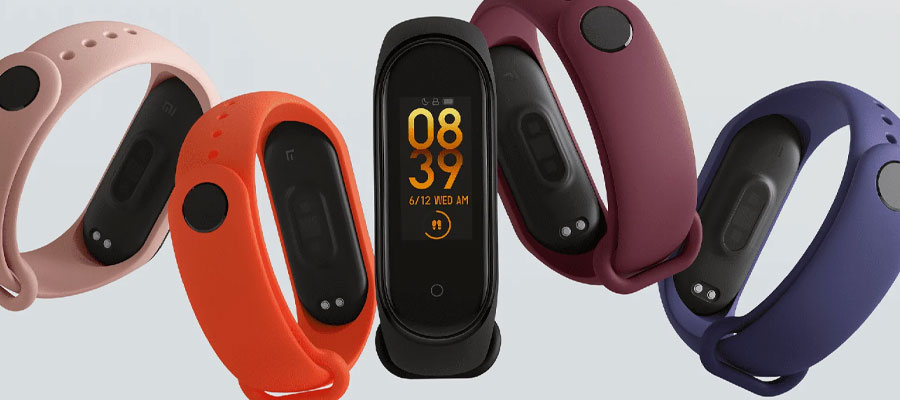 This health tracker is a great choice, although it is less well-known. It facilitates control of the heart rate and keeps track of your sleep automatically. Six different exercise styles also come with it.
However, what makes this watch stand out is its low price. This health tracker will keep up with thousands of data points for a fraction of the competition's cost.
7. YAMAY Fitness Tracker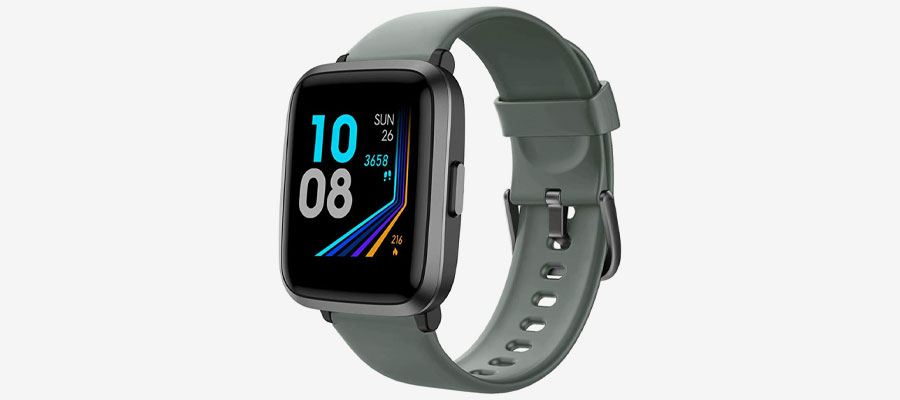 It's a cheap watch that's quite stylish. It comes in several different colors and is unisex!
It monitors many of the points you would expect, including your sleep level and blood oxygen saturation, from a health tracker.
8. Bellabeat Leaf Jewelry Health Tracker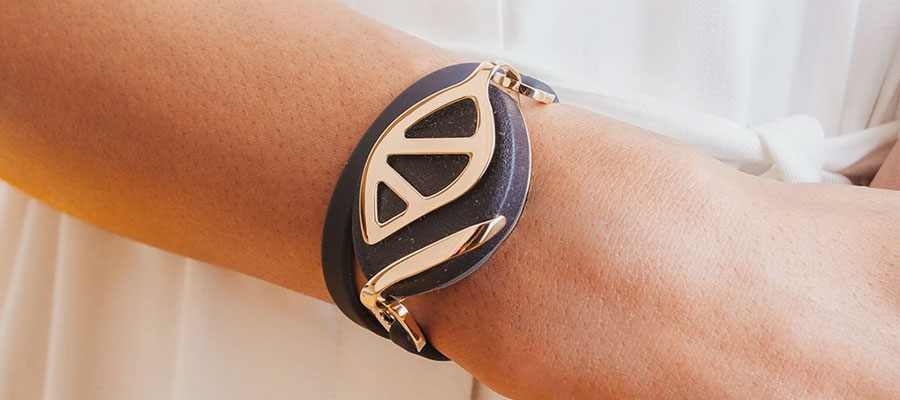 This pendant is a perfect choice if you are not a fan of wearing watches, made from wood composite and hypoallergenic stainless steel. The pendant is interchangeable and can be worn in three different ways, as a bracelet, necklace, or a clip. Leaf tracks your meditation and sleeping habits; users get daily activity metrics and reminders to get up and get moving if users have been inactive too long. It is also specifically designed for women because it keeps track of reproductive health and the menstrual cycle.
The Leaf operates on a coin cell battery CR2032 that can easily be replaced when needed. The battery normally lasts up to 6 months before needing a replacement.  The Leaf not water-resistant or a waterproof product, but can enduresweat while working out.
9. Fitbit Alta HR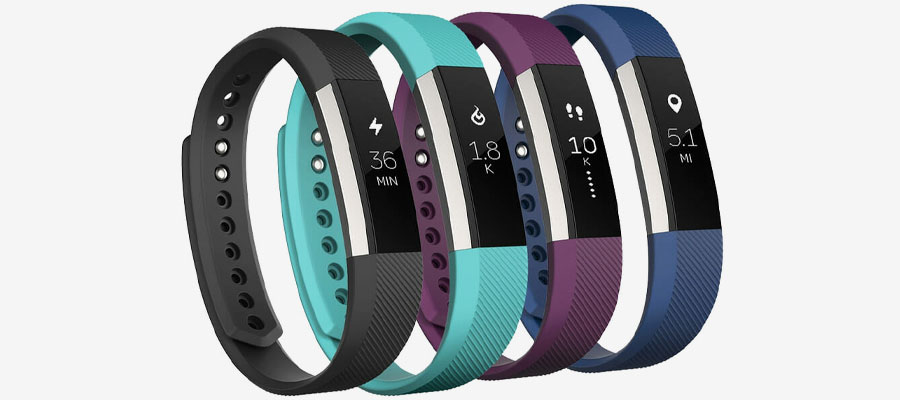 The Fitbit Alta HR is one of Fitbit's slimiest designs to date. It is best for those with smaller wrists or who aren't a fan of bulky watches.
It keeps up with all the usual health metrics, like the number of calories burned and the number of steps you've taken.
10. Lintelek Fitness Tracker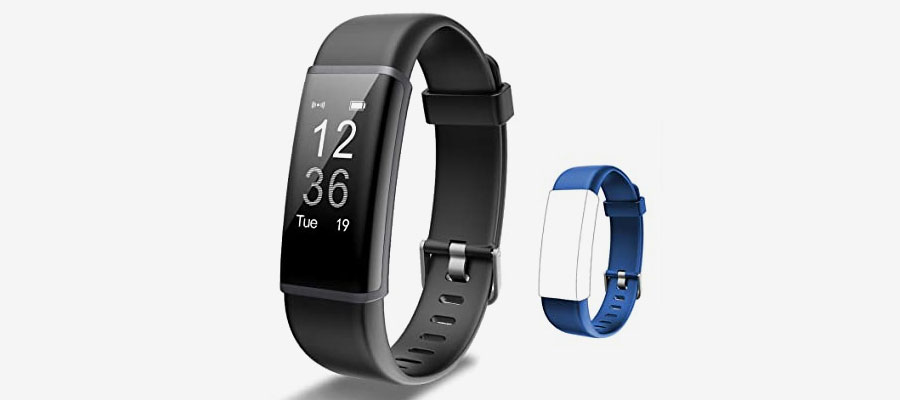 This watch is a reliable, inexpensive option, even though a lesser-known company produces it. It has a long battery life and monitors up to 14 different forms of exercise.
We love that it comes with intelligent alerts, which ensures that the watch will remind you of updates if you sit down and stop moving.
How we have graded the Fitness Trackers
The critical aspect to remember when it comes to health trackers is their accuracy. Not all health trackers are just as precise as others are. Many are infamous for messing up how many measures you have taken or reading your heart rate wrong. If it isn't effective at monitoring your fitness, a fitness tracker won't be much useful.
Because of this, the number one factor that we considered is its accuracy when selecting each fitness tracker. We gathered this data mainly from customer feedback and related knowledge sources. This is one of the reasons why so many Fitbit brand trackers are on our top 10 list. They are well-known for being very precise.
Secondly, the valuation was another vital aspect we took into account. We know that most of our readers are not searching for a fitness tracker to spend a lot on. In addition, several trackers for health are very much the same. Cost is not necessarily specifically related to better performance, which can also lead to an incredibly costly tracker overkill being purchased.
We considered the characteristics it came with when rating each watch, and how it compared to trackers of various costs. We scored it high when a tracker was less costly and came with lots of features. If a tracker was more expensive to the consumer for any obvious gain, we scored it lower.
Third, we took into account how flexible each watch was. Some watches were designed to control five or so styles of workouts, while others were able to track up to 15. The trackers that could track multiple activities were ranked higher than those that could be trackless. We also considered whether the watch was waterproof, which would impact whether swimming could be monitored or not.
Finally, how the watch felt and how comfortable it was, we also took into account. Many watches were lighter and a perfect match for smaller wrists, while others were designed with wide displays. As long as they were comfortable for most wearers, we did not necessarily rate the watches based on their size alone.
Advantages of Fitness Trackers
Health trackers can enhance your understanding and memory. Studies have shown that you can strengthen your mind and make you learn better by exercising a certain amount before you sit down to study. After at least one week of exercise, these results appear to be evident, although the duration of training and frequency still matters. On Monday, you can't just work out for thirty minutes and expect the results to be felt on Friday.
Moving for an hour or so before you begin studying is the best way to optimize and study sessions. This can be quite difficult to keep up within typical circumstances, especially if you're already busy. However, you can see with a fitness tracker if the sprint between classes was enough to boost your memory and learning skills.
Health trackers will assist you in maintaining a suitable amount of exercise. Everyone should have a minimum exercise target for each day that they are striving for. Exercise can not only help you lose weight and remain toned, but it can also reduce the risk of all types of different illnesses.
For example, one research found that everyone should have at least 15 minutes of moderate exercise a day. This adds up to a week of around 90 minutes. Those exercising for this amount had a 14 percent lower overall mortality risk and a 3-year longer life expectancy.
With that said, as long as you do it safely and don't push your body too hard, more exercise is usually considered better. A mortality reduction of 4 percent and a lower cancer risk of 1 percent, for instance, were associated with every 15 minutes of added exercise every day.
Of course, it can be challenging to remember a lot of exercises you have done every day, particularly if you prefer to exercise everywhere you can. In these situations, it may help as a fitness tracker will keep up with all the various times you've exercised.
Health Trackers Can Lower Your Blood Pressure
Health trackers can reduce your blood pressure. Regular exercise can help you control high blood pressure. For all forms of high blood pressure, this is true. It is important to keep track of your behavior to get the advantage of an exercise routine. This can be made incredibly simple and clear by a health tracker. Many would automatically do it for you with very little feedback from you.
As well as kidney disorders and dementia, high blood pressure is associated with heart disease. These connexions make it incredibly important to take care of your high blood pressure as soon as possible. Exercise is a quick and simple way to do this.
Health Trackers Can Prevent Heart Disease
Health trackers can prevent heart disease in addition to controlling your blood pressure, which in turn reduces your risk of heart attacks.
Research has extensively shown that having the right amount of exercise and the right form of activity will reduce heart disease risk. In order to reduce their overall risk, people who are at risk for heart disease are also advised to exercise.
If you are sedentary, you will benefit the most from growing your current amount of exercise. Those that are already very healthy, however, will still benefit from the total amount of exercise.
Of course, it can be tough to keep up with how much exercise you're getting. When you're late to a meeting, leisure time and the run up the stairs both count as exercise, even though you don't follow a particular exercise routine. It can be time-consuming, though, to find out how far you have moved in a day unless you have a fitness tracker that does it for you.
For your doctor, health trackers will collect data. Some physicians have started to use health trackers to keep up with data from their patients. Doctors can't always be there to monitor your pulse or make sure you adhere to your exercise schedule. However, health trackers are an incredibly useful way to keep up with this data and share it with your physician.
Every day, we hear reports about health trackers alerting their wearers to unexplained health concerns. Although health trackers should not take the doctor's place, they can be used to collect information as a tool. You will be able to share the data from your last run instead of doing a stress test in a doctor's office, for example. This reduces the cost and time taken before the doctor can reach a diagnosis.
Out of all the health trackers available, Fitbits are most commonly used by health professionals. If you have a health condition, we recommend purchasing a Fitbit to ensure that your doctor can use the data your health tracker gathers.
Diabetes can be treated and avoided by health trackers. In the United States and around the world, insulin resistance is a serious issue. According to the CDC, around 1 in 3 Americans currently have pre-diabetes, but up to 80 percent of them are not diagnosed.
This means that, even though you are otherwise stable and have not been diagnosed, there is a perfect chance that you have pre-diabetes.
Luckily, if you have it now, you can do quite a lot to treat both pre-diabetes and type 2 diabetes. To boost insulin resistance, exercise has been shown over and over again.
Due to the dangerous insulin tolerance of diabetes and pre-diabetes, exercise will go a long way to counteract any existing insulin issues. You will have to prevent the development of new ones.
There are also, of course, other things you can do as well. It is also advised to eat to better in order to control and avoid diabetes from arising. Fortunately, several fitness trackers, which also have food tracking choices, will sync to health apps.
By helping you monitor your exercise level and diet, health trackers can be a huge aid. You can be guided to sleep easier by health trackers. A major part of our well-being that is sometimes ignored is sleep. Everyone needs rest, and the quality and amount of sleep will have a direct effect on your health.
Sleep deprivation, including items like your mood and alertness, will gravely affect your cognition. On tasks requiring concentration, memory, and executive function, those who do not get enough sleep sometimes perform worse.
In other words, in terms of brain growth, a lack of sleep brings you back years. In developmental terms, a 12-year-old who is deprived of sleep is more on-par with a 9-year-old. Adults aren't any different. You have to get enough sleep if you want your brain to be at its best.
It doesn't take long deprivation periods for these detrimental effects to occur, either. Of course, though staying up all night can influence your cognitive ability, losing just an hour of sleep can also have a significant effect.
Only a few hours of lost sleep can have a direct impact on your ability to manage your feelings and cognitive skills, such as memory and mood, that involve your feelings. With that said, these tiny quantities of sleep deprivation usually do not affect more rational skills like decision-making.
Not having enough sleep has also been related to a few scientific studies on various diseases. One of the newest clinical findings is that in those with Parkinson's, sleep can directly affect depressed patients' mood and minimize the number and severity of tremors.
Some of those who were depressed changed so much to bring it far more significantly that they no longer met the depression criterion, just by only having the right amount of sleep.
Almost all health trackers will help you keep up with and optimize your sleep, avoid these illnesses, and improve your brain abilities.
Adverse Effects of Fitness Trackers
Health trackers aren't 100 % precise. All of the time, no health tracker is accurate. Your steps or the distance you walked at least once or twice, if not more, would be miscounted by any tracker you get. Luckily, being a step or two off isn't a big deal for many people. It won't impact the watch's burned calorie count too much and probably won't foster a shift in your conduct.
Some health trackers are, however, more precise than others. Some have a difficult time correctly measuring the number of steps you've taken and might have major distance miscalculations. Others have trouble controlling those tasks, such as ascending stairs or swimming.
In addition, when it comes to finding out whether or not your tracker is correct, you should not necessarily rely on your intuition. One research showed that those who wear health trackers had a difficult time finding out whether they were right or not. And when they were way off, users always thought the trackers were accurate.
In order to find out how accurate their watch was, some participants mentioned setting up "tests" such as counting their steps for a certain amount of time and matching their number to the number on their fitness tracker.
However, while these experiments were useful at finding out how reliable the health tracker was on particular metrics, just because their tracker could count steps accurately does not mean that the distance they walked or the calories they burned were carefully calculated. Plus, there is no way for the average person to test specific data points, like the number of calories burned on a walk.
For this purpose, buying a quality tracker that can easily keep up with your actons and all the activities you expect to do is important. Be sure to buy a tracker that will keep up with this practice if you go mountain-climbing daily.
Health trackers do not inherently cause a change in behavior. Although you would assume that it will encourage people to adjust their actions by getting access to different health-related indicators, this is not always the case. One research found that over the long-term, health trackers are not correlated with behavioral improvement.
In other words, while some might change their actions right after getting the tracker, the tracker's usefulness quickly wore off. After a certain time, it is possible that many participants in the study stopped using the tracker or stopped paying attention to precise measurements.
To keep up with your steps and other pieces of health information, health trackers may be helpful. However, they can't make you take more action in a day or eat a balanced diet. Plus, for it to be useful at all, you have to remember to use the tracker. It isn't going to be very convenient if you don't put your watch on. These trackers are just as beneficial as you create them.
In addition, studies have also shown that the most important component of losing weight and becoming healthy is internal motivation. Health trackers can't help this inner inspiration grow for you. If you want to, they can help you get fit, but, to begin with, they can't make you want to get better.
Trackers for health can be costly. Overall, it costs around $100 for the top health trackers, but you can also find nice, less expensive alternatives. Premium health trackers that sell for hundreds of dollars can be found as well. Typically, the more costly the tracker is, the better it is. This is an environment where what you pay for, you get.
Not everyone has a lot of money to spend on a tracker for fitness. Plus, it may not even be worth investing the cash on if you're not going to use it extensively. If you're going to use them, trackers may be helpful. If you aren't, however, it's best not to spend capital.
USAGE SUGGESTED
Recommended trackers for Health are designed to be used all the time. You will need to wear your tracker while you're driving to get a precise rundown of your fitness. When you aren't running, many trackers still gather data, which makes it important to wear them even when you're just sitting at your desk.
In addition, the vast majority of health trackers on the market today still control your sleep, so you will also need to wear them to bed to make the most of them.
Many trackers are built to be aesthetically appealing, at least somewhat, so you can wear them to work and more formal events. To withstand this constant wear, they are also built to be comfortable and robust.
If you decide not to wear your tracker all the time, for whatever reason, note that it will possibly not be as reliable as it would otherwise be. After all, if you haven't worn it all day, they just won't be able to find out how many calories you've consumed in a day. Even walking around the office burns some calories, which, over time, will add up.
Top 10 Fitness Trackers

FAQs
Q. What is the most specific tracker for health?
A. The trackers of Garmin and Fitbit are both pretty specific. Of course, you will be paying more for them than you will for other choices because they are built with some of the top technology. If you're searching for a specific model to buy, the Garmin Vivosmart 4 is one of the most reliable health trackers we've found.
Once you hit about the $100 mark, most health trackers are almost equally accurate. Above that, there aren't trackers getting more precise. They're just getting more functionality.
Q. Garmin or Fitbit?
A. We find Garmin trackers to be more robust in general. For those who play sports and are already involved, these watches are more relevant. They also have sport-specific modes and, for example, can track rarer events, such as mountain climbing. Many are even more waterproof, and some watches that are ideal for snorkeling and similar activities are also made. We liked the Garmin Vivosmart 4 in particular.
However, Fitbit watches are targeted at those who are just getting into fitness. Although they are somewhat absent in the sports arena, they prefer to concentrate more on items like step counting and sleep tracking. You can buy some versions that are cheaper than Garmin trackers, too.
Ultimately, which one you buy is based on what you're looking for. Those who play sports will need a watch from Garmin. You could possibly get away with a less costly Fitbit if you don't play sports.
Q. Do health trackers count steps if you're not moving your arms?
A. It depends on the tracker. If your arms are not moving, more costly trackers, like those made by Fitbit and Garmin, would probably be able to count your steps a bit. With that said, the number will possibly not be as high as it would otherwise be, and it is possible that the accuracy will be a little off.
The Fitbit website states:
"Your wrist-based wearable can count your steps if you're doing something like pushing a stroller or shopping cart, but the number could be slightly lower than normal. "
However, less costly watches produced by lesser-known companies can not be able to count your steps at all if your arms do not move. Before depending on it, you'll probably need to evaluate to see if your measures count.
Q. How precise are trackers for health?
A. This depends on the health tracker you are trying to measure and the metric. When it comes to counting items like your steps and distance, most trackers are less than 10 percent unreliable. This is because, in general, these metrics are simpler to track. If a tracker keeps up with sleep, it is probably also pretty good at controlling this. Many trackers use your movements to find out what phase of sleep you are in, which is not very hard for a watch to find out.
However, trackers also do a more mediocre role when it comes to more complex metrics, such as the number of calories you have burned. The margin of error shoots up to over 40 percent in certain situations. Many different variables include how many calories you have consumed, such as your age, activity, how active you normally are, and more.
The number of calories you have burned will also impact factors that the tracker has no access to, such as your hormone levels and the outside temperature. It is virtually difficult for a health tracker to find it out correctly in these situations.
Q. Will trackers for health improve health?
A. Yes. Health trackers can provide vital health metrics and information that can help you find out where your lifestyle needs have changed. They can also be used to gather data for the doctor to identify and treat certain health problems under certain cases. More data is almost always better when it comes to wellbeing.
However, with that said, health trackers are just as good as you find them. It's not going to be very useful if you don't use your health tracker much. In addition, based on the data they send you, trackers will not make you change your actions. You can only achieve it.
Q. Do fitness trackers help you lose weight?
A. If you use them to help increase your fitness level, then yes, they will help you lose weight. These trackers are special because they have a precise indicator of how far you have moved and an estimation of the number of calories you have consumed. This helps you to build and calculate specific goals that have to do with your movement, such as, for example, a certain number of steps you would like to take every day. Otherwise, you wouldn't be able to control these targets, which makes these trackers so effective at losing weight.
With that said, the trackers themselves, of course, do not make you lose weight. You will not lose weight just because you wear one. The tracker will help you make specific health decisions, but it won't make you change your actions.
Q. Are your steps monitored by health trackers?
A. The majority of health trackers keep up with your steps. With that said, however, some are better than others at monitoring levels. Inexpensive trackers do not seem to be as effective. For most users, however, this shouldn't be a problem. It is possible that one or two steps will not change your actions that much or screw up your other metrics.
Q. Is a health tracker worth it?
A. This all depends on how much you use the tracker, as well as how much your actions will be influenced by it. You'd preferably want to get a tracker to set realistic goals for exercise or monitor your workouts. A fitness tracker is a perfect choice if you're going to work towards taking a certain amount of steps every day!