Using Green Air Purifying Charcoal Bags to Breathe Easier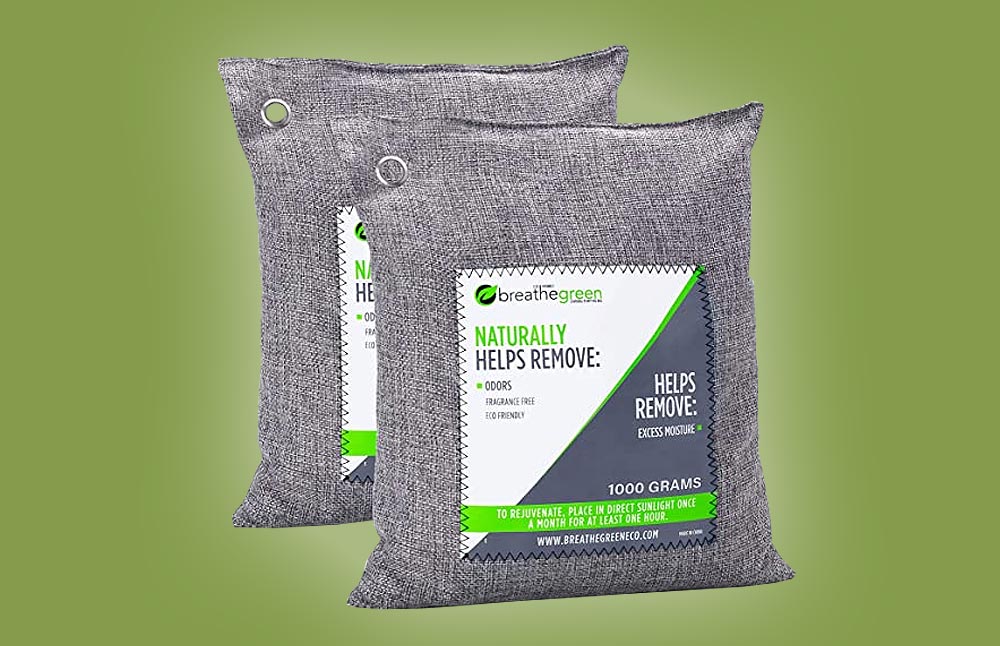 - ad -

Breathe Green Charcoal Bags are one home accessory you should not miss. When it comes to removing odor in a natural way, these products yield amazing results. With these products, you can naturally freshen up the air in your home, kitchen, or car. Made of natural ingredients—activated charcoal and bamboo, these bags are eco-friendly, non-toxic, and lightweight. They can work anywhere to absorb moisture and odor and are equally easy to use.
What is Breathe Green Charcoal Bags?
If you're looking to remove unpleasant odor in your home, office, or car, then Breathe Green Charcoal Bags are what you need for the best solution. Perhaps you've tried other methods of removing moisture and odor but still can't get that odor out of your space? If you're a pet owner, these bags are a must-have.
These bags are made of just one powerful natural ingredient—activated bamboo charcoal. This material is capable of absorbing and removing odor, moisture, allergens, and other harmful pollutants that could be present in your kitchen, washroom, car, or basement.
Activated bamboo charcoal can neutralize even stubborn smells that keep lingering in the air inside your car, home, or office. Such odors are caused by smoke, wet dogs, pet urine, gym shoes, and many more. With Breathe Green Charcoal Bags, you can naturally suppress the odors and clear moisture in any damp, musty environment. These charcoal bags will deter any further formation of mildew, bacteria, or mold, helping your home, car, or office smell its best.
Importantly, you will no longer use those cleaning products with chemicals that could easily affect your kids and pets in one way or another. Many of the regular home-cleaning products contain ingredients that can make your family sick or leave behind a smell that lingers around each time you open the door.
How Breathe Green Charcoal Bags Work
Activated charcoal works faster to eliminate odors, allergens, and other pollutants from the air. Each bag comes with a fine mesh that covers its exterior and allows the odor to penetrate the bag. As air passes through the mesh, the activated charcoal through its pores absorb the scents and trap them inside so they never come out again.
The charcoal also draws moisture from the air to keep your items such as gym shoes and other items dry. By using the Breathe Green Charcoal Bags, you'll be stopping odor even before it occurs.
Features of Breathe Green Charcoal Bags
Stylish, simple, and effective
To begin with, the activated bamboo charcoal comes in stylish linen bags, with a metal grommet embedded in the upper left corner for easy handling. Simply place the bags in several places such as your car, behind the sofa, bathroom, kitchen, or closet. The bags begin to absorb toxins in the air and trap them inside. This is different from the traditional fresheners that add toxins to your air.
More than just a freshener
Breathe Green Charcoal Bags work effectively to remove unwanted odor, moisture, allergens, and bacteria. They prevent the growth of mold and mildew. Besides, these bags keep your food fresher by eliminating harmful bacteria, mold, and moisture that can spoil them. Your gym shoes and bags will remain dry.
Breathe Green Charcoal bags have just one secret ingredient—activated bamboo charcoal. This material has pores that allow it to absorb and trap odor, allergen, or bacteria, thereby purifying the air. Bamboo charcoal is a scientifically proven material that reduces toxic chemicals such as formaldehyde, ammonia, benzene, or chloroform gases in the air. Such toxic elements can come from paints, carpets, cleaning agents, air fresheners, and more.
Benefits of Using Breathe Green Charcoal Bags
Leaves your furniture and other surfaces dry
Harbors no artificial scents and chemicals like the traditional fresheners
Safe to use in several areas around your home
Safe to use on pets and their beds
Won't tip over like normal gel products
How to Use Breathe Green Charcoal Bags
There are two different ways to use these little charcoal bags.
Identify the source of the odor. Take one bag and place it next to the odors. The bag will start absorbing the odor in a few hours. The following day you'll notice little or no odor at all. You can use this method on recently painted walls, closets, kitchen and bathroom sinks, or pet beds.
This method utilizes the metal grommet in the bag. Cut a thread and tie one end through the grommet. Tie a knot at the other end of the thread and hang the charcoal bag somewhere appropriate. In your car, you can hang it from the rearview mirror. This strategy can also work in the closet or anywhere that you can hang it. The bags can last for two years before you replace them.
Where Can You Use Breathe Green Charcoal Bags?
The Breathe Green Charcoal Bags are applicable anywhere. For the traditional fresheners, you could worry about spills or tipping over. You also need to worry about your pet or kid's health while using these products. With charcoal bags, there are hundreds of ways to use them.
In your car's trunk or behind the backseat
Toss it inside your gym bag or luggage
Hang it from the rearview mirror
Tuck it inside your kitchen cabinets
Put on the bathroom counters
Put in your garage or basement
Put under your pet's bedding
Put some bags around renovations and new constructions.
For a newly painted room, the Breathe Green Charcoal Bags work best to remove that harsh scent associated with fresh paint. Simply place a few bags in the room and charcoal will absorb the harsh scent.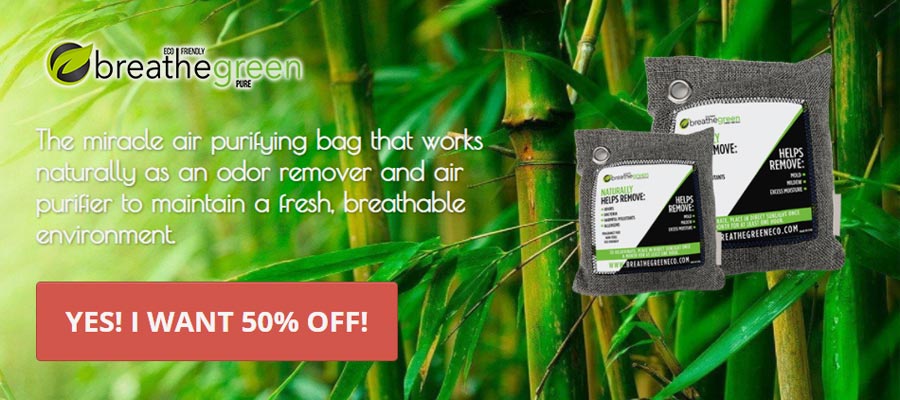 Where can you get Breathe Green Charcoal Bags?
Breathe Green Charcoal Bags are currently available from their official website with different purchasing options. The products are affordable, making them a perfect replacement for the expensive and chemical ways of removing unpleasant odors, pollutants, and allergens. Place your order today and enjoy a 50 percent discount on the products.
Buy 5 get 5 more FREE for $99.95 + Free shipping
Buy 3 get 2 more FREE for $59.95 + $6.99 Shipping
Buy 2 get 1 more FREE for $39.95 +$6.99 Shipping
Buy 8 get 12 more FREE for $159.95 + Free Shipping
Breathe Green Charcoal Bags are an important accessory that offers value for money. As buying a single charcoal bag can be expensive, the manufacturer recommends bulk purchases to save money. For less than $200, you get up to 20 bags while you only pay for eight.
Final Words on Breathe Green Charcoal Bags
Purchasing cheaper charcoal bags on the market can prove to be costly in the end. Such products are often less durable compared to the Breathe Green Charcoal Bags. Others are made of low-quality material that easily breaks when exposed to sunlight and, they are smaller so they only last a few weeks or less.
If you buy the Breathe Green Charcoal Bags, you'll have two years of no odor, moisture, and allergens in your home, office, or car. Additionally, since the activated charcoal is eco-friendly, you can simply recycle it by using it in your garden when their absorption power ends. What are you waiting for? Place your order today and benefit from the 50% off on regular prices!