Quim: Plant Based Vaginal Self-Care Products That Promote Sexual Wellness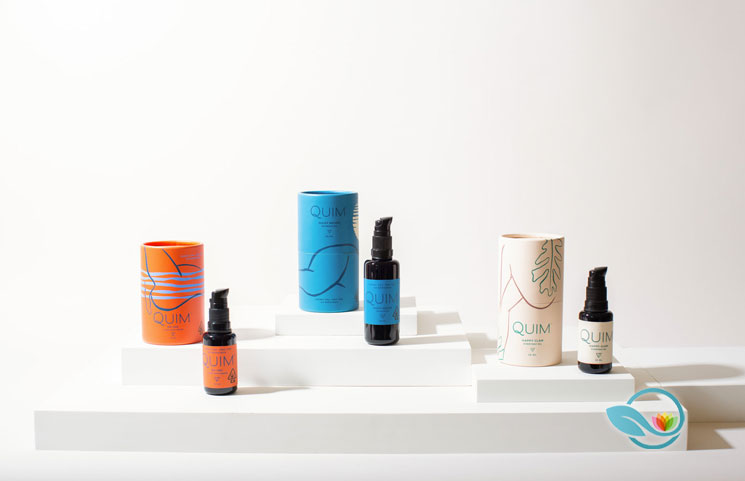 - ad -

About Quim
Their mission is about creating products fit for deepening intimacy between you, as a woman, and your body by caring for it in safe ways you see fit and meaningful to you. At Quim, they believe the vagina is in need of as much special attention as the face.
Year upon year of dealing discreetly with endless vaginal health issues such as low libido, bladder infections, yeast infections, climaxing issues and lube allergies, the Quim team came together and shared research information and formulas to solve the issue. They settled on using the power of plants to improve vagina health and sex.
Quim Products
Happy Clam Everyday Oil
As the eye cream is to the eyes, so the Happy Clam is to the vagina. It contains apricot, sweet almond, hazelnut, Calendula, Damiana, tea tree and MCT oils and the very beneficial Full spectrum CBD from the Hemp plant. For it to be beneficial, it is recommended to use after bathing, before bed, postpartum, when menstruating and any other time you feel it's needed.
Night Moves Intimate Oil
This is a vaginal supplement specifically aimed at increasing libido and intensifying sensation. It is Comprised of MCT, tea tree and damiana oils together with cannabis. The recommended time to use is 20 minutes before game time and can be used at whatever time you are looking to enhance sensation, night or day. You don't have to use it only when planning on having sex. As mentioned, it is a supplement from which your vagina can benefit greatly.
OH YES! Latex-Safe Serum
The serum base is 100% organic aloe while the other ingredients include:
Sclerotium gum
Sunflower oil
Cannabis mixed phospholipids
Aloe Barbadensis leaf juice
Plant derived emulsifiers
Vitamin C & E together with
Sodium benzoate
This serum is compatible with latex and should be used at least 5-7 minutes before playtime when looking to enhance sensation. Remember to shake well before using.
Quim Closing remarks
Quim is here to change the life of your quim and enhance sensation for your partner's quim during playtime. Buy the products at any CA dispensaries. Log in to itsquim.com and find one near you.