Zensation CBD Products Offer a Wide Range of Premium Nootropic Hemp Oils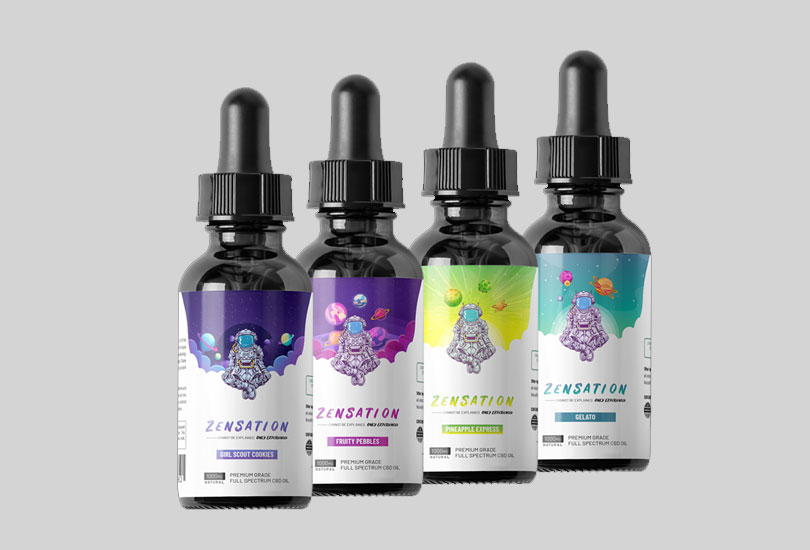 - ad -

CBD is the miracle hemp ingredient everyone is talking about, as it has the power to alleviate chronic pain and inflammation, to reduce anxiety and stress, to improve sleep, and even fight addiction to substances like opioids and drugs. There are many products formulated with CBD, but the ones offered by Zensation seem to have made a very good impression because they're 100% natural and contain other ingredients that do wonders for the human body. CBD products are legal to own and buy in all 50 US states. Since CBD is a non-psychoactive substance, the products containing it don't cause a high. The Zensation CBD oils have many flavors and taste good, which means they can be taken sublingually or with water.
Types of Zensation CBD Oils?
There 4 different Zensation CBD Oils. There's the Fruity Pebbles, the Gelato, the Girl Scout Cookies and Pineapple Express.
Fruity Pebbles Nootropic Whole Plant Hemp Extract Oil
The Zensation Fruity Pebbles CBD Oil contains 1500 mg of CBD per 30 ml and 30 servings. It relaxes the body and provides a happy state of mind. At the same time, it deals with chronic pain and helps regulate sleep. Aside from CBD, the Zensation Fruity Pebbles contains L-Theanine, Terpene Blend, Panax Ginseng, Caffeine, Coconut Oil and Rhodiola Extract.
Gelato Nootropic Whole Plant Hemp Extract Oil
When it comes to the Zensation Gelato CBD Oil, this formula has a sweet-pungent fragrance and is perfect not only against inflammation, stress and chronic pain, but also for dealing with weak knees, heavy arms and sweaty palms. It contains 1500 mg of CBD per 30 ml, which is more than enough to provide the amazing health benefits of this powerful hemp ingredient.
Girl Scout Cookies Nootropic Whole Plant Hemp Extract Oil
The Zensation Girl Scout Cookies CBD Oil differentiates itself from the Gelato and the Fruity Pebbles through its floral and sweet fragrance. It features 1500 mg of CBD per 30 ml too, whereas its effects are reduced pain, a healthy sleep and decreased anxiety. When it comes to the state of mind it instills, this is one of creativeness and euphoria.
Pineapple Express Nootropic Whole Plant Hemp Extract Oil
The Zensation Pineapple Express CBD Oil is made with hemp from the Hawaiian and Trainwreck sativa strains. It boosts the energy and has a sweet taste. Its other ingredients are Terpene Blend, Caffeine, Rhodiola Extract, L-Theanine and Coconut Oil.
Purchasing the Zensation Hemp Extract Oils
Full of nootropic benefits, Zensation has several flavor options.  All Hemp extract oils offers contain 1500 ml per 30-serving bottle, and can be purchased for $59.99 each, from the official Zensation website.
Contacting Zensation And Return Information
If the customer finds they are not satisfied they can return the product within 7 days of receipt, and  return cost of shipping the product will be deducted from the refunded money paid by the consumer. The customer must first speak with the customer service team before returning any unused product at: [email protected] to request a return shipping address (RMA) by phone at, 877-223-7494 . The company also does not have a money back guarantee as all CBD products affect users differently.