Hapbee: New Wearable Happy Device for Calm, Alert, Focused Benefits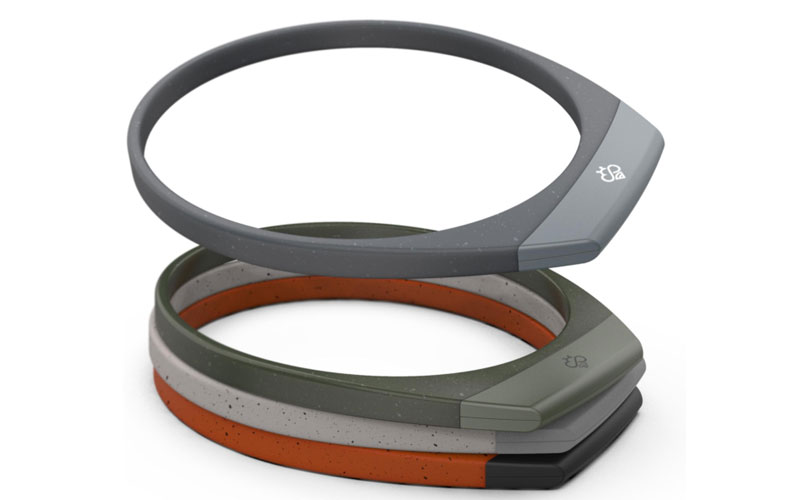 - ad -

Emotions and feelings are often used interchangeably, but they aren't the same. Emotions are a result of interaction between two neurons which occurs with the help of neurotransmitters which in turn elicit different responses to various situations. Fluctuating levels of neurotransmitters cause activation of certain parts of the brain which are responsible for different moods or they trigger activation of  the autonomic nervous system.
So, the question here is do we have control over our emotions or over how we feel? Many neurologists would have answered that as no, we don't have control over how we feel. However, the answer to that same question may now have a different answer with the invention of the Hapbee.
What is Hapbee?
Hapbee is the first wearable device which aids in controlling your emotions and lets you modify the way you feel. Hapbee was designed to be a lightweight, ergonomic and easy to wear device, and can be worn on your head or over the rim of your hat, around your neck or tucked inside your shirt. In the App you can choose a feeling enabling you to relax, feel calm, alert, focused or even sleepy on the users command with just a few quick touches on a smartphone.
There are a number of neurotransmitters and each is assigned set functions. To name a few Adrenaline, Dopamine, Noradrenaline, GABA, Oxytocin etc. Adrenaline also known as fight or flight survival response that is released by adrenal glands increasing the flow of blood to the muscles thereby raising the heart-rate and dilating the pupils.
Who are the founders of Hapbee?
Hapbee company is founded by Kevin and Kendall Schmidt, Carlos & Alexa PenaVega, and Ashley Benson. It is operated by Kevin G. Schmidt who is the co-founder. Hapbee partnered with Product Creation Studios out of Seattle, WA to complete the designing, mechanical and electrical engineering phases and act as a guide in writing the firmware which is part of the software for the product.
How does Hapbee work?
Hapbee uses magnetic field frequencies that are non-ionizing and non-thermal, with a range from 0-22kHz which is much lower than a cell phone frequency. The  device also uses patented technologies and proprietary software to send predictable, low-wavelength electromagnetic signals throughout the body which will trigger your senses to a more relaxed and calm state of mind.
How to Set Up and Use Hapbee
Download and open the app after signing up.
Turn the product on.
Scan the QR code on the back of the device.
Choose the signal.
Logo breathes on and off slowly while the signals are playing.
Noteworthy features of Hapbee:
Hapbee is light in weight making it easy to carry it wherever you go.
Ergonomic design makes it a low-profile device.
Substance free as you don't have to consume any dangerous chemicals, hence has zero or no side effects.
Hapbee could be worn several ways, over the head, neck or over the brim of your hat and can even be tucked inside your shirt.
Hapbee uses patented technology to emulate the feelings.
Aids you reduce constant stress.
Helps you maintain your calm and work better under pressure.
Helps you cope with your negative habits.
Hapbee is compatible with both android and IOS.
Hapbee comes with a full refund and guaranteed period of 30 days if you are not completely satisfied with the product
Benefits of using Hapbee
Perfect way to have control over the way you feel. It is similar to a playlist of your feelings and the first 6 signals made available are: Happy, Calm, Relax, Alert, Pick Me Up, and Sleepy.
First wearable aid to alter the way you feel on command.
It uses SignalMap functionality which means it targets specific feelings and you have complete control over them with just a tap on your smartphone.
HapBee FAQ's
Q: What Colors are Available?
A: Initially only dark gray is on offer but plans to add more colors are in the works.
Q: When can I Download the App?
A. The app is private at this time, and will be released on both IOS and Android after the campaign ends. An email will be sent to all backers when it's time to download the app.
Q: Will the App Work for With Both IOS and Android?
A. Yes it does. You will need a smartphone to use Hapbee.
Q: How Does the Signal Subscription Work, and Cost?
A. All backers will get at least 3 months free subscription, beginning after they receive their Hapbee and begin using it with the app. Certain levels will get longer periods of free subscription. Subscription will begin after the free trial at $19/mo or $15/mo for an annual purchase.
Q: Is Hapbee a Good Device for Medical Use?
A. Hapbee isn't intended for actual medical use; only as a mood and feeling product. "General wellness" is a much better description, because they are only intended for use in healthy users.
Purchasing the Hapbee Device
The cost of 1 Hapbee if you are a Super-early bird would be $358.84 as opposed to an Early bird which would cost $378.85. Whereas the cost of 2 Hapbee Duo sets would be $697.69. 1 Hapbee for a Legacy member would cost you $998.28. At the same time 3 Hapbee's with Family membership would cost you $1028.26.
Hapbee Summary
Hapbee is the first wearable device which could help you alter the way you feel using a patented technology. It is a one-time investment for life and claims to have guaranteed results. It's a recommended buy if you want to ease your life and wish to have control over your feelings.