Gaia Herbs New Respiratory Supplements Include Lung and Sinus Support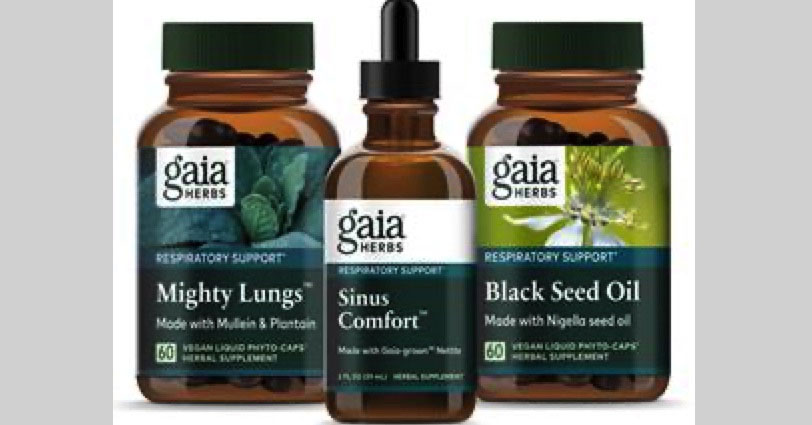 - ad -

Gaia Herbs, a leading herbal supplement brand committed to helping people tap from the tonic benefits of plants, plans to introduce a line of new plant-based respiratory wellness supplements. Suitable for enhancing your respiratory health, the three product varieties, Black Seed Oil, Mighty Lungs, and Sinus Comfort, will be sold worldwide in different natural and health food stores.
According to Angela McElwee, Gaia Herbs' CEO and president, the brand's goal in 2020 is to address the increased environmental pollutions and wildfires in the West and the COVID-19 menace with its respiratory wellness supplements. Its new product line is in response to the growing need for plant-based all-save wellness solutions to enhance lung and respiratory health.
The Gaia Herbs brand has, in the last 30 years been offering herbal wellness supplements for healing different conditions. Its latest products will be a blend of traditional wisdom and ultramodern scientific expertise.
According to Angela McElwee, the brand's latest wellness formulas will combine superior plant-based ingredients designed to help you soothe respiratory problems and maintain healthy lungs. Like the previous products from Gaia Herbs, these three plant-based product varieties will be potent and pure. The ingredients are sustainably sourced from the brand's farm partners or its Certified Organic farm in North Carolina.
Might Lungs is a blend of respiratory and adaptogenic supporting herbs, formulated uniquely to support lung function and maintain its health. The Might Lungs formula contains ingredients traditionally used in respiratory and lung tonics such as Elecampane, Mullein, Schisandra, and plantain.
Sinus Comfort combines sinus and respiratory supportive herbs such as Gaia-grown Nettle, Yarrow, bayberry, and plant. The unique blend helps in maintaining sinus and helping people breathe restfully.
Black Seed Oil is a unique formulation engineered to help you maintain your lungs under optimum and efficient working conditions. Widely known as Nigella, the herb is one of the most effective Ayurvedic medicines ever known, useful in smoothing the respiratory system's functioning and keeping the lungs healthy. The black seed oil contains cold-pressed full-spectrum oil, which is organically sourced and processed to maintain the black seed plant's purity and integrity.
Gaia Herbs brand commits to using recyclable, eco-friendly, and reusable glass materials in packaging the new respiratory wellness supplements. They also use single-use plastic, the widely used standard supplement packaging among most supplement manufacturers. All these are aimed at ensuring optimal protection to the planet.