Essential-M: Moringa Extract for Energy and Metabolism Benefits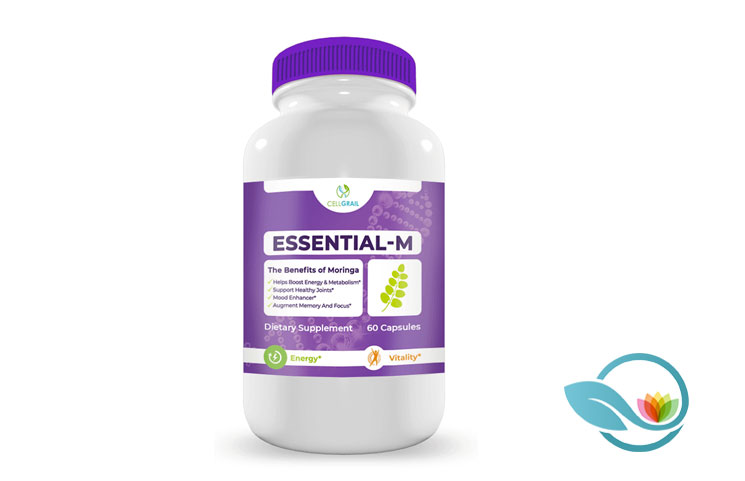 - ad -

Did you know that nearly 50 percent of Americans are unable to function properly; primarily when it comes to thinking clearly, making proper decisions and being productive in a work environment? Can you relate to this unfortunate series of events? This is where Essential-M™ claims to reboot one's energy level.
Essential-M™'s intention towards elevating one's energy level rests in ensuring that the body is provided with a sufficient source of nutrients including iron, potassium, protein, calcium and vitamins A and C. What ingredient(s) is responsible for the proclaimed benefits?
The purpose of this review is to better understand Essential-M™'s stance on bodily energy, and how the entirety has been tackled. Some of the facets that will be broken down include its aim, and key ingredient(s).
What is Essential-M?
Essential-M™ is a dietary supplement that has been designed to offer the body with over 92 unique nutrients and 46 antioxidants. Some of the goals behind the creation of such a nutrients-dense supplement include offering long-lasting energy, boosting one's metabolism, and strengthening cellular defense – all without the jitters typically associated with coffee and energy drinks.
What Furthers Essential-M in Comparison to Other Dietary Supplements?
What sets Essential-M™ apart from the rest is its reliance on a single plant-based ingredient called Moringa oleifera.
Moringa oleifera, also referred to as a drumstick tree, is a plant native to tropical regions, predominantly grown in South Asia. It has been studied and utilized in an array of medicines for thousands of years, as it has been deemed rich in antioxidants and bioactive compounds.
As previously mentioned, it contains a good source of vitamins and minerals and antioxidants. The latter has been heavily emphasized upon merely because they protect the body from free radical damages. In addition to vitamin C and beta-carotene, this respective plant contains an abundance of quercetin (may lower blood pressure) and chlorogenic acid (plateaus sugar levels).
Another one of its important features is that it contains anti-inflammatory properties. Existing findings suggest that Moringa oleifera's anti-inflammatories come in the form of isothiocyanates, which are found in its leaves and seeds among others.
How Should Consumers Include Essential-M on the Daily?
The recommended dosage is 2 capsules per day for consumers dealing with type 2 diabetes, anemia, arthritis and other joint-related discomforts, poor digestive health, stomach ulcers and many other conditions. That said, consumers have been advised to consult a health practitioner prior to its uses.
Essential-M Final Thoughts
Overall, Essential-M™ appears to be a valuable investment because it works on a cellular level. It not only ensures that cells are protected against harmful toxins but are also improved and free from inflammation. The latter two are vital to consider as one's cell health is literally what makes or breaks one's overall health; especially when it is the cells that are responsible for delivering nutrients to the different organs.
For the time being, consumers can get hold of one month's serving for $49, with three bottles for $45 each and six for $39 each. Given what Essential-M™ can possibly achieve, the prices are relatively fair. To learn more about the power of nature, check out Essential-M™ right here.