Blueland Review: Non-Toxic Eco-Friendly Home Cleaning Products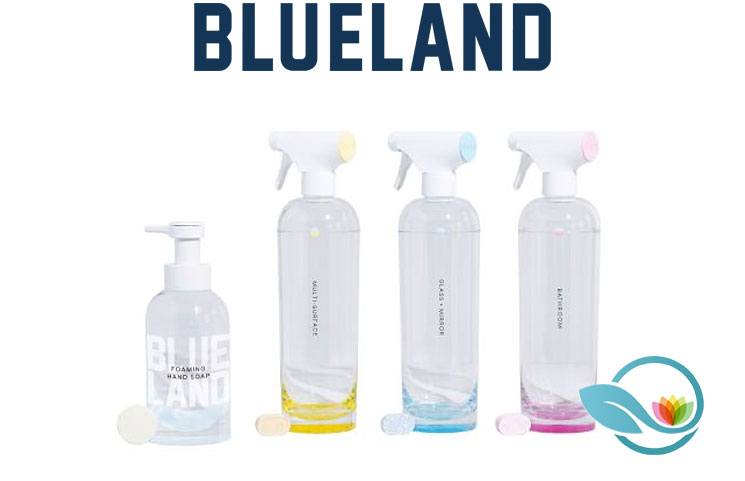 - ad -

Current statistics show that approximately 8 million pieces of plastic pollution find their way into the oceans on a daily basis. Plastic poses a danger to water and food supplies, as well. Those who are looking to be more conscientious about their plastic use, and who are looking to decontaminate their home as much as possible may want to start with the cleaning products that they use, which are often contained in plastic containers.
Blueland is a brand that is dedicated to cleaning up the planet by starting in people's homes. Rather than selling products in plastic bottles, the brand provides reusable bottles. The environmentally-safe packaging is not only good for the planet, but for people and their homes too.
How Does Blueland Work?
Blueland is an easy-to-use and affordable cleaning product line that starts with a reusable bottle called the Forever Bottle. Those who use the brand's products need to buy the bottle once, and with that, they receive $2 refills for life. As the brand explains on its website, "no more throwing out bottles." The bottles are designed to last and will do so for a similar length of time to a traditional spray cleaner or foaming hand soap. More specifically, how long the bottle lasts depends on how often one cleans, washes, or users the bottle.
Once users have the bottle on hand, they can start creating their Blueland cleaner or soap quickly and simply. The process for creating the product is on the product's website, and it entails filling the Forever Bottle with warm water to the line, dropping the tablet in, and waiting a few minutes. One cleaning tablet makes 20 ounces of cleaning solution, while one foaming hand soap tablet makes 9.10 ounces of foaming hand soap.
The Forever Bottle
Another positive quality associated with Blueland is that it is not necessary to purchase the Forever Bottle for the tablets. However, the brand recommends on its website that those who use the tablets do so with the bottle for the following reasons:
Designed for a great and safe consumer experience
Shatterproof acrylic and are designed for re-use
Bottles will not leech over time
100% BPA-free
Certified Cradle-to-Cradle Platinum
These qualities enable users to add their home cleaning products and bottles that are safe, effective, and that they can feel good about. Better yet, the bottles are not made out of one-use plastic, so that they are more environmentally friendly than the standard cleaning product.
Non-Toxic Ingredients
As for the product ingredients, the product's website makes them available online. This way, users can see what exactly goes into the formulas before they decide to purchase them. There are also positive qualities associated with the formulas, which are as follows:
Formulated using non-toxic ingredients
Certified by leading environmental agency Cradle-to-Cradle
Certified by Leaping Bunny
Avoids ingredients on the Environmental Working Group restricted list
Most of the ingredients used in the formulas are on the EPA's Safer Chemical Ingredients List. This enables users to feel more comfortable about the products that they use in their space. The brand's website also notes that as for the disinfecting quality, it does not use any antibacterial agents and that many studies confirm that antibacterial cleaners do not clean better or kill more harmful germs than non-antibacterial cleaners. Thus, the products may still be just as effective.
Blueland Summary
Overall, those who are looking for an environmentally-friendly, reliable, and effective cleaning product brand that is unlike traditional cleaning solutions may want to consider Blueland. To learn more about the product and to place an order, just visit the Blueland website today.