Pillow Relax Massage Pillow: Eliminate Neck Pain With a Massage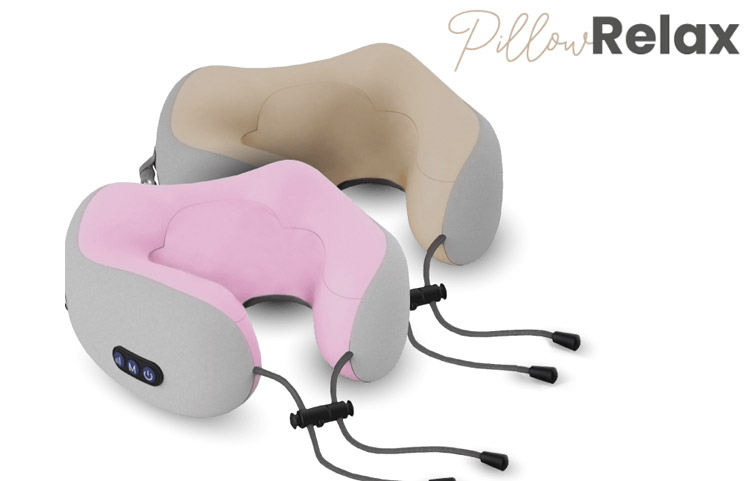 - ad -

Pillow Relax is advertised as a hypoallergenic, wearable pillow that massages and soothes the neck with "Pressure point and acupuncture techniques combined with technology." Available in two different colors, consumers can use this neck pillow to relax their muscles at home, while working, or while traveling. Let's take a closer look:
What is Pillow Relax?
While office jobs have a reputation for being sedentary, dealing with neck pain is almost synonymous with this type of job. Whether the culprit is poor posture, a long flight, or just long hours at a computer desk, the neck can become strained and sore. To relax the muscles, a hot shower or a warm cloth may help with the tension but getting a neck massage would be the most relaxing way to eliminate it.
Instead of having to go to get a massage after a long day, Pillow Relax only requires a press of a button. This wearable massager can be placed directly around the neck, securing the fit with the attached drawstrings so it can be used anywhere and during any activity without moving from its position. With soft yet sturdy material, the user can just lay back and relax as the tech inside the pillow works its magic on pressure points to relieve tension.
Pressure point massage centers around applying pressure to certain areas to relieve tension, and it is particularly helpful to inflamed muscles, damaged or injured muscles, or even just overusing the muscle. Some people experience soreness as a result of a lack of electrolytes, but the massage offered by Pillow Relax can accommodate these needs. While pressure point massage is typically used to provide relief to one area of the body while applying pressure elsewhere, it is unclear from lack of product specifications of how it is incorporated into the Pillow Relax neck massager.
Pillow Relax Most Frequently Asked Questions and the Answers to Them
Q. Can acupuncture devices help neck pain?
A.  Acupuncture is a good treatment option for chronic neck pain. Acupuncture and injections both use needles to bring neck pain relief per a study published in the British Medical Journal in 2001. Even though it's unclear how acupuncture is used in the Pillow Relax neck massager.
Q. How often should you use a neck massager?
A. One study found that getting a 60-minute massage two or three times a week showed more benefit for those with neck pain. Massage neck devices can be a way to relieve neck pain for short term use.
Q. Can neck massage pillows be beneficial?
A. Neck massagers can improve your posture and flexibility, increases range of motion, lowers blood pressure and heart rate, provides relaxation, and can ease tension in the neck and shoulders.
Q. Since there is limited information on how to use the Relax Pillow, is there a product manual included?
A. Purchasers can contact the company and request a user manual, but it appears the Neck Pillow is not included in the dropdown located in the requested email. Consumers will need to purchase the Neck Pillow device before the request can be filled, you will also need to have the order TRD number that is found in the top left corner of the invoice after purchase.
For more inquires and answers you may possibly be able to reach out to the company behind the advertising and selling website at https://ecomerzpro.net/faq.html
For consumers who have ordered Pillow Relax, and change their mind after purchasing, customers have 12 hours from the time you placed your order to request a cancellation. Once 12 hours have passed, the company has begun to process your order and will be unable to cancel it. To cancel your order, you can do so by contacting the company.
Other ways to contact the selling and advertising company for further information or for returns, refunds, and exchanges is 14 days from the day that you received your order. Once this deadline has passed we will be unable to proceed with the return (returns must be paid for by the buyer) are as follows:
USA: +1 3477081493 Monday to Friday
United Kingdom: +44 2036086701 Monday to Friday
Spain: + 34 911988049 Monday to Friday
Buying the Pillow Relax
For one Pillow Relax massager, the regular price is $178.00 USD, but the selling website offers a 50% discount with the total cost being $89 USD, which is less expensive (customs fees may be applied to the listed price) and more convenient than scheduling a professional massage every time you experience neck pain. However, for individuals that want to have a backup travel pillow on hand or want to give one as a gift to someone else, there are two optional packages offered:
Two Pillow Relax massagers for $145 ($72.50 each)
Three Pillow Relax massagers for $205 ($68.33 each)
Customers can make other customizations at the checkout as well, choosing to add a two-year warranty ($9.95) and choosing between the 2 color options (pink or brown).
Summary
Pillow Relax states the device offers a simple way to relieve tension that can occur in the neck throughout the day, through poor posture, or through injury. While the website doesn't include much, if any product information, such as the way that the Pillow Relax massage works, is powered or even how to use the device, much of this information may likely be included with the package.
For consumers that don't have much time to take out of their schedule to sit with a masseuse, Pillow Relax could potentially offer neck relief from a massage, perhaps consumers should be wary, and choose a neck massaging device with more product information before purchasing while shopping online.