Kinsa QuickCare Smart Thermometer: Digital Stick to Measure Temperatures?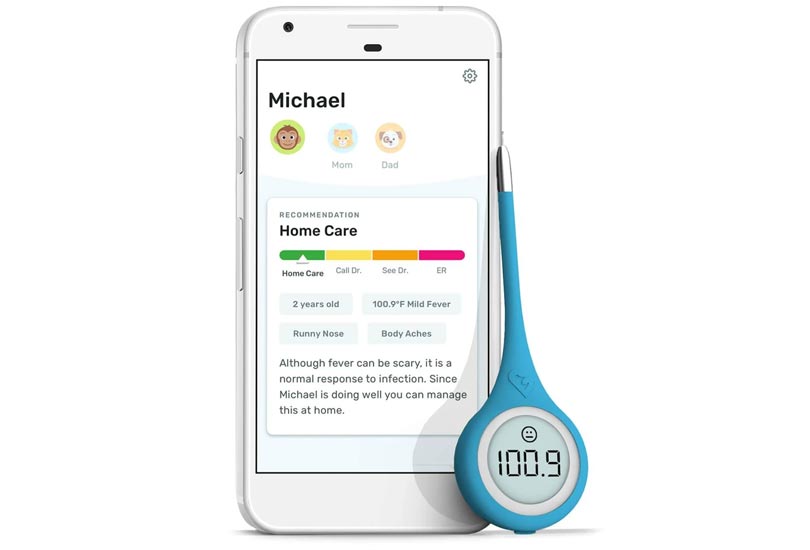 - ad -

The Kinsa Quick Care Smart Digital Thermometer is a parent and child friendly tool and App resource for parents.
What is Kinsa QuickCare Smart Thermometer?
This is the twenty-first century. We are in an era of very useful and sophisticated gadgets and mobile apps. Parents constantly battle with making choices of which apps and gadgets will be most beneficial for their children.
This amazing gadget, Kinsa Quick Care Smart Digital Thermometer comes to the rescue. It uses smartphone apps to make the process of reading and registering temperature a lot easier. What's amazing about this gadget is that it can be used comfortably to measure temperatures for all ages.
Kinsa QuickCare Smart Thermometer Features
Here are some essential reasons why you should choose Kinsa Quick Smart Digital Thermometer.
Easy to use
Unlike most other complexly assembled temperature reading equipment, the Kinsa Quick Smart Digital Thermometer is built in a structure that is plainly simple. Its simple structure makes it easy to be understood and used by almost everybody, irrespective of educational background.
All this gadget needs is the simple basic knowledge of using everyday mobile apps and you are good to go. It reports temperature reading and prescriptions in plain language that can be understood by all.
Developed to beat modern technology
Technology is evolving faster than we know. Most gadget developers are working every day to remain in tune with recent technological advancements.
One cutting edge advantage of the Kinsa Quick Smart Digital Thermometer over other temperature gadgets is that the producers of this gadget had the constant change of technology in mind during production and that is why it has been built to function well with some of the most sophisticated mobile phones.
Fast
There is no better word to describe the Kinsa Quick Smart Digital Thermometer than fast. The gadget records temperature in an awesome time of about 8 seconds or less through the mouth or armpit beating old school thermometers that record for about 45 seconds. Another amazing feature of this gadget is its ability to display temperature, symptoms diagnosed, and give you a trusted prescription in record time. It sounds really amazing that you don't have to wait for extra seconds to get excellent results.
It excellently keeps records and offers personalized guidance
It is very relieving to know that you do not have to travel for miles to see a doctor every time you fall sick. The associated app offers reliable personal guidance on how to soothe symptoms, take the right dosage of medications, and access a doctor if the need arises. The Kinsa app also does a good job of keeping the health details of every member of your family within reach.
Kinsa QuickCare Smart Thermometer Conclusion
The Kinsa Quick Smart Digital Thermometer beats most gadgets in temperature reading speed. The gadget looks rugged but has a comfortable design that makes it easy to track your family's temperature history.
Overall, this gadget is an excellent purchase if the health of your family is a priority.