Hootie Personal Safety Alarm Reviews (2021) – Legit Device?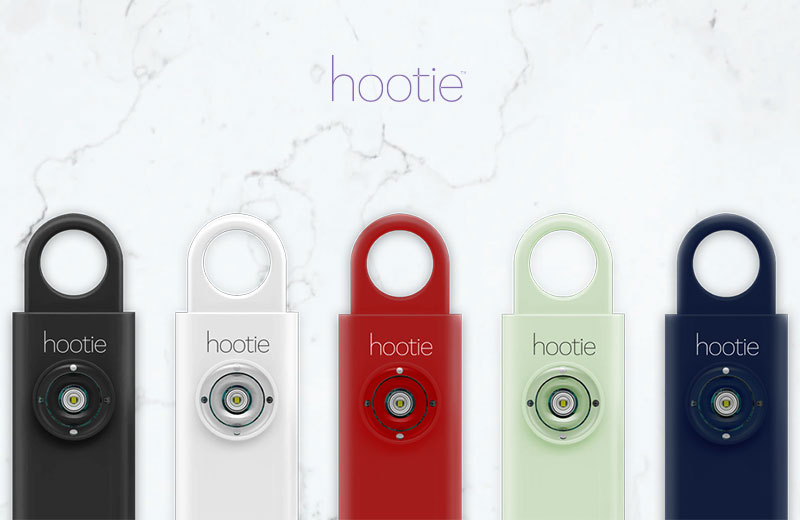 - ad -

Hootie is a personal safety alarm marketed primarily towards women.
You carry Hootie on a keychain, then pull the cap to activate the alarm. Hootie features a strobe light, a siren, and other tools to disrupt attackers.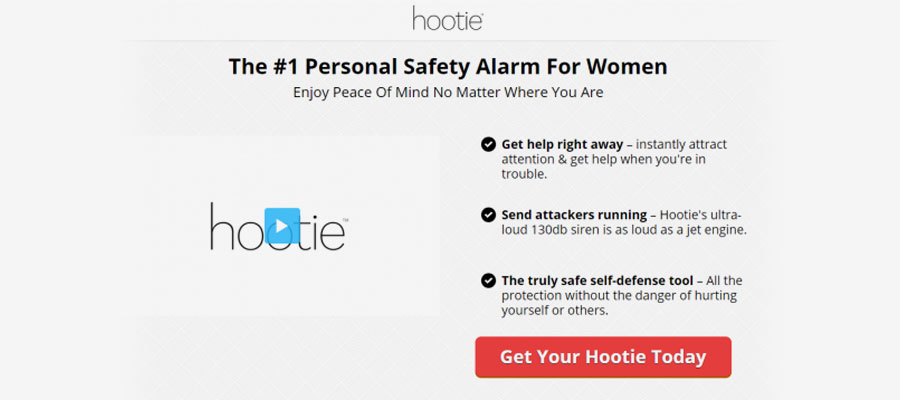 Does Hootie really work? How does Hootie work? Find out everything you need to know about this personal safety device today in our review.
What is Hootie?
Hootie is a personal safety device found online at GetHootie.io.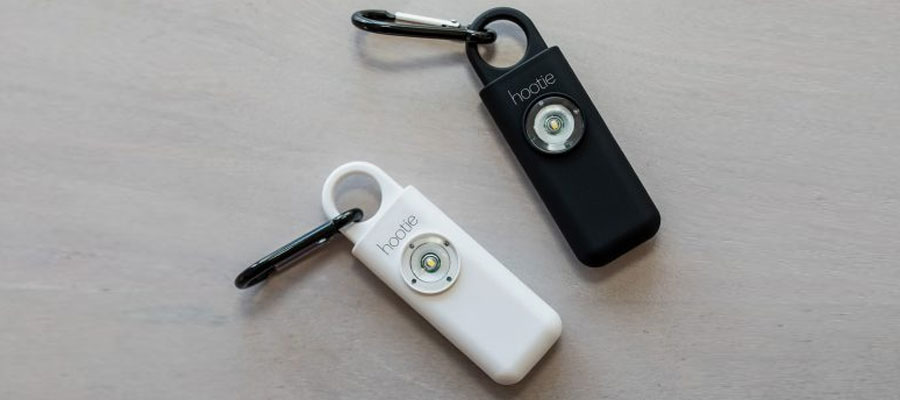 Each device is priced at around $30, although you can get it for as little as $15 per unit by ordering multiple devices at once.
The goal of Hootie is to provide wearers with peace of mind wherever they go. The company markets the device as a personal safety alarm for women. Anyone can hang the alarm on a backpack, keychain, or belt loop, then take the device with them anywhere they go.
Some people also hold Hootie in their hands as they move. You might hold Hootie while walking to your car at night, for example, or when walking through a sketchy area.
How Does Hootie Work?
Hootie works similar to other personal safety devices: you carry Hootie on your person, then pull the cap to activate Hootie's alarm whenever you need it.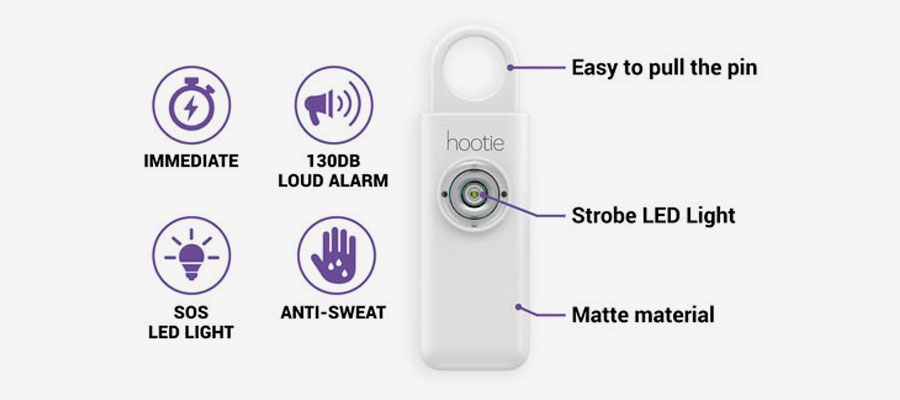 Hootie is approximately the size of a USB stick, a vape pen, or a large key fob. The device comes with a clip that you can use to attach it to your keychain, a loop on your clothing, a backpack strap, or anything else. You can also hold Hootie in your hand to ward off attackers.
When you pull Hootie's cap, the device sounds like an ultra-loud 130-decibel siren approximately the same loudness as a jet engine.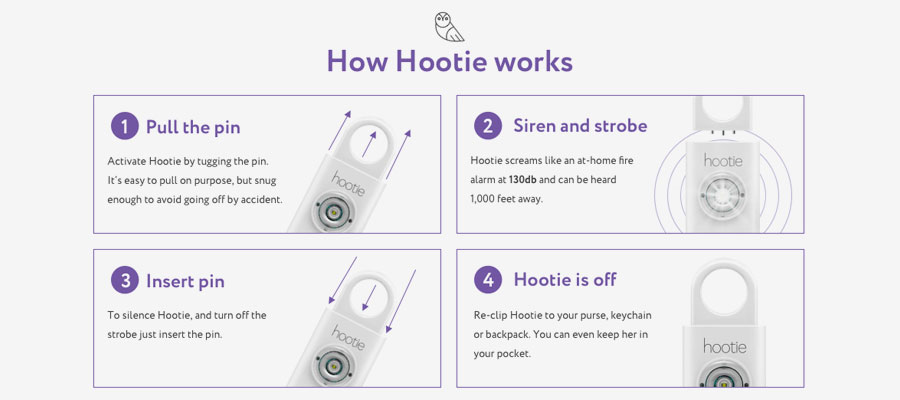 The device also activates a strobe light. You can point the strobe light at an attacker to disorient them. The siren, meanwhile, alerts others you need help or scares the attacker away.
Overall, the makers of Hootie claim the device is "the truly safe self-defense tool." It provides all of the protection of an ordinary self-defense tool like a knife or a gun without the risk of harming yourself or others.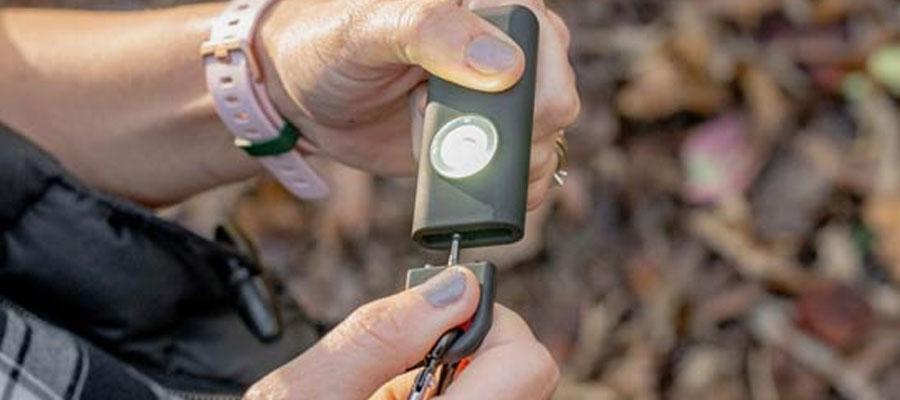 Hootie Features & Benefits
The makers of Hootie advertise all of the following features and benefits:
Easy to Use: Hootie is easy to use, pull the cap to activate the siren and strobe light. There's no special permit or training required to use the device. Whether young or old, anyone can use Hootie for easy and instant self-defense.
TSA-Approved: Hootie has a TSA-approved design, which means it can pass through airport security, and you can legally bring it on an airplane.
Take Hootie Anywhere: Because of Hootie's TSA-approved system and nondescript design, you can bring it anywhere. Hootie isn't a weapon, and you can take it places you wouldn't normally be able to take other self-defense tools.
Ultra-Loud Alarm: Hootie features a 130-decibel alarm, roughly as loud as a jet plane taking off, a gunshot, or a metal concert. Typically, alarms don't run louder than 130db, and it's an impressively loud sound for a smaller, handheld device.
Strobe Light: Hootie has a strobe light to disorient attackers. It can also be used to alert passersby or rescuers to your location at night. Like the siren, pull the cap to activate Hootie's strobe light.
40 Minute Operational Battery Life: Hootie can run 40 minutes per charge, which means you can run the siren and strobe light continuously for 40 minutes on each charge. Obviously, the device lasts much longer when you're not running the siren or strobe light.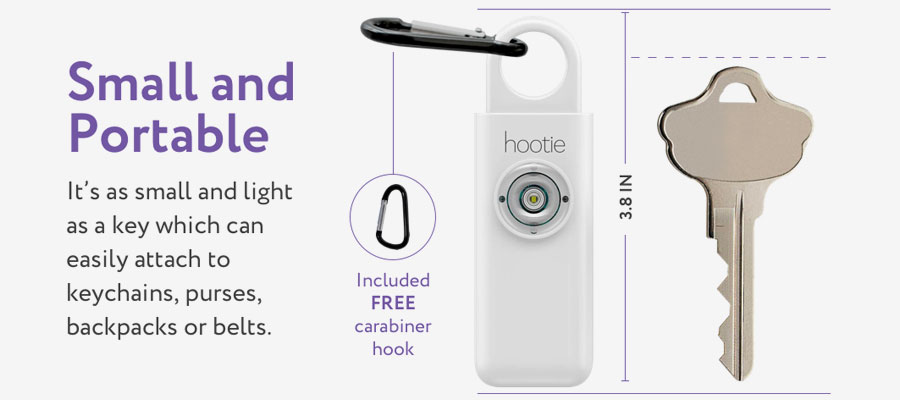 As Hootie's makers explain, 1 in 3 women will be victims of sexual violence at some point in their life. In certain parts of the world, that risk is even higher. By carrying Hootie with you, you can deter attackers and alert a passerby to an emergency.
Hootie can also be useful in general emergencies. You might take Hootie backpacking, for example. If lost in the woods, you can activate Hootie to alert rescuers to your location.
Hootie Pricing
Hootie is priced at $30 per unit, although the price drops to $15 to $20 per unit when ordering multiple Hooties at once. Here's how pricing breaks down: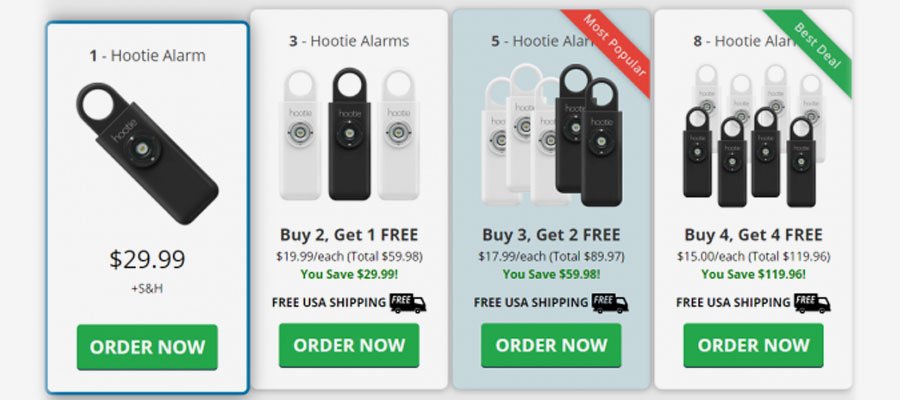 1 Alarm: $29.99 + $4.99 Shipping
3 Alarms: $59.98 + Free Shipping
5 Alarms: $89.97 + Free Shipping
8 Alarms: $119.96 + Free Shipping
You can choose whether you want a black or white Hootie at checkout. If ordering multiple units, you can also order a variety pack with different black and white colors.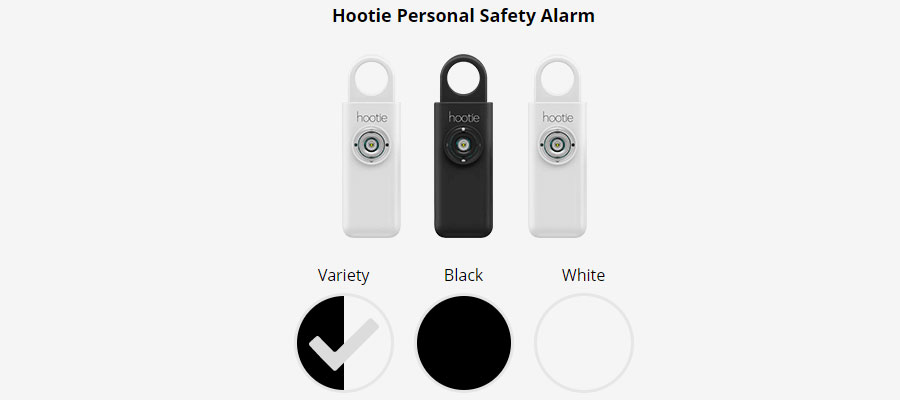 Free shipping covers shipping to any address in the United States.
Hootie Refund Policy
Hootie comes with a 30-day refund policy. You can request a complete refund within 30 days of your purchase. Tax and shipping costs are non-refundable, and shipping costs are deducted from your refund. You will also be responsible for return shipping.
Contact Hootie's makers to initiate the refund process, then return it to Hootie's headquarters (separate from the GiddyUp address below).
Returns Address: 9160 E. Del Camino Drive, Suite B1, Scottsdale, AZ 85258
Who's Behind Hootie?
Hootie is marketed online through GetHootie.io, which is operated by an e-commerce company named GiddyUp. GiddyUp works with product creators to build third party websites, selling products through unique sales forms and offers.
You can contact the makers of Hootie via the following:
Hootie Final Word
Hootie is a personal safety device available to order through GetHootie.io. Priced at $15 to $30 per unit, Hootie features an ultra-loud 130-decibel alarm and a strobe light. Just pull the cap to activate the siren and strobe light, deterring attackers or alerting passersbys.
To learn more about Hootie or to buy online today, visit GetHootie.io.