#GoKetoWithTebow Encourages Keto Diet with Tim Tebow and KetoLogic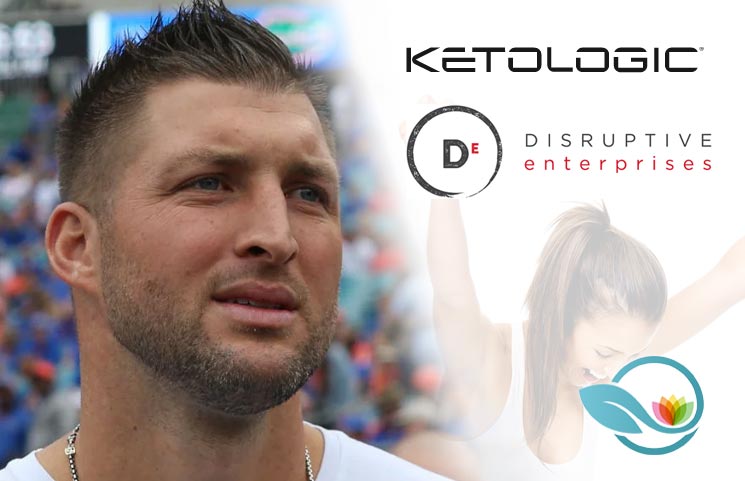 - ad -

Tim Tebow has followed a keto diet since 2011 for mental clarity and physical performance.
Consumers can find the recommended food products at many major retailers, like Target and GNC Live Well.
The ketogenic diet has been revamped through the years, but its popularity has remained. As a result, many celebrities have come forward to endorse different programs, and Tim Tebow has just become one of the many to join this trend. According to a press release by Business Wire, Tebow has just teamed up with Disruptive Enterprises, LLC, as an advocate for the diet. Disruptive Enterprises focuses on bringing attention to health and wellness with their keto brands.
Tebow's work with Disruptive Enterprises will involve his promotion of the KETO 30 Challenge, urging consumers to follow a keto diet like he has already followed for years. In fact, he credits the diet of KetoLogic and FBOMB for the reason that it has helped with improvements in his mental clarity and his physical performance.
As part of the partnership, Tebow will be a major part of the social media campaign and will be featured in the national television campaign of the company. During the promotional videos and posts, Tebow will be shedding light on the many dietary supplements and low-carb/high-fat foods that KetoLogic and FBOMB offer consumers. Some of the foods available include pork sticks, cheese crisps, and macadamia nut butters. The Tim Tebow Foundation will also receive support from KetoLogic for their philanthropic efforts. Tebow stated,
"I've been on the keto diet for eight years and am excited about this partnership with Disruptive Enterprises because their mission and products align with my approach to diet and exercise. Through my personal experience, KetoLogic® and FBOMB® products are delicious and provide the fuel that my active lifestyle needs. Plus, I love how Disruptive Enterprises is committed to supporting health and wellness by making the ketogenic diet more accessible so more people can experience the same benefits for themselves."
The original decision by Tebow to "go keto" happened in 2011, allowing him to feel healthier through better food choices that have changed the way he performed. Todd Cantrell, the Senior Vice President of Marketing for Disruptive Enterprises, commented that Tebow represents the mental and physical performance that KetoLogic and FBOMB want to convey to their consumers.
Cantrell added that Tebow is "an ideal partner" for the two companies, and that the experience that Tebow has had with this regimen is "relatable" for beginners. The third-day weight loss program involves four steps:
Replacing a meal a day with a meal replacement shake by KetoLogic.
Consuming two low-carb meals.
Drinking the BHB exogenous ketone supplement.
Exercising.
Participants that get involved with the challenge should see many of the benefits associated with a keto diet, like the improvements in their mental acuity and physical health. Though the challenge only lasts for about a month, there are many consumers that decide to adopt the changed eating habits for their everyday life.
Consumers can stock up on their KetoLogic and FBOMB foods at many national retailers, including GNC Live Well, The Vitamin Shoppe, CVS Pharmacy, HEB, and Target. Learn more about the program and Tebow's involvement at ketologic.com.