Copper Chef Titan Pan: Professional Home Stainless Steel Non-Stick Cookware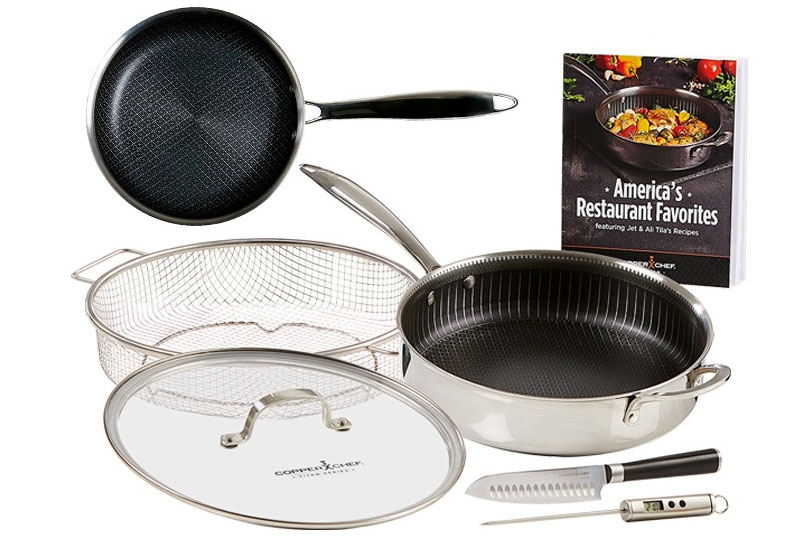 - ad -

Copper Chef and Chef Jet Tilda partnered up to create a 9.5″ pro-grade pan made from stainless steel and nonstick coating and diamond-infused that won't allow foods to stick. The Copper Chef Titan Pan is PFOA Free, Dishwasher Safe and a technological breakthrough in the cooking world, and a great option for one pan meals.
What's the Copper Chef Titan Pan Made Of?
As mentioned earlier, the Copper Chef Titan Pan is made with a three layered bonded stainless-steel, and not just any kind of stainless-steel, a tri-clad type. It has a non-stick diamond infused outer coating and is safe to use in the oven, up to 450.° This pan replaces steamers, crispers, woks and even bulky roasting pans. It should be washed with non abrasive soap before using it for the first time, then can be placed in the dishwasher. Another thing that makes it different from other pans is that its first layer of coating doesn't get burned at the first use. Besides, diamond coating heats up 15% faster, which means preparing food in the Copper Chef Titan Pan takes less time, all without losing the flavors and taste.
Copper Chef Titan Pan Features
When it comes to the best features of the Copper Chef Titan Pan, these are the tri-ply design, the diamond coating, the non-stick surface and the size.
Tri-Ply Design
This pan has 3 bonded metal layers. One is of aluminum for conducting heat quicker. This aluminum layer is between 2 stainless steel layers, so it allows heat retention and an even cooking.
Non-Stick Surface
The cooking surface of the Copper Chef Titan Pan is etched in laser to create a steel matrix, also infused with super non-stick diamond for faster heating. This is also great for not scratching the surface when using metal utensils.
Perfect for One-Pan Meals
With the 2.5-Quart capacity, V-shaped, with cool-touch handles and 3" deep wall sides that are straight, the Copper Chef Titan Pan is easy to lift and ideal for one-pan fresh meals.
How Much Does the Copper Chef Titan Pan Cost?
What's amazing about the Copper Chef Titan Pan is that it comes with many other FREE kitchen utensils, such as a stainless steel basket for steaming and crisping, a knife or a digital thermometer, depending on what the client chooses, Chef Tilda's Recipe Book, a lid for the pan and another 8" Copper Chef Titan Fry Pan. All these can be bought for only $89.99 and if bought separately, they're valued at $500. Besides, there's free shipping, a 90-day money back guarantee and a lifetime limited warranty.