Safe Grabs Review: 8-in-1 BPA-Free Silicone Mat for Hot Food Dishes?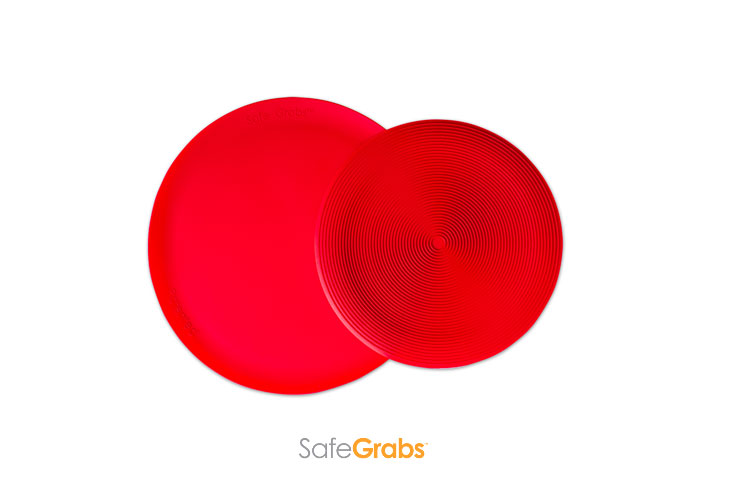 - ad -

SafeGrabs is a silicone mat that protects your hands and surfaces.
Featured on Shark Tank, SafeGrabs is a combination of oven mitts, trivets, and placemats. You can safely microwave it with food, and you can place it in the dishwasher.
Is SafeGrabs worth the price? Should you buy SafeGrabs today? Find out in our SafeGrabs review.
What is Safe Grabs?
SafeGrabs is an 8-in-1 silicone mat from Shark Tank's Lori Greiner. The mat lets you safely grab onto pots, bowls, trays, and more.
The mat is made from 100% BPA free silicone and is heat-resistant up to 475°F. SafeGrabs is also patented. It comes with a splatter guard to eliminate microwave messes, and it works as a placement after you've heated your food.
Over $6 million of SafeGrabs units have been sold to date. A two-pack sells for around $30 online through GetSafeGrabs.io.
How Does Safe Grabs Work?
SafeGrabs comes in two sizes: 10-inch or 12-inch. Both pads are flexible silicone. You can place it under a bowl in the microwave to protect your microwave from splatters, then wrap the fabric around your bowl to safely carry it out of the microwave.
SafeGrabs can also be used with pots, pans, casserole dishes, and more.
The unit is food-grade silicone certified, which means you can use it in the microwave without worrying about weird chemicals ending up in your food. SafeGrabs is also heat resistant: the patented circular ridges on the unit evenly distribute heat, creating a barrier that prevents burns.
SafeGrabs also has grooves that give you a firm grip on whatever you're carrying. The grooves prevent slipping and ensure you always have a firm grip on anything you grab.
Overall, SafeGrabs claims to protect your hands and countertops with one product.
Safe Grabs Features & Benefits
SafeGrabs advertises all of the following features and benefits:
Microwaveable: Unlike saran wrap and cheap plastic, SafeGrabs can be safely placed in the microwave. It's made from food-grade silicone, which means it can handle heat without chemicals seeping into your food.
Heat Resistant Up to 475°F: SafeGrabs has patented circular ridges that evenly distribute heat, creating a barrier that prevents burns. This prevents surfaces (like your countertops) and your hands from heat.
Non-Slip Grip: SafeGrabs has raised grooves and edges that give you a firm grip on whatever you're carrying. You can also use SafeGrabs to open tough to open jars.
Dishwasher Safe: SafeGrabs is safe to use in the dishwasher.
Two Sizes: SafeGrabs is available in 10-inch and 12-inch options.
Two Colors: SafeGrabs is available in red and blue.
BPA Free: SafeGrabs is made from 100% BPA free silicone.
Safe Grabs Pricing
SafeGrabs is available at three packages through GetSafeGrabs.io, including:
1 x 2-Pack: $29.99 + $5.99 Shipping
3 x 2-Packs: $59.98 + Free Shipping
5 x 2-Packs: $89.97 + Free Shipping
You can choose three colors, including True Red, Sand, and Ocean Blue. However, you cannot mix and match colors within an order.
About GetSafeGrabs.io
GetSafeGrabs.io appears to be operated by an ecommerce company named GiddyUp. That company sells SafeGrabs online at a higher price than the official retailer, then earns affiliate income from the price difference.
Here's how a disclaimer at the bottom of the page describes it:
"GiddyUp is a curator of innovative products and an official Safe Grabs retailer. We've partnered with the inventors of Safe Grabs to present a special offer that you won't find anywhere else. To support these inventors, please consider buying your Safe Grabs here, rather than 3rd-Party retailers."
GiddyUp has slightly different packages and prices than other SafeGrabs retailers, including the official SafeGrabs website.
Safe Grabs Final Word
SafeGrabs is a set of kitchen mats that function as oven mitts, trivets, placemats, and more. The 8-in-1 unit can protect your hands, tables, and countertops from hot items. You can microwave it, throw it in the dishwasher, and use it to protect against heat up to 475°F.
SafeGrabs are available online today at their official website, an ecommerce company that has partnered with the original creators of SafeGrabs to sell the units online.