Clean Machine: Plant-Based Fitness Nutrition Products Clean BCAA and Lentein Protein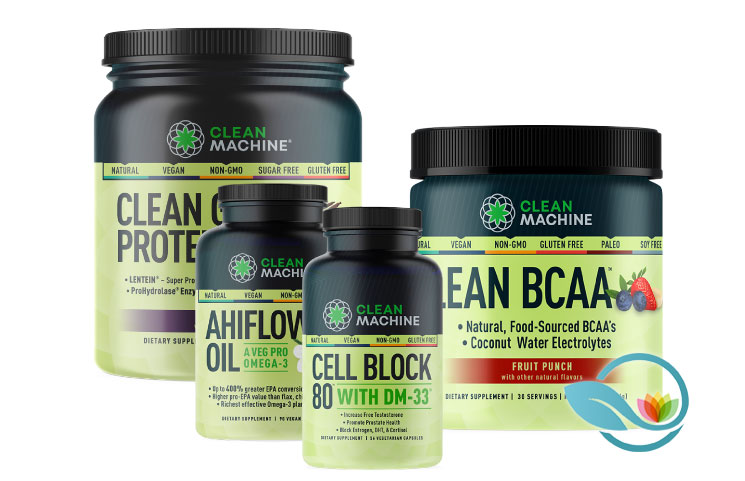 - ad -

Maintaining a healthy and energetic lifestyle is not easy. It takes time, dedication, effort, and adherence to a quality health routine. While eating well and making sure that one is getting the nutrients and minerals necessary is important, sometimes users may want to consider adding a supplement to their lifestyle. Those who are looking for a quality supplement brand may want to consider one called Clean Machine. The brand creates products that help men and women maintain a healthy lifestyle and to achieve a standard of physical fitness. With all of the formulas available, users are bound to find options that work well for them.
About Clean Machine
Clean Machine is a supplement brand that offers products that help men and women maintain a healthy and fit lifestyle. The formulas are based on science and work to promote health and fitness. They are also natural, non-GMO, vegan, and gluten free. These qualities ensure that all users can incorporate the products into their lifestyle so that they can get the full support that they are striving for. Better yet, dissimilar from most other brands on the market, this one is designed for men and women of all ages and body types.
A Transparent Brand
When choosing a health brand, one of the most important qualities is to opt for one that is transparent with its customers. Transparent brands enable users to know exactly what goes into their products and to feel comfortable that they are truly maintaining a healthy and fit lifestyle.
In this case, Clean Machine explains on its website that it "offers serious, effective formulas with 'first to market,' patented and exclusive ingredients." The brand is also dedicated to bringing its customers the most powerful, comprehensive, and innovative natural products. With the options available through Clean Machine, men and women can experience the benefits of raw, natural, and clean ingredients that they can trust.
The Online Shop
Clean Machine features a comprehensive online shop. While this review cannot cover all of the products available on the brand's website, here are a few that users may want to consider starting with:
Ahi Flower Oil

Clean Machine Ahi Flower Oil is a vegan oil supplement that is a rich source of plant-based omega-3 oil. As the brand explains on its website, it offers up to 400% greater EPA conversion than flax oil. The product also features a high and naturally occurring source of SDA, which is a pro-EPA omega 3. Ahi Flower Oil comes in the form of convenient and easy to use capsules that men and women can incorporate into their lifestyle.

Cell Block 80

Clean Machine Cell Block 80 is a supplement that features DM-33. As the brand explains on its website, the product "was formulated to help increase free testosterone levels through multiple pathways and inhibit T from being bound or converted and rendered inactive." The formula may be ideal for those who are looking to improve their muscle growth and to develop a lean and toned figure.

Clean BCAA

Clean Machine Clean BCAA is a BCAA formula that is made out of natural and food-based ingredients. The product is fortified with coconut water electrolytes so that users can experience an additional boost to their fitness and health routine. The formula is also non-GMO, gluten-free, soy-free, and it features no artificial flavors or additives. The product is a convenient option for those who are looking to maintain optimal post-and pre-workout levels. It comes in three flavors, such as fruit punch, unflavored, and lemonade.

Clean Green Protein

Clean Machine Clean Green Protein is a quality protein formula that is made out of a wide-range of greens. The product includes only plant-based protein so that those who are vegan can comfortably add it to their lifestyle. With all of the powerful substances in this product, users can get the full support that they need.
Many of these formulas can be purchased on their own or in combination packages. The products come with a 60-day money-back guarantee in case one is dissatisfied for any reason.
Clean Machine Summary
Overall, Clean Machine is a health product brand that offers men and women of all ages the opportunity to care for themselves and their bodies the right way. To learn more about the products and to get started, just visit the brand's website today.