Billy Blank's BoomBoxing Board: Air-Spring Exercise Workout Board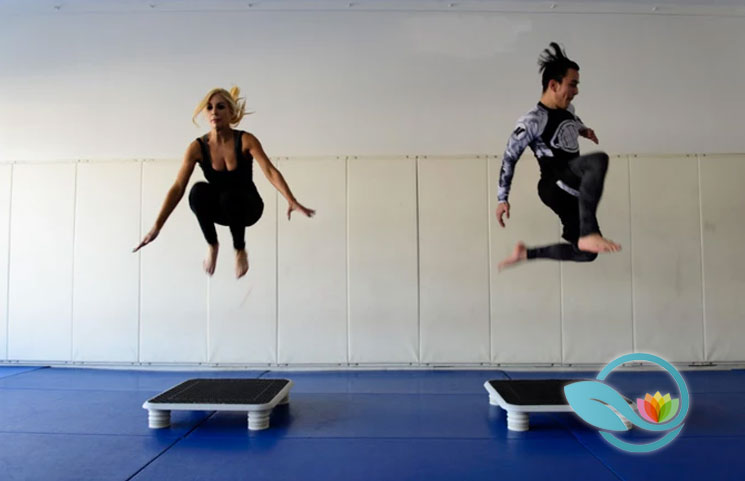 If you're looking for a way to ramp up your workout, then the world's first air-spring exercise board could be really rewarding. Billy Blank's BoomBoxing Board is a multi-use step board with air springs attached. It acts as a mini trampoline to help maximize your exercises. The board sits six inches off the ground on top of four air-springed legs. While your workout is sure to be more fun and versatile, the greatest benefit is that it reduces the impact on your joints. It is growing in popularity with fitness class students, MMA fighters, boxers, and kickboxers. In addition to physical fitness, it could also be used while working at a standing desk or counter top. Because it has a balance aspect, it makes a great tool for physical therapy as well.
The BoomBoxing Board is designed for all ages and fitness levels making it accessible to everyone. Billy is so excited about the board that he will be using it during a worldwide rollout of the BoomBoxing workout series. Exercises suited to the board include, but are not limited to; jumping jacks, jump squats, push-ups, sit-ups, pistol squats, running in place, and step aerobics. It is constructed with a stepper/rebounder hybrid design with a durable square-shape frame. It offers a non-slip surface and air-cushioned legs. It is the air-springed legs that make the product unique as it reduces the impact on your body versus working out on a surface that doesn't have any give. Further, because they are springs, they help propel your body into the air for an improved workout.
Rather than having to purchase and store a variety of equipment such as a traditional step platform, mini trampoline or rebounder, and a balance ball trainer, you can get the benefits of all of these in the Billy Blank BoomBoxing board. It has been scientifically tested and approved at the Institute of Sport and Sport Science, Karlsruhe Institute of Technology. Through testing it proved to be gentler on the joints, increase endurance and coordination, and improve balance and stabilization. In addition, improved sensory-motor functions when performing standing, running, and jumping exercise were also noted. There is a diverse range of applications for both practice and training opportunities. For further information or to back the project, visit kickstarter.com and search BoomBoxing.
Bocha-Beets: Bocha Sweet Superfood Pre-Workout Nitric Oxide Booster?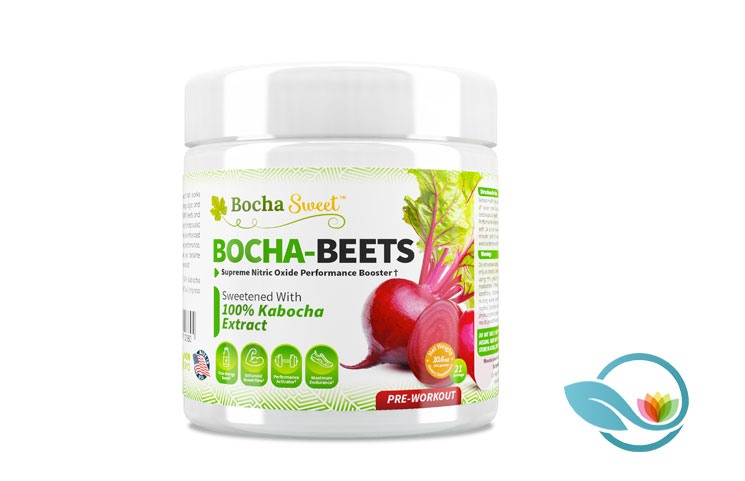 Many people may not be getting enough nutrition into their diet, especially when they don't consume sufficient fruits and vegetables. Sufficient nutrition is crucial for men and women to properly care for their health. Those who are looking for a way to get the nutritional boost that they need may want to consider adding a superfood supplement to their lifestyle. With that, this review would like to introduce a formula that provide a nutritional boost that could help users improve their workout efforts. The product, called Bocha-Beets, is made with substances that users can count on.
About Bocha-Beets
Bocha-Beets is a superfood nitric oxide pre-workout formula that combines the power of BochaSweet with organic beet juice powder. Together, these substances work to boost users' energy levels during their fitness routine due to the boost in nitric oxide production. Further, the synergistic blend is improved with the vitamins, minerals, amino acids, and electrolytes that are added to the product as well. Very few products on the market provide users with the same body-boosting substances so that users can feel and look good as well. Further, the product is free of stimulants, so that users need not worry about staying awake or being unable to sleep.
Made Out of Quality Ingredients
Another prime quality associated with this formula is that it is made with quality ingredients. As the brand explains on its website, the formula contains 20x the amount of nitrates than the leading brand, and the beetroot extract contains almost zero sugar per dose. Better yet, the formula has a pleasant taste so that users can easily incorporate it into their lifestyle. Users need not worry about the bitterness that comes with most beet formulas – rather here, it is pleasantly sweet and rich in a nice beet flavor.
Bocha-Beets Review Summary
Overall, those who are interested in adding a nitrate boosting formula to their lifestyle may want to consider giving Bocha-Beets to their lifestyle. To learn more about the formula and to place an order, just visit the brand's website today. The product is affordable and ships out quickly as well.
Heads Up Develops Ketogenic Diet Health App Using State-of-the-Art Low Carb Tracking Tools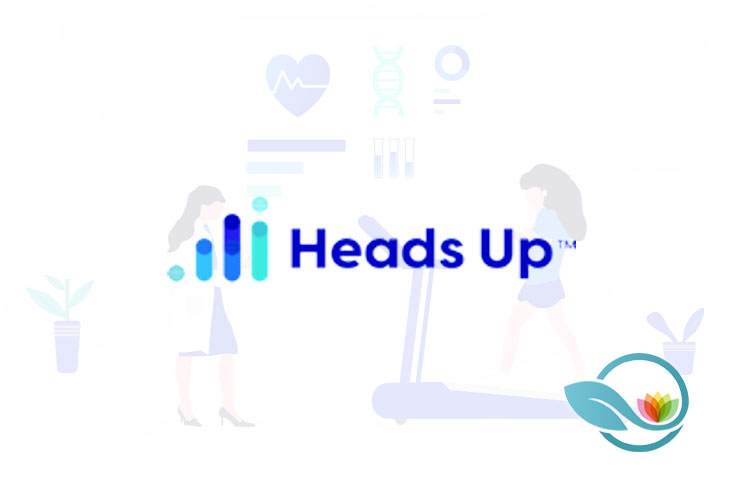 In maintaining a healthy lifestyle, we tend to do a lot of tracking. This can become daunting and take the positivity out of the experience. Nevertheless, it is crucial to do especially if you have any health concerns. Heads Up has developed an app using state-of-the-art tools to do the work for you. The app can also help you to determine what is causing or aggravating health issues as well as pin point exactly what is working for you. This data-driven approach will help you to master your low carb or ketogenic lifestyle. The app is available through the Apple App Store as well as Google Play. It easily connects with Keto-Mojo, Cronometer, Oura, MyFitnessPal, Apple Health, FitBit, Elite HRV, MyMacros+, LEVL, Ketonix and other popular health devices and apps.
The app displays a dashboard with all of your health metrics. You can customize your profile and personalize your health with the metrics that matter to you the most. In addition, you can set performance goals, track your progress as well as your results to keep your motivation going. Robb Wolf, Founder of RobbWolf.com, maintains that in a quantified world there are numerous ways to track biomarkers and lab values. Heads Up Health offers a personalized experience that is intuitive and informative so that you can make sense of the data and change the areas of your life that need adapting. The app also holds your medical records to keep medical history organized and centralized. It can integrate data from thousands of different health systems, doctor's offices, and laboratories.
Tracking trends from the past and present can help you make lifestyle modifications including diet, sleep, exercise, and stress to impact clinical markers of heath and disease. Jimmy Moore, Founder of Livin La Vida LowCarb, believes the app to be the future of medicine as it empowers people to take control of their health. The tool helps to compile data in an easy to read format that makes for easy sharing with health professionals when necessary. In addition to being easily shared with health experts, it is easily shared with family members for security and peace of mind. It also allows you to be more prepared as you have access to your health records whenever and wherever you need. Plans can be purchased for $9 per month, or $6.58 per month if you commit to a year, or for a lifetime for $199. For more information or to start your free trial, visit https://headsuphealth.com.
FORTE Fitness: Intense On-Demand Interactive Workouts and Exercise Classes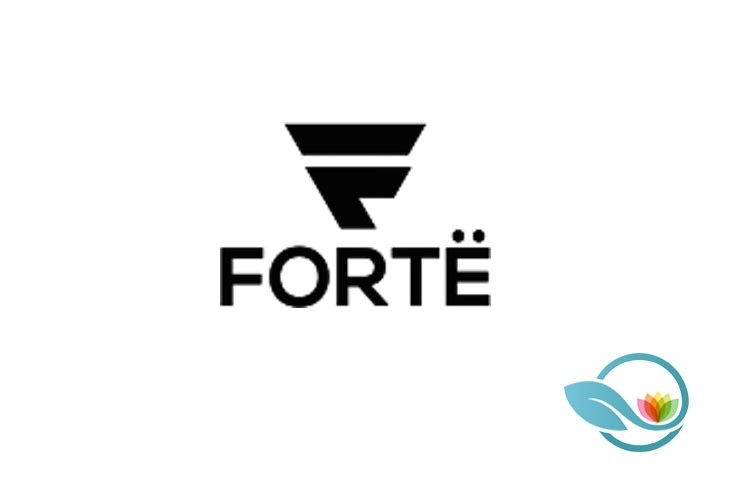 FORTË is a subscription for consumers to watch new and live videos for workouts online, but without the need to go to the gym. The program is available on a subscription, though consumers have the choice of making payments on an annual or monthly basis.
What is FORTË?
Finding the right workout is a difficult endeavor, especially because there are so many ways to increase strength, gaining muscle tone, and more. However, goals can change over time, and it is important to cater to those needs as they arise. That's what FORTË aims to help with.
By signing up for FORTË, consumers will have instant access to video content. Consumers can stream live classes, right into their living room or at the gym or anywhere they go. The content can also be viewed on the TV, a smartphone, a tablet, or a laptop. As the participant engages in the routine, they have the support and guidance of "elite coaches" to stay motivated.
In signing up, consumers can choose from different difficulty levels and timing, depending on how much time they have to work on their workout. The recordings are available to play at any time, but participants that want to view live broadcasts will need to check the online schedule.
Joining FORTË
There are plenty of benefits that FORTË can offer, which is why consumers have a 30-day complimentary trial for consumers to test out the program. After that free month, consumers will have to choose between paying $99 per year or $39 per month.
Will need to speak with the customer service team to cancel their access.
Contacting FORTË
Since much of the information that consumers would need to know is unavailable without signing up, there are bound to be reasons to reach out to the customer service team. There isn't a direct email address or phone number, but consumers can fill out the online form at https://help.forte.fit/hc/en-us/requests/new.
FORTË Review Summary
FORTË is made for any consumer that wants to challenge themselves and increase their fitness. The participant can engage in routines involving kickboxing, interval training, abdominal work, cardio, and more. While consumers can view all of the workouts available, they will need to pay for ongoing access.
Consumers that want to keep up with the new developments from FORTË can read the blog on the official website.