Billy Blank's BoomBoxing Board: Air-Spring Exercise Workout Board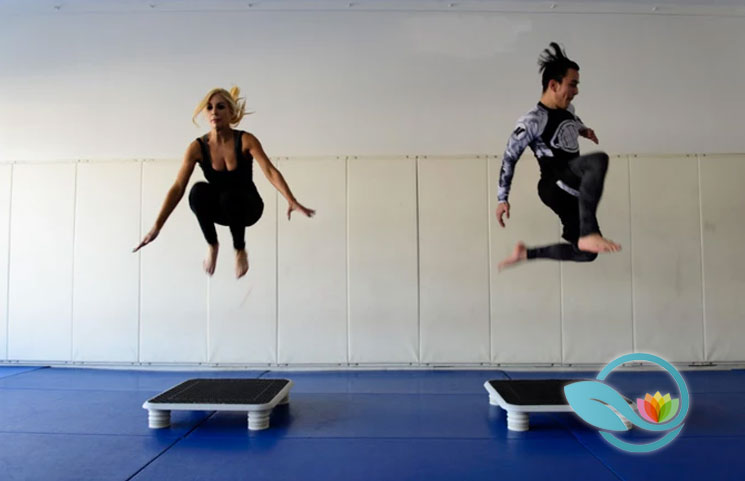 - ad -

If you're looking for a way to ramp up your workout, then the world's first air-spring exercise board could be really rewarding. Billy Blank's BoomBoxing Board is a multi-use step board with air springs attached. It acts as a mini trampoline to help maximize your exercises. The board sits six inches off the ground on top of four air-springed legs. While your workout is sure to be more fun and versatile, the greatest benefit is that it reduces the impact on your joints. It is growing in popularity with fitness class students, MMA fighters, boxers, and kickboxers. In addition to physical fitness, it could also be used while working at a standing desk or counter top. Because it has a balance aspect, it makes a great tool for physical therapy as well.
The BoomBoxing Board is designed for all ages and fitness levels making it accessible to everyone. Billy is so excited about the board that he will be using it during a worldwide rollout of the BoomBoxing workout series. Exercises suited to the board include, but are not limited to; jumping jacks, jump squats, push-ups, sit-ups, pistol squats, running in place, and step aerobics. It is constructed with a stepper/rebounder hybrid design with a durable square-shape frame. It offers a non-slip surface and air-cushioned legs. It is the air-springed legs that make the product unique as it reduces the impact on your body versus working out on a surface that doesn't have any give. Further, because they are springs, they help propel your body into the air for an improved workout.
Rather than having to purchase and store a variety of equipment such as a traditional step platform, mini trampoline or rebounder, and a balance ball trainer, you can get the benefits of all of these in the Billy Blank BoomBoxing board. It has been scientifically tested and approved at the Institute of Sport and Sport Science, Karlsruhe Institute of Technology. Through testing it proved to be gentler on the joints, increase endurance and coordination, and improve balance and stabilization. In addition, improved sensory-motor functions when performing standing, running, and jumping exercise were also noted. There is a diverse range of applications for both practice and training opportunities. For further information or to back the project, visit kickstarter.com and search BoomBoxing.