SF Glow Launches Pop N' Glow Skincare Collection with Face, Lip, Eye and Hair Sheet Masks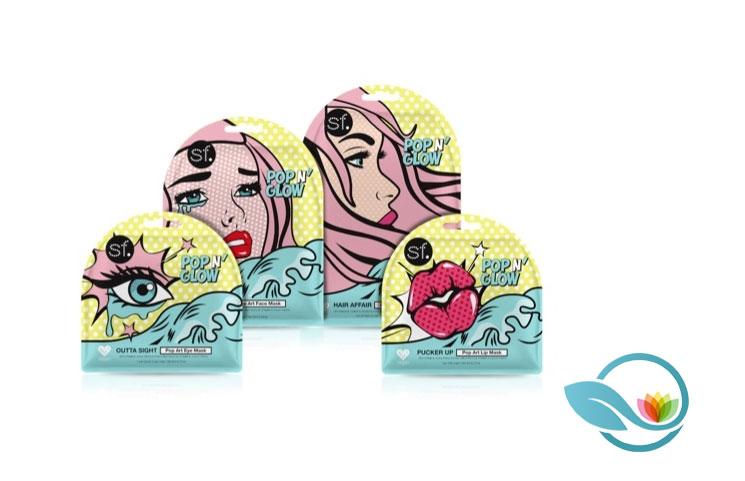 - ad -

SF is a skincare brand that turns one's beauty routine into less of a chore and into something enjoyable. The brand offers products that enable users to take care of their skin with ease, and in a fun and easy way. The formulas are cruelty-free, vegan, and range from face masks, to peeling pads, to skin pore strips, accessories, and more. The brand just launched a new line of products –SF Pop N' Glow.
SF Pop N' Glow is a face mask sheet collection that is inspired by pop art. The main products in this line include:
Face It Face Mask
Pucker Up Lip Mask
Outta Sight Eye Mask
Hair Affair Ask Mask
The brand explains in a press release announcing the launch that the masks are completely vegan, cruelty-free, clean, and made with nourishing ingredients. A few of the main ingredients in the face masks include kiwi extract, acai, vitamin B, papaya, green tea, and rosemary. Those who use these face masks will find them to be uncomplicated, simple to use, innovative, and effective. The brand takes the position, based on its press release, that skincare should be fun and with these masks, it's certainly possible.
Not only are the face masks inspired by pop art that appears on the packaging, but also in how the formulas work. As the press release explains, the ingredients in the mask become "trapped" on the face, and thus infuse the skin with essence and moisture, which is locked in to provide accompanying benefits.
SF Founder Vera Oh shared in the press release,
"We love getting creative with our masks. We want it to be an experience from start to finish. For example, our Glam in Paradise collection is made up of a series of gold foil leopard print masks, which our customers love. We're particularly excited about how visual the new Pop N' Glow collection is. It's not just great skincare, but the ultimate instagrammable beauty moment."
The skincare masks are available online on the brand's website, and will be available at retail stores as well, such as Ricky's, Francesca's, and Riley Rose. The face masks are also priced anywhere from $4 to $10. To learn more, visit the SF glow website @https://sfglow.com/collections/pop-n-glow