Nuun: Sport, Immunity, Rest, Vitamins and Endurance Hydrating Electrolytes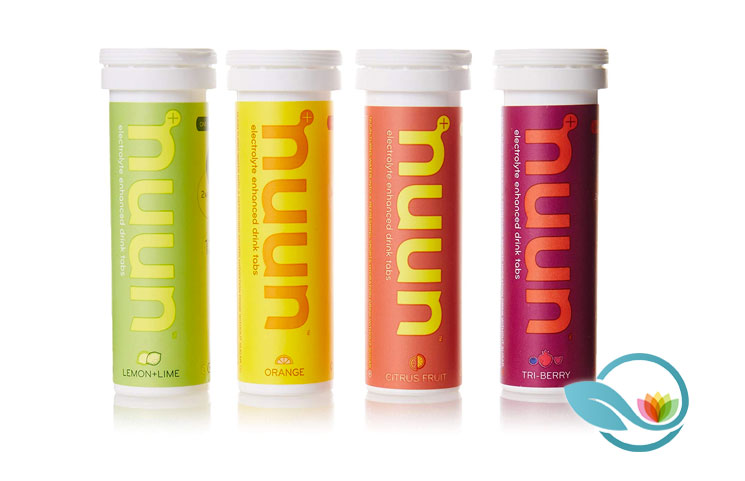 - ad -

Did you know that most Americans are deemed "chronically dehydrated?" Dehydration, in this respective context, implies that the body is lacking water. This phenomenon could lead to an array of consequences including mild headaches, poor skin, mental and emotional health, reduced memory and focus levels. Furthermore, if proper attention isn't given, it could be dangerous to one's heart rate and blood pressure.
Nuun, a brand devoted towards fighting off dehydration, claims that it can be achieved in a tasteful yet healthy manner. The following review will look closely at Nuun, with respect to their purpose, and their approach to ridding the body of dehydration along with their current offerings.
What is Nuun?
Based in Seattle, Nuun is described as a company devoted to keeping consumers hydrated through the use of drink tablets and powders. Said mediums of delivery are believed to achieve a fizzy drink that is both tasty and healthy. Speaking of healthy, let's further explore the tactics used by Nuun to promote wellness.
What is Nuun's tactic in ridding dehydration?
According to the Chief Nutritionist at Nuun, Vishal Patel, this brand's approach in ridding dehydration rests in focusing on electrolytes. As described by Patel,
"Electrolytes are tiny particles that carry electrical charges. They serve many roles to help the body maintain function."
In general, when consumers are sweating, the body releases fluids and mineral salts, which include sodium and potassium (electrolytes). Unfortunately, this leads to increased sodium presence in the blood. Due to this loss of minerals, electrolytes are typically ingested as a mean of replenishing the body of its deficiency.
With every Nuun drink tablet offered, consumers are ingesting a rich source of sodium (maintains water levels), potassium (prevents muscles cramping), calcium (contributes towards the overall metabolism of essential nutrients), magnesium (acts as a muscle relaxion), and bicarbonates (reduces fatigue while boosts endurance).
What does Nuun currently offer?
Currently, Nuun offers five unique lines of drink tables and powder, which target dehydration differently. Each appear to be based on different levels of dehydration and this may be based on how much water is lost. Here's a quick overview of each respective offering:
Nuun Sport
Under Nuun Sport, there are 13 different flavored drink tablets one can explore, some of which are grape, lemon lime, mango orange, tri-berry, and strawberry lemonade. As for their notable benefits, they include eased cramps, ability to promote better use of energy and healthy muscle function.
Nuun Immunity
Nuun Immunity comes in two flavors: blueberry tangerine and orange citrus. It has been designed to help those who require immune support (i.e. in times of sickness and stress). It supposedly has the potential to fight off inflammation and ultimately repairs and protects one's bodily system.
Nuun Rest
Nuun Rest is essential for optimal rest and recovery. Through the ingestion of either the black vanilla or lemon chamomile flavored Nuun Rest, consumers can expect a reduction in exercise-reduced inflammation, enhanced muscle relaxation and the overall activation of rest in the body.
Nuun Vitamins
With six different flavors to choose from, the Nuun Vitamins is made for daily use as it helps with hydration and provides the body with 11 different vitamins, minerals and electrolytes.
Nuun Endurance
The Nuun Endurance line of essentials has been tailored to meet the needs of fitness fanatics and physically active consumers. Depending on the timeframe one sweats, an adequate source of electrolytes is believed to be delivered. In addition to electrolytes, each serving contains clean carbs. Also, it might align with specific goals, especially related to one's endurance level and fluids absorption levels.
On average, each serving contains anywhere between 8 and 15 calories with as low as 1 gram of sugar, 300mg of sodium, 150mg of potassium, 25mg of magnesium and 13mg of calcium. Every purchase of the former five contains 10 tablets at a price of $7. Other essentials vary anywhere between $20 and $24.
Final thoughts
Overall, it is clear that Nuun approaches dehydration by assessing what is lost during dehydration. They have also shown via their product line(s) that the ingestion of electrolytes is not a one-size fits all that can help with replenishment.
More specifically, each product line analyzed above shows that ingesting electrolytes depends heavily on the types of activities consumers participate in, the amount of recovery needed, and the need for additional vitamins and minerals for a balanced body – both inside and out.
When it comes to the financial aspects of Nuun, consumers are being offered inexpensive alternatives, as each bottle contains a sufficient source of electrolytes for at most two weeks (i.e. tablets) for roughly $7. Who can forget the fortress of flavor profiles achieved, which is surely to keep consumers hydrated in a tasteful and enjoyable manner. To learn more about Nuun, stop by at https://nuunlife.com/