Norti Protein Bars: Nutritional Plant-Based Performance Chocolate Bars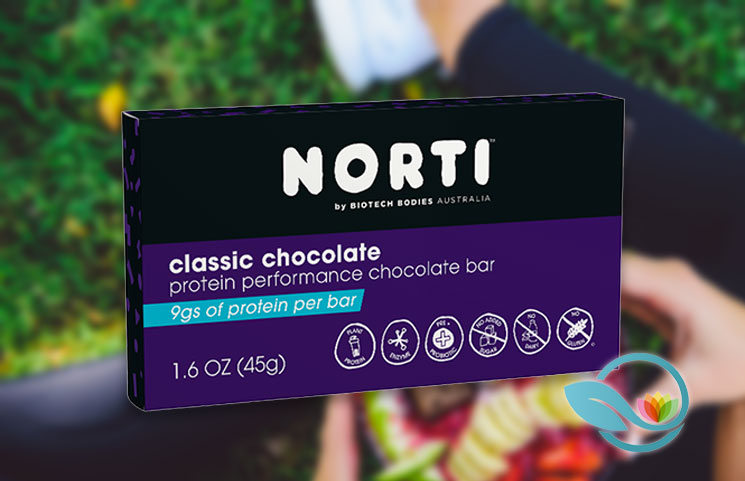 - ad -

Building muscle and maintaining and developing a lean and attractive figure takes time, dedication, and a solid diet. Those who eat well and ensure that they are getting enough protein, minerals, and other nutrients may be able to develop the figure they are striving for more easily. Those who are looking for quality protein bars may want to consider ones by a health brand called Norti. Norti features protein bars that may be just what men and women need throughout their day to keep them going and to sustain high levels of protein necessary for muscle building.
About Norti Protein Bars
Norti Protein Bars are meant to help mean and women maintain great health, while also enabling them to satisfy their sweet tooth. The protein bars are "science-backed nutrition" in the form of a rich and delicious chocolate bar. The protein bars are the brand's flagship product and they are rich in a high amount of protein. To reduce the guilt, the protein bars have no refined sugars, dairy, or gluten. This way, users can enjoy the bars on a regular basis and feel good about what they are adding to their system.
9 Grams of Protein per Bar
Each bar features a high amount of protein – approximately nine grams. This amount of protein not only can help those who are looking to develop lean muscles, but it can also be useful for sustained energy and to mitigate hunger throughout the day. The less hungry one feels, the less likely it is that they are going to snack.
The protein bars also contain quality ingredients that users can feel good about adding to their routine. For example, a few of the main ingredients in the chocolate protein bar include cocoa mass, medical grade organic birch bark extract, xylitol, hemp protein, cocoa butter, chicory root, coconut milk, digestive aid enzymes, monk fruit juice, probiotics, and natural vanilla. These types of ingredients may be able to sustain one's system throughout the day.
UTZ Certified
Norti Protein Bars are also UTZ Certiifed. This means that the products have been sourced from farm to shelf, in a sustainable manner. UTZ certified products must also follow the UTZ Code of Conduct, which offers expert guidance on improving farming methods, working conditions, and care for nature. This may ultimately lead to a better product and environment for those who create and those who purchase the products.
Norti Protein Bars Summary
Overall, those who are looking for quality protein bars that are made with a few quality ingredients and that feature a high amount of protein may want to consider Norti Protein Bars. To learn more about the bars and to place an order, just visit the brand's website today. https://nortinutritionusa.com