Halo Beauty: A Look at Kiwi Seed Booster for Hair, Skin and Nails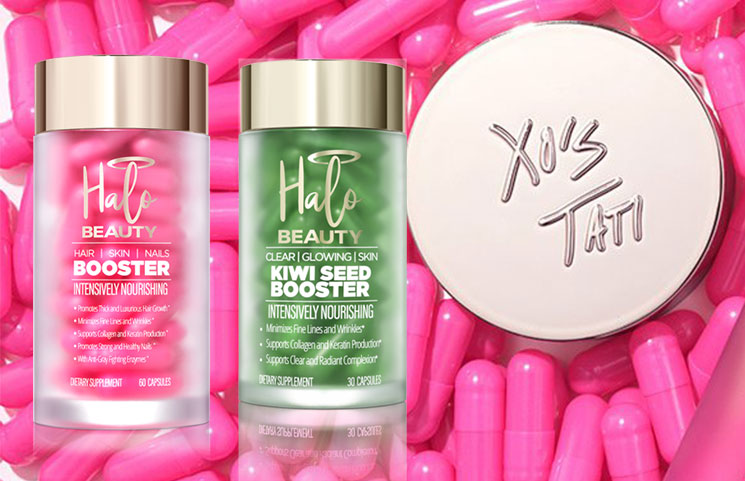 - ad -

Halo Beauty sells a lineup of beauty supplements online through HaloBeauty.com.
What is Halo Beauty?
Halo Beauty is a Los Angeles, California-based nutritional supplement retailer. Fueled by clever social media marketing, the company has amassed 460,000 Instagram followers since launching in February 2018.
Halo Beauty currently sells two flagship products, including the Halo Beauty Hair, Skin, & Nails Booster and the Halo Beauty Kiwi Skin Booster. Both products are nutritional supplements that come in colorful capsules.
Halo Beauty claims all its products are:
Gluten-free
Soy-free
Sugar-free
Cruelty-free
Vegan
You can also only purchase their products through HaloBeauty.com. They're not available in stores, nor are they available on third party online retailers like Amazon.
Halo Beauty Products
Halo Beauty's two core products include:
Halo Beauty Hair, Skin, & Nails Booster (60 Capsules): $39.95
Halo Beauty Kiwi Skin Booster (30 Capsules): $29.95
Both products claim to support various health benefits. In fact, the benefits seem more like a skin cream than a nutritional supplement: according to Halo Beauty, ingesting the capsules can give "minimize fine lines and wrinkles", for example.
The Hair, Skin, & Nails Booster promises to offer the following benefits:
Promotes thick and luxurious hair growth
Minimizes fine lines and wrinkles
Supports collagen and keratin production
Promotes strong and healthy nails
Includes anti-gray fighting enzymes
The official Halo Beauty website doesn't go into much further detail about how the product works. Each benefit listed above also has an asterisk beside it reminding customers that the statements have not been evaluated by the FDA.
So how exactly does a nutritional supplement achieve these benefits? Halo Beauty doesn't explain any further details. However, the side of the Hair, Skin, & Nails Booster supplement package does have a full ingredients and dosage list.
Many of the ingredients resemble a traditional multivitamin: there's 100% of your daily dose of vitamin C, vitamin D3, and various B vitamins, for example.
One of the biggest parts of the supplement is the 3,000 mcg dose of biotin, or 1000% of your daily recommended dose. Biotin plays a crucial role in hair, skin, and nails.
Other listed ingredients include saw palmetto extract, grape seed extract, pumpkin seed extract, alpha lipoic acid, and methylsulfonylmethane (MSM).
MSM is often called the 'beauty mineral' because it stimulates the production of collagen, making it easier to grow a fuller head of hair, strong nails, and radiant skin. When we go through a period of stress, our bodies become deficient in this vitamin, which can lead to hair loss. Today, you can find MSM powder sold at nutritional supplement stores: it's often advertised as a 'joint health' supplement because it supports healthy cartilage and connective tissue.
When taking MSM as a supplement, you're typically taking a dose of 1,500 to 2,000 mg per serving. Halo Beauty's Hair, Skin, & Nails Booster supplement, meanwhile, has a dose of just 160 mg.
Saw palmetto extract, is often used by men and women who want to reverse hair loss. It's a plant with small berries that has been used by Native Americans as food and medicine for centuries. Some studies have indicated that saw palmetto extract can relieve an enlarged prostate. However, there are few major studies linking saw palmetto extract with hair growth or better skin.
What about grape and pumpkin seed extract? Some studies have shown that applying grape seed extract to your skin can reduce the effects of aging. Some people even rub the fleshy parts of grapes on their skin prior to walking outside. The anti-aging effects of grape seed extract come from the high dose of antioxidants inside, which is why you can find grape seed extract in so many topical beauty products. It's possible that grape seed extract could help your skin when ingested orally in the form of a supplement, although there are few studies that verify this effect.
Overall, the Halo Beauty Hair, Skin, & Nails Booster is a multivitamin supplement mixed with ingredients like MSM and grape seed extract.
Halo Beauty Kiwi Skin Booster
The Halo Beauty Kiwi Skin Booster claims to reduce the effects of aging in various ways. Some of the advertised health benefits include:
Minimizes fine lines and wrinkles
Supports collagen and keratin production
Supports clear and radiant complexion
Supports a natural moisture barrier for hydrated skin
Inhibits bacteria, balances pH, and renews skin
Let's take a closer look at the ingredients.
Just like the Halo Beauty Hair, Skin, & Nails Booster supplement, the Kiwi Skin Booster supplement contains a mix of multivitamin-like ingredients. Each 1 capsule serving contains 100% or more of your daily recommended value of vitamin D3, vitamin B1, vitamin B2, vitamin B6, and zinc, for example.
Beyond these basic ingredients, the Kiwi Skin Booster contains rosehip powder extract, bromelain extract, MSM, gooseberry extract, grape seed extract, quercetin, and astaxanthin. Many of these ingredients are the same ingredients found in the Halo Beauty Hair, Skin, & Nails Booster supplement.
There's also 20mg of kiwi seed extract with a 50:1 ratio. As the name suggests, this is one of the key ingredients in Kiwi Skin Booster.
Kiwi is available in a small number of beauty products. One skin cream uses kiwi seed oil, for example, and is designed to be gently applied around the eyes. Kiwi seed oil is rich in vitamin C, making it an ideal skin treatment.
Various studies have confirmed that kiwi has natural wrinkle-fighting and acne-reducing properties. However, most of these studies focus on using kiwi extract in topical skin creams. There are few studies proving the effectiveness of kiwi extract when taken orally.
The dosage in Kiwi Skin Booster also seems low compared to competing products. Nutritional supplements on Amazon, for example, are available with doses of 100mg and higher at half the cost of Kiwi Skin Booster.
Who's Behind Halo Beauty?
Halo Beauty provides limited details about itself online. However, the company claims to be headquartered at the following address in Los Angeles:
1905 Wilcox Ave., #111 Los Angeles, CA 90068
A quick Google search of that address reveals a UPS Store: the address listed above is a box at a UPS Store in Hollywood.
There's no further information online about where the company gets its ingredients, where the supplements are manufactured, who's running the company, or what type of background they have.