Halo Beauty: A Look at Kiwi Seed Booster for Hair, Skin and Nails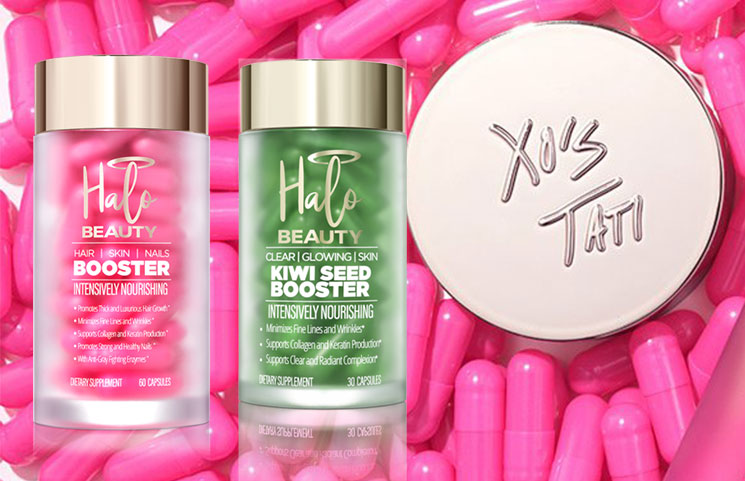 Halo Beauty sells a lineup of beauty supplements online through HaloBeauty.com.
What is Halo Beauty?
Halo Beauty is a Los Angeles, California-based nutritional supplement retailer. Fueled by clever social media marketing, the company has amassed 460,000 Instagram followers since launching in February 2018.
Halo Beauty currently sells two flagship products, including the Halo Beauty Hair, Skin, & Nails Booster and the Halo Beauty Kiwi Skin Booster. Both products are nutritional supplements that come in colorful capsules.
Halo Beauty claims all its products are:
Gluten-free
Soy-free
Sugar-free
Cruelty-free
Vegan
You can also only purchase their products through HaloBeauty.com. They're not available in stores, nor are they available on third party online retailers like Amazon.
Halo Beauty Products
Halo Beauty's two core products include:
Halo Beauty Hair, Skin, & Nails Booster (60 Capsules): $39.95
Halo Beauty Kiwi Skin Booster (30 Capsules): $29.95
Both products claim to support various health benefits. In fact, the benefits seem more like a skin cream than a nutritional supplement: according to Halo Beauty, ingesting the capsules can give "minimize fine lines and wrinkles", for example.
The Hair, Skin, & Nails Booster promises to offer the following benefits:
Promotes thick and luxurious hair growth
Minimizes fine lines and wrinkles
Supports collagen and keratin production
Promotes strong and healthy nails
Includes anti-gray fighting enzymes
The official Halo Beauty website doesn't go into much further detail about how the product works. Each benefit listed above also has an asterisk beside it reminding customers that the statements have not been evaluated by the FDA.
So how exactly does a nutritional supplement achieve these benefits? Halo Beauty doesn't explain any further details. However, the side of the Hair, Skin, & Nails Booster supplement package does have a full ingredients and dosage list.
Many of the ingredients resemble a traditional multivitamin: there's 100% of your daily dose of vitamin C, vitamin D3, and various B vitamins, for example.
One of the biggest parts of the supplement is the 3,000 mcg dose of biotin, or 1000% of your daily recommended dose. Biotin plays a crucial role in hair, skin, and nails.
Other listed ingredients include saw palmetto extract, grape seed extract, pumpkin seed extract, alpha lipoic acid, and methylsulfonylmethane (MSM).
MSM is often called the 'beauty mineral' because it stimulates the production of collagen, making it easier to grow a fuller head of hair, strong nails, and radiant skin. When we go through a period of stress, our bodies become deficient in this vitamin, which can lead to hair loss. Today, you can find MSM powder sold at nutritional supplement stores: it's often advertised as a 'joint health' supplement because it supports healthy cartilage and connective tissue.
When taking MSM as a supplement, you're typically taking a dose of 1,500 to 2,000 mg per serving. Halo Beauty's Hair, Skin, & Nails Booster supplement, meanwhile, has a dose of just 160 mg.
Saw palmetto extract, is often used by men and women who want to reverse hair loss. It's a plant with small berries that has been used by Native Americans as food and medicine for centuries. Some studies have indicated that saw palmetto extract can relieve an enlarged prostate. However, there are few major studies linking saw palmetto extract with hair growth or better skin.
What about grape and pumpkin seed extract? Some studies have shown that applying grape seed extract to your skin can reduce the effects of aging. Some people even rub the fleshy parts of grapes on their skin prior to walking outside. The anti-aging effects of grape seed extract come from the high dose of antioxidants inside, which is why you can find grape seed extract in so many topical beauty products. It's possible that grape seed extract could help your skin when ingested orally in the form of a supplement, although there are few studies that verify this effect.
Overall, the Halo Beauty Hair, Skin, & Nails Booster is a multivitamin supplement mixed with ingredients like MSM and grape seed extract.
Halo Beauty Kiwi Skin Booster
The Halo Beauty Kiwi Skin Booster claims to reduce the effects of aging in various ways. Some of the advertised health benefits include:
Minimizes fine lines and wrinkles
Supports collagen and keratin production
Supports clear and radiant complexion
Supports a natural moisture barrier for hydrated skin
Inhibits bacteria, balances pH, and renews skin
Let's take a closer look at the ingredients.
Just like the Halo Beauty Hair, Skin, & Nails Booster supplement, the Kiwi Skin Booster supplement contains a mix of multivitamin-like ingredients. Each 1 capsule serving contains 100% or more of your daily recommended value of vitamin D3, vitamin B1, vitamin B2, vitamin B6, and zinc, for example.
Beyond these basic ingredients, the Kiwi Skin Booster contains rosehip powder extract, bromelain extract, MSM, gooseberry extract, grape seed extract, quercetin, and astaxanthin. Many of these ingredients are the same ingredients found in the Halo Beauty Hair, Skin, & Nails Booster supplement.
There's also 20mg of kiwi seed extract with a 50:1 ratio. As the name suggests, this is one of the key ingredients in Kiwi Skin Booster.
Kiwi is available in a small number of beauty products. One skin cream uses kiwi seed oil, for example, and is designed to be gently applied around the eyes. Kiwi seed oil is rich in vitamin C, making it an ideal skin treatment.
Various studies have confirmed that kiwi has natural wrinkle-fighting and acne-reducing properties. However, most of these studies focus on using kiwi extract in topical skin creams. There are few studies proving the effectiveness of kiwi extract when taken orally.
The dosage in Kiwi Skin Booster also seems low compared to competing products. Nutritional supplements on Amazon, for example, are available with doses of 100mg and higher at half the cost of Kiwi Skin Booster.
Who's Behind Halo Beauty?
Halo Beauty provides limited details about itself online. However, the company claims to be headquartered at the following address in Los Angeles:
1905 Wilcox Ave., #111 Los Angeles, CA 90068
A quick Google search of that address reveals a UPS Store: the address listed above is a box at a UPS Store in Hollywood.
There's no further information online about where the company gets its ingredients, where the supplements are manufactured, who's running the company, or what type of background they have.
Flawless Dermaplane Glo: Finishing Touch's Professional Skin Exfoliator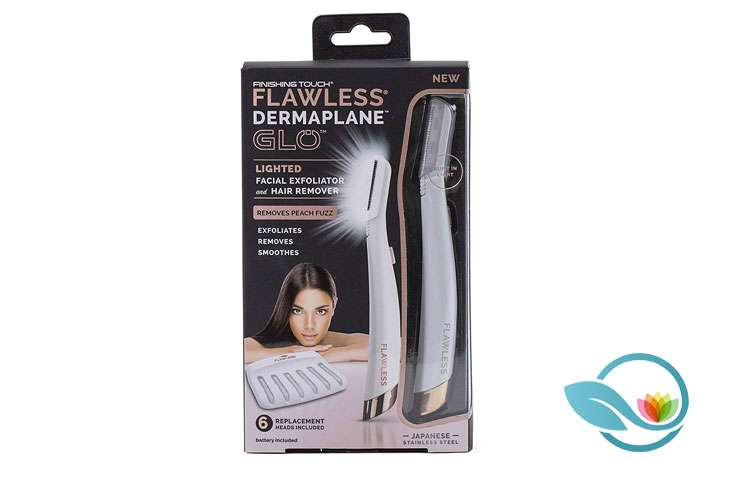 Finishing Touch Dermaplane Glo is a system that provides consumers with the ability to exfoliate their skin at a level that is much like what the professionals use. The product can be purchased from the official website exclusively, and the customer is provided with six additional heads for the device.
What is Finishing Touch Dermaplane Glo?
Derma-planing is used by dermatologists as a way to clear the dead skin off the surface to reveal healthy and soft skin. In the process, the doctor often removes hair as well, leaving the patient with a youthful complexion. The creators of Finishing Touch Dermaplane Glo decided to bring this solution to the homes of consumers with their new kit.
Finishing Touch Dermaplane Glo offers a similar device to consumers at home to remove dry skin, peach fuzz, and dead skin cells, using a professional-grade stainless steel blade. The blade is specifically designed to prevent the user from accidentally causing nicks and cuts on the skin, illuminating the area with a built-in LED light. It is safe to use on the forehead, cheeks, neckline, chin, and other areas of the face.
Purchasing Finishing Touch Dermaplane Glo
The total cost of Finishing Touch Dermaplane Glo is $19.99, and it comes with six replacement heads and free shipping. In the event that the user doesn't like the results of the product, they have up to 60 days to get a full refund.
For any additional information on this product or on a recent order, the customer service team can be reached by calling 877-884-2948 or by sending an email to ideavillage@customerstatus.com.
Flawless Dermaplane Glo Review Summary
Finishing Touch Dermaplane Glo makes it possible to get the skin that a dermatologist could provide, but at home and at a fraction of the cost. The product is easy to use and includes a design that is less likely to result in the damage that could be sustained during regular shaving. With a simple return policy, consumers don't risk much in the use of this treatment.
Sensa Skin System: S3 Anti-Aging Moisturizing Cream and Eye Treatment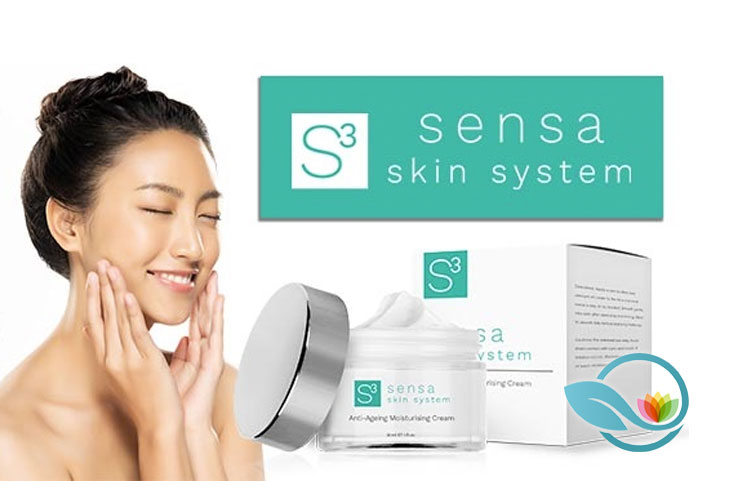 The skin is the largest part of the body. Many undervalue its worth, but the role it plays is crucial and a determining factor of wellness. In particular, the skin serves as the protective layer that stands in between the body's several functions and free radical damage and bacteria. Unfortunately, the fact that it is exposed implies that consumers need to take the essential measures in fortifying its defense mechanism. This is where the Sensa Skin System comes into play.
With the use of the Sensa Skin System, consumers can expect to see a reversal in aging skins, optimized moisture levels and the ability to overcome any unwanted attacks that comes one's way. Here's what you need to know about the Sensa Skin System:
What is the Sensa Skin System?
The Sensa Skin System (S3) is an anti-aging moisturizing cream that aims to protect the skin from factors including aging, free radical damage, sun's UV rays, and pollutants among others. It claims to address areas including skin's elasticity, loss of collagen (vital skin protein that ensures skin firmness), discoloration and texture and so on.
What can be said about its Formula?
As for its formula, most of the ingredients appear to be cosmetics-based. For instance, we have cyclopentasiloxane, dimethicone, cetearyl glucoside and palmitoyl hydrolyzed wheat protein to name a fraction. While these ingredients have been accepted as safe for cosmetic uses, consumers should use with caution and as directed, as failure to do so can negatively impact one's skin health.
That said, when it comes to its uses, consumers have been advised to apply a dime size amount on the face and neck region. In addition, a 30-minute wait-time must be given prior to exposing the skin to the sun and any other pollutants non-existent to the naked eye.
Sensa Skin Final Thoughts
Overall, the Sensa Skin System's goals appear to be right, as it has been found in many instances that external factors are surely to negatively impact one's skin. Its use of cosmetic ingredients may not be preferred by consumers.
This is not to say that they aren't effective, as each and every ingredient used has been accepted. However, when used inappropriately (i.e. in excess), consumers may experience unwanted side effects, hence use it as directed. Initially, it would be best to test a small amount on a patch of skin, prior to using it in full, as each individual consumer may react to it differently. To get the full ingredients list for the Sensa Skin System visit http://sensaskinsystem.com/skin/#features-1
Bambu Earth Intense Hydration Cactus Concentrate: Balm to Oil Skincare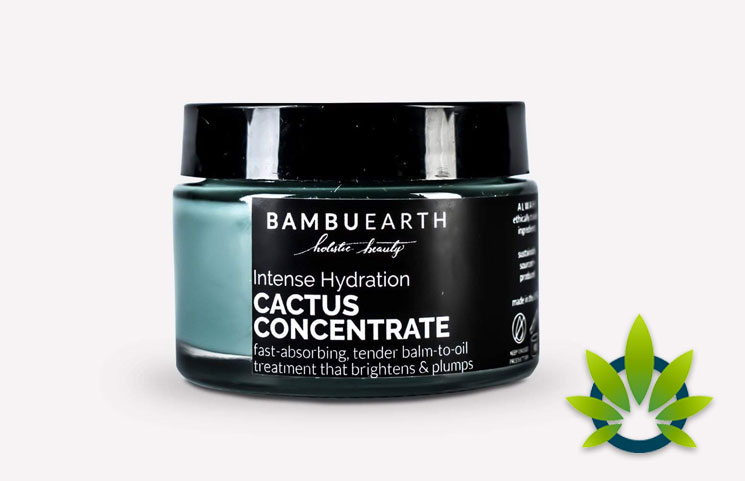 Skin hydration is a major area that is often underrated. Unfortunately, this could potentially lead to a collection of health concerns.
For starters, the skin is the largest part of the body, whose role is to ensure that one's internal organs are fully protected. Applying a moisturizer seals in little holes found in the skin, creating a protective layer like no other. When this step is missed, the holes welcome in bacteria and all hell breaks loose from thereafter.
Hence, the importance of picking the moisturizer that works for one's respective skin type. Bambu Earth believes in the healing powers of essential oils combined with a solution's delivery system. This is where their Intense Hydration Cactus Concentrate steals the spotlight, as it is deemed to attain a desired plump, glow and may maximize one's skin health.
Here is an overview of what the Intense Hydration Cactus Concentrate is and what factors contribute to its listed benefits.
What is Bambu Earth Intense Hydration Cactus Concentrate?
The Intense Hydration Cactus Concentrate is described as, "a waterless pressed serum and fast-absorbing moisturizer". It supposedly carries an ocean-like scent, which is often experienced at a spa – ultimately aiding in uplifting one's mood.
Bambu Earth Intense Hydration Cactus Concentrate Star Ingredient
The star ingredient that gives the moisturizer its texture and scent is called prickly pear. Prickly pear belongs to the cactus family and is widely known for its soft inner flesh. Normally ingested raw, boiled or grilled, its properties are now taken advantage of in the skincare industry.
The reason for choosing said ingredient rests in its nutrients profile, which includes vitamins, and minerals. In terms of its ability to improve skin health, its can allegedly smoothen one's skin (vitamin E and K), hydrating properties (fatty acids), rid inflammation (betalains and phenolic compounds), brightens skin tone (linoleic acid) and even has the potential to reduce dark circles.
Other ingredients that work in conjunction with the prickly pear include Murumuru, Shea and Mango butters, Kukui Nut, Tamanu and Baobab oils, Blue Tansy, Helichrysum, Turmeric, and Frankincense essential oils, and rosemary extract.
Intense Hydration Cactus Concentrate Final Thoughts
Based on the analysis above, Bambu Earth's Intense Hydration Cactus Concentrate is worth considering. Not only was the prickly pear selected based on its intense nutrients profile, but every other ingredient picked were based on their overall similarities. This is the expected approach to take, as it heightens every aspect of skin health.
Another factor that makes this respective moisturizer of increased potential is the use of oils extracted from whole fruits and herbs, as supposed to human-made ingredients. The latter is often used as an inexpensive alternative and makes one question the care a brand truly has in making a difference.
While the price is relatively high, i.e. $160 for 1.7 ounces, it makes sense given the exotic fruits used, along with the notion that small quantities per use go a long way. To find out more about the different ingredients used, click here.