That's It Fruit: Vegan Nutritional Bars with Prebiotics and Probiotics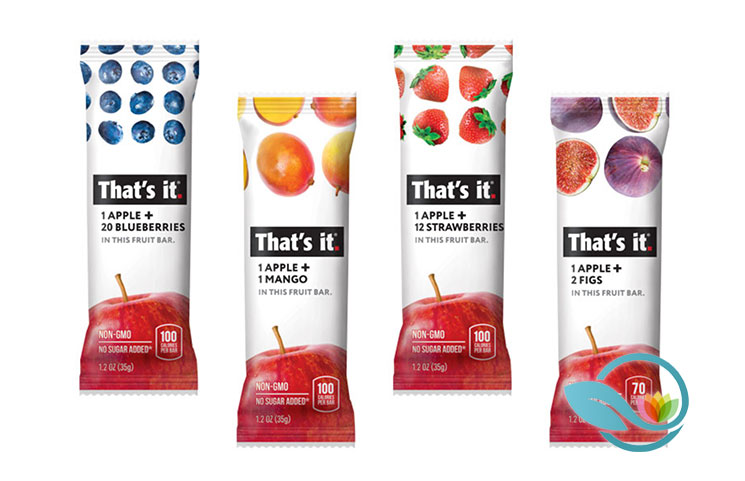 - ad -

That's It is a company that develops snacks with healthy ingredients and real plant foods. All of the treats are vegan-friendly and can be purchased from the official website.
What is That's It?
Finding healthy snacks can be difficult, especially when the grocery store has its walls lined with chips and candy and soda. The brand That's It aimed to be a change in how consumers indulge themselves with fruit bars and probiotics.
The fruit bars, which come in a regular and mini size, are simply blends of two fruits together that consumers can take along with them wherever they go. The flavors include (but are not limited to):
Apple + blueberries
Apple + mango
Apple + strawberries
Apple + cherries
Apple + apricots
Apple + banana
Apple + pear
Apple + pineapple
Apple + coconut
The probiotics bars are a little simpler, offering a single flavor per bar. Presently, the user can choose from banana, blueberry, and mango.
Unlike other websites, consumers that shop at That's It can customize their boxes of these bars, choosing how many of each flavor that they want. However, if the order is under 3 boxes, it can be processed through Amazon.
Contacting That's It
Even with the information provided online, consumers may find themselves with questions. If the FAQ section doesn't cover these concerns, the customer service team can be reached by calling 888-862-5235 from 9:00am to 5:00pm PST on weekdays.
That's It Fruit Review Summary
That's It provides many tasty options for consumers that want to live a vegan, or otherwise healthy, lifestyle. The ability to customize a box lets the buyer find exactly which flavors that they prefer, and which ones that they don't, without any additional fee. With the ability to order from the official website or Amazon, it is clear that this company is focused on the customer's ease of use while ordering.