Quantum Squares Coffee-Infused Energy Bars with Organic Green Coffee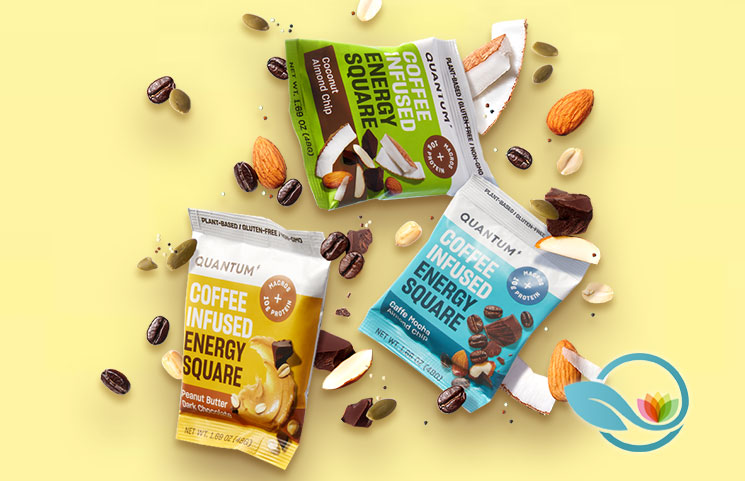 - ad -

Quantum was founded on being able to accomplish anything if the right source of fuel has been provided to one's body. That is, the combination of natural energy and balanced macros are the epitome of success. This led Quantum to launch coffee-infused energy bars, which are believed to offer long-lasting effects.
With this being said, a 3-Bar Trial Pack is currently being offered, where consumers will be offered a month's worth of supply for free (excluding shipping). This is being done in attempt to bring awareness on natural means of energy that neither leave consumers feeling jitters nor run out quickly.
The following will look closely at the 3-Bar Trial in terms of the actual bars consumers will be provided, what to expect of them, and the options presented upon the end of the trial.

What are the three Quantum bars currently Being offered?
Quantum has come up with three tasteful and classic flavors for their coffee-infused energy bars (or squares), which include Peanut Butter Dark Chocolate, Café Mocha Almond Chip and Coconut Almond Chip.
A common feature between all three bars is organic green coffee beans. Green coffee beans are unroasted coffee beans. The reason why they are referred to as "green" is merely due to their natural color. The overall roasting process results in the brown color that we are all accustomed to.
Green coffee beans contain similar properties to that of coffee, such as antioxidants. However, one difference is that when roasted, coffee beans lose a key component called chlorogenic acid, which is highly associated with polyphenols, a type of micronutrient.
Given green coffee beans' rich source of polyphenols, it does not come of surprise that it has been included in the Quantum Squares, as it not only induces the body to produce its own energy source, but it also contributes towards suppressing appetite, weight loss and cardiovascular health, while bettering the digestive system.
Here's a breakdown of Quantum Squares' nutritional aspects along with their ingredients list:
Peanut Butter Dark Chocolate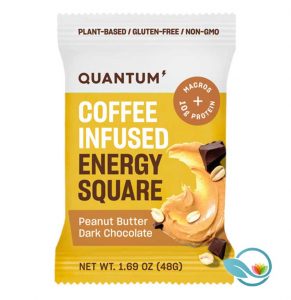 Each Peanut Butter Dark Chocolate contains 220 calories. There are 12 grams of fat, 19 grams of carbohydrates, 4 grams of dietary fiber, 11 grams of sugar and 10 grams of protein. The fat content may seem concerning, but these are healthy fats which come from peanuts, peanut butter and organic quinoa. This bar also contains dark chocolate, dates, chia seeds, monk fruit and pea and pumpkin protein.
Café Mocha Almond Chip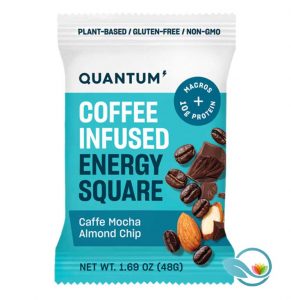 Nutrition-wise, the Café Mocha Almond Chip does not differ so much in comparison to the Peanut Butter Dark Chocolate. In fact, the differences rest in the actual ingredients, which include roasted almonds, almond butter, Columbian coffee beans, cocoa and blue agave.
Finally, we have the Coconut Almond Chip, which in comparison to the Café Mocha Almond Chip differs by the presence of coconut and the elimination of certain ingredients.
More About The 3-Bar Trial
The 3-Bar Trial is a free trial in which consumers will receive 10 different bars in two weeks' time. Since Quantum is designed in a subscription manner, consumers can get a box every month, with an additional 20 percent off each box. Consumers should bear in mind that the subscriptions are auto-renewal, therefore an automatic charge will be made if one's current plan is not cancelled and will be active every month.

Review Summary
Overall, Quantum Squares are designed to provide a sustaining source of energy, while ensuring that consumers are fueling their bodies with an adequate source of nutrients. Though drinking coffee might do the trick for some, the fact that the coffee beans are typically roasted implies that most of its nutrients might be lost, which defeats the purpose of establishing a healthy relationship with the body.
With the Quantum Squares, consumers are feeding the body with about one cup of coffee per square, healthy fats, protein and a sufficient source of carbohydrates that achieve satisfaction. Given the fact that Quantum is subscription-based, consumers can cancel and rejoin as they wish, hence there's no fear of being stuck in a loop.