Men And Women's Top 10 Superfoods To Eat For A Healthier Body In 2019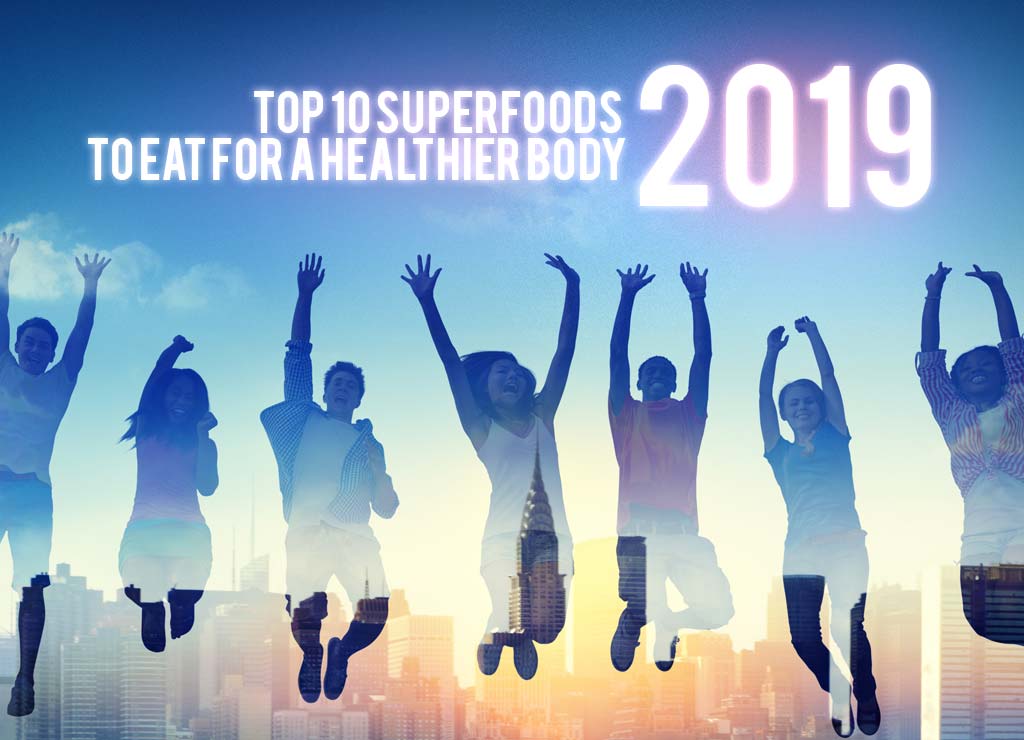 - ad -

If you are looking for the natural way to improve your health, then pay more attention to your diet. Health experts have shown that the food you eat on a daily basis will determine your wellbeing. In other words, you can maintain optimal health by regular consumption of superfoods.
Superfoods are highly delicious and contain vital nutrients that can help reduce your risk of developing unwanted sickness. You can incorporate superfoods into your diet plan to boost longevity. The good part is that most of these foods are packed with cancer-fighting compounds, which inhibit and limit the damage caused by cancer cells.
Top Superfoods To Eat For A Healthy Body
These superfoods provide several health benefits that keep you sound, both mentally and physically. If you are ready to improve your wellness then here are ten superfoods to add to your daily meals.
Apples
Apples are sweet fruits you can eat to receive outstanding health benefits. The polyphenols in apples are known to counteract the damaging effects of unwanted compounds in the body. The fresh apples are rich in catechins and procyanidins. These potent antioxidants can prevent a sudden heart attack. A 2004 study by the National Institute of Health has confirmed that phytochemicals in apples can prevent the risk of several health conditions.
The antioxidant properties of apples are known to reduce the levels of bad cholesterol, which can cause the blockage of blood vessels. You can eat one fresh apple per day over a period of one month so as to lower the high levels of triglyceride in your blood. High triglycerides are associated with a wide range of illness.
Apples are also an excellent source of soluble fiber, which can improve the health of your digestive tract. The soluble fiber in apples helps regulate the rate at which foods moves out of the stomach and through the gastrointestinal tract. The phloretin in apple helps improve health by regulating the levels of blood sugar.
Raspberries
These edible fruits can boost your health and weight. A 2005 report by the National Institute of Health has confirmed that naturally occurring compounds in raspberries can prevent the risk of obesity. The vital nutrients found in raspberries include fiber, vitamin C, fiber, manganese, biotin and much more.
Vitamin C is crucial molecules that help regulate chemical reactions and prevent free radicals from causing damage to your body. Researchers have shown that vitamin C enhances the production of collagen, an important protein that benefits your skin and bones.
Manganese is a dietary mineral that the body needs in bone production. Foods rich in manganese can lower the high blood sugar levels and prevent the risk of diabetes. Raspberries contain anthocyanins, which helps shield the body against the damaging effects of oxidative stress. The anthocyanins control the overactivity of enzymes that cause excessive inflammation in the body.
Shrimp
Shrimp is a nutritious shellfish you can add to your diet plan for improved health. Shrimp is high in the organic compound selenoproteins, which has been shown to reduce the risk of cancers. A 2008 study in the Journal of Biological Chemistry has confirmed that selenium plays a role in the prevention of cancer.
The high concentration of selenium in shrimp helps in the body's detoxification process. Selenium can attach to the unwanted toxic substances in the body and makes them water-soluble for easy elimination.
Shrimp contain astaxanthin, a unique carotenoid that improves the nervous system. Food experts have shown that astaxanthin in shrimp can also reduce the risk of diabetes and boost the health of the musculoskeletal system. Shrimp is an excellent source of copper, an antioxidant mineral that reduces oxidative stress and prevents damages to the body cells.
Shrimp has a high protein content, which has been shown to increase your feeling of satiety and help you burn more calories per day. It's one of the best foods you can consume to maintain a healthy weight.
Brown Rice
Brown rice is the best rice you can eat because its essential nutrients are not removed during processing. Brown rice provides the body with many health benefits, unlike the white rice that lost its nutritional value during further mining.
The high concentration of manganese in brown rice enhances energy production. Manganese can also protect the skin against damaging effects from ultraviolet light. Brown rice is rich in dietary fiber, which has been shown to reduce excess body weight and prevent the risk of obesity.
Selenium, a potent mineral that prevents the development of colon cancer is present in brown rice. Selenium also plays a significant role in immune function and DNA repair. Brown rice can stimulate antioxidant enzymes that help eliminate harmful molecules which cause liver problems.
Soybeans
You can maintain a healthy body by substituting your meat intake with soybeans. Regular consumption of soybeans will increase your intake of important nutrients that benefit the body. Soybeans, when consumed in their whole natural form, can provide a moderate support for the cardiovascular system.
Soyasaponins are the powerful phytonutrients found in soybeans which decrease the risk of lipid peroxidation in the bloodstream. Excessive lipid peroxidation can result in atherosclerosis, heart attack and stroke.
The phytosterols in soybeans can increase the levels of good cholesterol which improve heart health. Researchers have shown that an isoflavone phytonutrient found in soybeans can prevent the risk of various cancers. The isoflavone stimulates the production of hormones that suppress the activities of cancer cells.
Cabbage
Cabbage is a great cruciferous vegetable you can include in your meal plan for longevity. Cabbage is rich in phenols, which can protect your body cells from the risk of infections. Scientists have shown that phenols can help limit damages that are caused by free radicals. The phenols in cabbage can improve the body's defenses and delay the aging process.
Cabbage contains significant amounts of anthocyanins, which lower the danger of chronic inflammation. The flavonoids found in cabbage can also help the body reduce the risk of unwanted inflammation.
The natural occurring glucosinolates in cabbage have been indicated to prevent the risk of various forms of cancer. The glucosinolates can also improve your stomach health and help heal peptic ulcers.
Broccoli
Broccoli is loaded with health-promoting nutrients such as omega-3 fats, vitamin K, vitamin C, folate, fiber and much more. Broccoli contains large amounts of isothiocyanates, anti-inflammatory compounds that protect the body from the risk of cancer and other chronic health conditions. The isothiocyanates can reduce the levels of unwanted toxins which are released into the body.
The minimal amounts of omega-3 fats in broccoli can help lower the risk of stroke and sudden heart attack. Scientists have shown that consumption of omega-3 fats can lead to the improved heart. The kaempferol, a useful flavonol in broccoli can reduce the damaging effects of allergies.
Broccoli is packed with several carotenoids, which regulate the levels of blood sugar. Regular consumption of one or two cups of broccoli per day can greatly benefit diabetes patients.
Spinach
Spinach is a green leafy vegetable you can eat to receive nutritional benefits. The high concentration of essential nutrients in spinach includes vitamin K, vitamin A, manganese, folate, magnesium and iron. The flavonoids in spinach have been shown to help prevent coronary disease and improve heart function.
The flavonoids have antioxidant properties that eliminate cancer-causing molecules from the body. The omega-3 fatty acids found in spinach can regulate the levels of cholesterol in your bloodstream. Omega-3 fats are good fats that can keep your body healthy.
Ever heard of consuming fresh spinach to manage diabetes? Spinach contains powerful carotenoids that help remove excess glucose from the blood and prevent serious symptoms of type 2 diabetes.
Almonds
Almonds are rich in healthy fats, which can help reduce the levels of LDL-cholesterol and prevent the development of heart disease. You can replace your saturated fats intake with almonds to keep your heart healthy.
The magnesium content in almonds can promote the movement of oxygen and blood throughout the body. Almonds have sufficient potassium that can also improve your heart health and reduce the risk of high blood pressure.
Barley
Barley is a nutrient-rich cereal grain you can enjoy to improve your wellbeing. Barley is packed with dietary fiber, which can promote your intestinal health. The high dietary fiber in barley can help reduce the time fecal matter stays in the intestine thereby improving colon health.
Barley contains beta-glucan, which has been shown to reduce the cholesterol levels. The high levels of cholesterol in the bloodstream can lead to cardiovascular disease. Barley is also a good diet you can consume to get rid of excess fats. Even people who are diabetic can add barley to their meal plan to prevent a rise in blood sugar levels.
Regular consumption of these superfoods will surely make a huge difference in your health.