Lumineux Oral Essentials: Medically-Developed Teeth Whitening Kit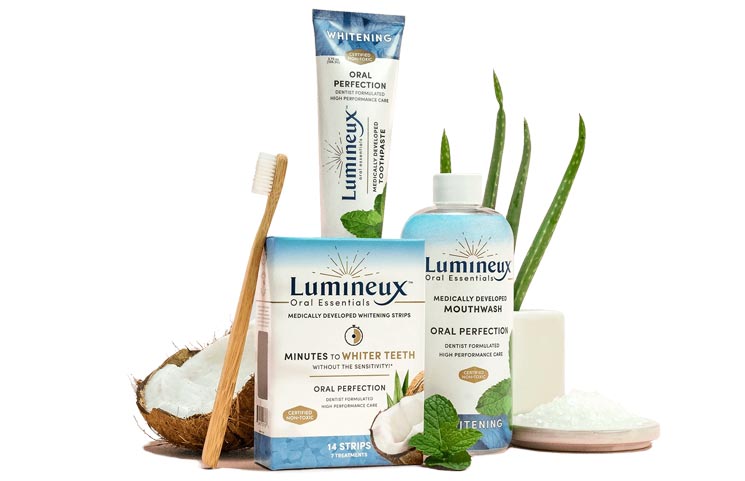 - ad -

Lumineux Oral Essentials is a Los Angeles-based oral hygiene company, backed by 20 years of International Research that offers several kits and products. Each kit targets a different area of oral health. There's a whitening kit, for example, a sensitivity kit, and an oral microbiome kit.
The kits include multiple toothpaste, mouthwash, whitening strips, and more. Lumineux Oral Essentials emphasizes natural ingredients and chemical-free results.
What are the Lumineux Oral Essentials?
Lumineux Oral Essentials is a collection of oral hygiene products, including mouthwash, toothpaste, teeth whitening strips, and more.
The kits are sold online through OralEssentials.com. Each kit claims to target a different area. There's a teeth whitening kit, for example, and an oral sensitivity kit. Each kit is priced at $45 and is exclusively available to order online.
There are many people who, if asked, say that the first thing that they notice about another person is their smile. A tight smile that shows no teeth has been said to be mistrustful, but there are many people who use this type of smile to conceal an attribute that they don't want exposed – yellowed teeth. Realistically, having some staining on the teeth has become fairly normal, as different lifestyle habits (like smoking or drinking wine) can cause it.
Normal teeth brushing normally helps with some of the color, but whitening procedures at the dentist have become rather popular to help eliminate this stain. Still, the procedure is hardly cheap, and it can be difficult to get in for an appointment on short notice. For that reason, social media is filled with at-home whitening kits, and Lumineux Oral Essentials offers plenty of help for consumers that want to take the time to whiten at their own convenience.
Though there are a lot of whitening products on the market, Lumineux Oral Essentials is one of the few brands that focuses on the individuals with sensitive teeth and gums. Individuals with this sensitivity might have a hard time using regular kits, because the chemicals can be so intense that the companies themselves instruct users to be explicitly careful where their whitening gel touches. With Lumineux, users with sensitive teeth and gums can whiten without pain for their best first impression.
Lumineux Oral Essentials is based in Los Angeles, California. The company was founded by an award-winning cosmetic dentist with 30+ years of experience working in Beverly Hills.
How Can Lumineux Oral Essentials Eliminate Sensitivity?
The key to the success of the Lumineux Oral Essentials products is the naturally-derived ingredients. In each of these formulas, consumers will find one, two, or all of the following ingredients:
Dead sea salt, which delivers calcium, potassium, magnesium, and other much-needed minerals to the teeth and gums
Aloe vera, which is rich in antioxidants and helps to hydrate the mouth
Essential oils, which include mint, clove, and basil to fight bad breath and improve enamel
Xylitol, which is a sugar substitute that can reduce tooth decay and improve the taste of the products
Lumineux Oral Essentials claims that all ingredients have been tested by university labs across the country. Test results have shown these ingredients are safe and effective for taking care of teeth. You can view some of the science here.
Lumineux Oral Essentials Kits & Products
Since not every person has the same oral health needs, Lumineux Oral Essentials has developed several kits to meet the needs of their customers. Priced at $45 each, those kits include:
The Whitening Kit
The Oral Microbiome Kit
The Sensitivity Kit
The Hydrating Kit
The Whitening Kit:
Is the basic set offered, eliminating up to several years' worth of staining. Users get a one-month supply. The kit promises to offer whiter teeth within a single week, even without the chemicals, and users receive a package of 7 whitening strips, a tube of whitening toothpaste, a bottle of whitening mouthwash, and a bamboo toothbrush in every kit.
The Oral Microbiome Kit:
Offers all of the benefits that consumers get from the whitening kit but adds something extra – balance of the microbiome in the mouth. The mouth typically contains about 2% harmful bacteria and 98% healthy bacteria. However, the goal of this kit is to neutralize the unhealthy bacteria, which is often the cause of bad breath, while creating a whiter smile. Users get a two-month supply when they order, including two Clean & Fresh Toothpastes, two bottles of the Clean & Fresh Wash, and a bamboo toothbrush.
The Sensitivity Kit:
Isn't just about whitening the teeth. Instead, the PROGUARD patent-pending technology helps to reduce tooth sensitivity with the use of botanicals and minerals, while offering a minty flavor. The two-month supply includes two tubes of Sensitivity Toothpaste, two bottles of Sensitivity Mouthwash, and a bamboo toothbrush.
The Hydrating Kit:
Much like the Oral Microbiome Kit, this package is all about improving the health of the mouth. However, instead of attacking toxic bacteria, it helps to create the adequate amount of saliva to reduce thirst and reduce the risk of cavities. The Hydrating Kit helps to fight the symptoms of Dry Mouth with a two-month supply of Clean & Fresh Toothpaste and Hydrating Mouthwash, adding a bamboo toothbrush like the other kits available.
All of the kits are available as subscriptions, which saves 15% off every purchase and includes free shipping.
About Lumineux Oral Essentials
Lumineux Oral Essentials is a Los Angeles, California-based oral hygiene company.
The company is led by founder Dr. Kourosh Maddahi, an award-winning dentist with 30+ years of experience practicing cosmetic dentistry in Beverly Hills.
You can contact Lumineux Oral Essentials via the following:
Email: [email protected]
Phone: 1-888-773-5273
Mailing Address: 1258 W 2nd Street, Los Angeles CA 90026
Lumineux Oral Essentials Final Word
Lumineux Oral Essentials is an oral hygiene company offering a range of kits. Each kit targets a different aspect of oral health. There's a teeth whitening kit, a sensitivity kit, and a hydration kit, for example.
Lumineux Oral Essentials focuses all of their energy on creating products that are good for oral health, without sacrificing efficacy. In fact, their formulas claim to be so healthy and safe that they don't even have a "do not swallow" label on any of them.
All company products are bleach-free and painless to use. Founded by award-winning dentist Dr. Kourosh Maddahi, consumers can feel confident that they can get a white smile without pain. You can find Lumineux Oral Esentials on Amazon.