DERMA Revitalized: Safe Anti-Aging Wrinkle Cream?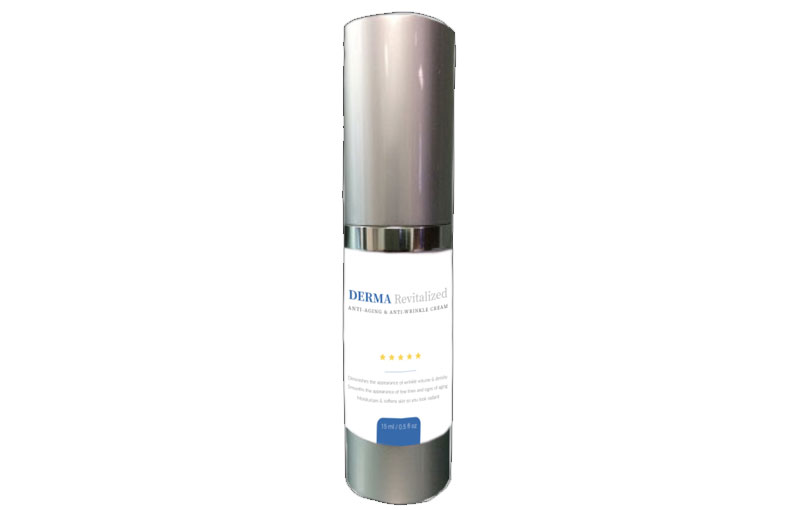 - ad -

As we age consumers see the inevitable signs of aging, and begin the process of searching for skincare products to lessen wrinkle depths and fine lines. Have you tried almost everything only to see no positive changes? Aging skin is related to a number of factors including environmental stressors, bodily deficiencies, alcohol consumption, one's skincare regimen, and diet among others. While most can be controlled, the two that stand out include the body's inability to produce certain hormones and environmental stressors. Fortunately, there are alternatives that target these two issues and ultimately promote better skin health. This is where it is most fit to introduce DERMA Revitalized.
What is DERMA Revitalized?
Proclaimed as an anti-aging and anti-wrinkle cream, DERMA Revitalized is allegedly designed to reduce the appearance and volume of wrinkles and fine lines. Over the course of time, one can anticipate hydrated, radiant and soft skin.
What main ingredients went into making DERMA Revitalized?
Some of the main ingredients found in DERMA Revitalized are as follows:
Palmitoyl Hexapeptide-12
Palmitoyl hexapeptide-12, also referred to as palmitoyl oligopeptide, functions as an antioxidant. It is composed of three amino acids which have been attached to palmitic acid. Besides functioning as an antioxidant, it has the ability to induce collagen production (i.e. skin protein). This is important because collagen is responsible for skin strength, hydration levels and elasticity. When we age, this production is diminished, forcing wrinkles and fine lines to appear. That's why something like palmitoyl oligopeptide is needed.
Hyaluronic Acid
Hyaluronic acid contributes to the skin's moisture level. Another problem that arises as we age is the skin's inability to retain the water it needs, which is the reason why one is likely to witness increased dryness. With this ingredient, the visibility of fine lines and new lines might be reduced as well as the overall dryness of one's wrinkles.
Olive Oil
One of the main reasons why olive oil is typically used in skincare products is because of its source of fatty acids. This is expected to protect one's skin from premature aging, photo-aging and sun damage. Other added benefits include increased antioxidants and a longer lasting, hydrating squalene.
Vitamin E Acetate
Also referred to as tocopheryl acetate, vitamin E is a type of antioxidant that protects consumers from free radical damage. Free radicals work by stealing electrons from other molecules in the body. This forces the skin's DNA to alter drastically and as a result, introduces one to the likes of eye puffiness, and dry and wrinkly skin among other unwanted symptoms.
How should DERMA Revitalized be used?
For optimal results, consumers should apply a pearl-sized amount to their cleansed face and be evenly applied with gentle massaging as this ensures that the skin fully absorbs the embedded contents, while activating one's facial muscles and circulation. Other possible benefits include reduced puffiness, a brighter skin tone and appearance and a natural lift.
Frequently Asked Questions (FAQs)
What is the full ingredients list?
As per the DERMA Revitalized label, the full ingredients include:
Purified Water, Cetyl Alcohol, Glyceryl Stearate, PEG-75 Stearate, Ceteth-20, Steareth-20, Hydrolyzed Rice Bran Protein, Glycine Soja Protein, Oxido Reductases, Safflower Oil, C12-15 Alkyl Benzoate (and) Tribehenin (and) Ceramide NG (and) PEG-10 Phytosterol (and) Palmitoyl Hexapeptide-12, PEG 10 Rapeseed Sterol, Palmitoyl Oligopeptide, Olive Oil, Glycereth-26, Glycerin USP, N-Hydroxysuccinimide, Chrysin, Palmitoyl Tetrapeptide-7, Vitamin E Acetate, Dimethylaminoethanol, Retinyl Palmitate, Alpha Arbutin, Hyaluronic Acid, Phenoxyethanol, Caprylyl Glycol, Potassium Sorbate, Ceramides IIIB.
Who do I contact in the event of an order issue or lack of product clarification?
For further questions regarding the DERMA Revitalized agreement or product clarification, the best way to contact customer service would be to email them at [email protected].
Is there a return policy?
As per the claims made, returns are accepted for mostly new and unopened items. Consumers have within 60 days of delivery for a full refund, where they must include the order number, full name, email address and phone number. That said, additional costs such as shipping, and handling fees are non-refundable. One can anticipate getting their full refund within three to four business days.
For those who wish to return their respective DERMA Revitalized cream, here's the address:
DermaRevitalized.com
37 Inverness Dr E #100
Englewood, CO 80112
How long will it take to receive my DERMA Revitalized?
Given that each order will be rush shipped from their Colorado warehouse, consumers should give it at least one to two business days to receive the DERMA Revitalized. However, this may vary depending on the quantity purchased along with the address of shipment. So, if it doesn't arrive in one or two business days, then it will take a maximum of 10 business days.
How much does DERMA Revitalized cost?
The exact price of DERMA Revitalized has not been readily available. However, this cream is currently being offered as a trial. Usually, with trial offerings, consumers get 14 days to evaluate the product and assess factors including tolerance, possible side effects, etc. Should the product not meet one's expectations, then it should be returned, otherwise their automatic enrollment to the subscription plan remains active.
Final Thoughts
Aging skin is a result of the body's inability to keep up certain productions as well as environmental stressors like free radicals among others. In such cases a cream like DERMA Revitalized can possibly do the trick, especially with the selected ingredients that appear to promote youthful-looking skin.
One thing that seems to be a concern is their lack of information regarding price. Once the trial period is over, one will have to choose between continuing or cancelling their membership. If one continues, then a month's worth of supply will be delivered with a charge made to one's credit card. Ultimately, consumers should contact customer service to clarify all their doubts prior to either making a one-time purchase or enrolling in their 14-day trial.
For more information regarding DERMA Revitalized, click here.