Top 10 Try-To-Do Tips For Achieving Your 2019 New Year's Weight Loss Resolution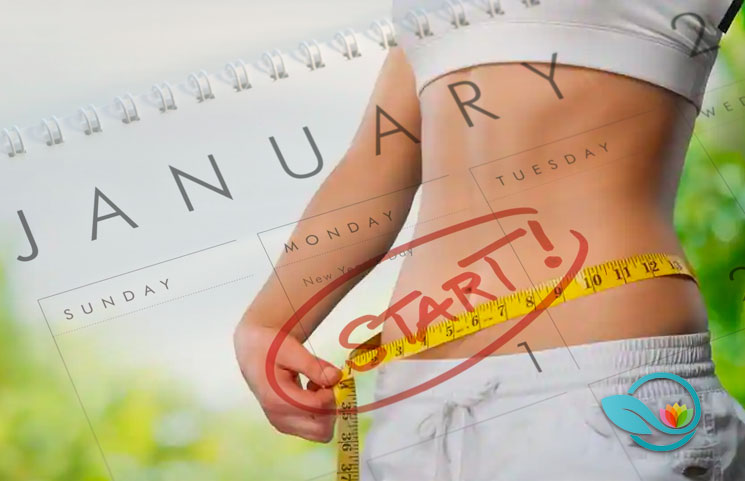 - ad -

What's your New Year's resolution for 2019? If it's losing weight, you aren't alone. Each year, millions of people set a personal goal of losing weight. According to Statista, this is the second most common New Year's resolution, surpassed only by saving money. Unfortunately, statistics show that roughly 90 percent of people fail to keep their New Year's resolution.
2019 New Year's Weight Loss Resolution Tips Conclusion
Whether you want to drop 10 pounds or 100 pounds in 2019 though, following these tips can help you achieve your New Year's weight loss resolution.
Set Realistic Goals
The first step to achieving your New Year's weight loss resolution is to set realistic goals. Rather than trying to lose 20 pounds per month, for example, perhaps you can aim for just 3 to 7 pounds per month. Setting overly optimistic goals will only demotivate you to lose weight. When you fail to lose 20 pounds one month (or otherwise fail to meet your goal) you may feel discouraged and stop trying to lose weight. The Centers for Disease Control and Prevention (CDC) even says overweight and obese adults are more likely to lose weight if they do it slowly and gradually, so create realistic goals for your New Year's weight loss resolution.
Don't Drink Your Calories
You'll have a hard time losing weight if you drink high-calorie beverages on a regular basis. Soda contains about 100 to 150 calories, whereas beer contains about 130 to 160 calories per serving. Even orange juice and other fruit juices can pack up to 150 calories per serving. If you drink high-calorie beverages such as these throughout the year, you'll fail to achieve your weight loss resolution. Stick with zero- or low-calorie beverages like water, unsweetened tea or unsweetened coffee to increase your chances of success.
Acknowledge The Benefits
Understanding and acknowledging the benefits of losing weight will motivate you to follow through with your New Year's resolution. Some people want to lose weight to improve their appearance. And while losing weight can certainly improve your appearance, there are other, more important reasons to achieve a healthy weight. Research has shown, for example, that being overweight increases the risk of heart disease, stroke, type 2 diabetes, cancer, arthritis and even depression. Furthermore, losing weight can help you save money by lowering your medical costs. According to the CDC, Americans spend nearly $147 billion per year on obesity-related healthcare. By acknowledging these benefits, you should feel more motivated to slim down this year.
Perform Aerobics And Resistance-Training Exercises
Exercising is a key component of any successful weight loss regimen. Rather than focusing on a single, specific type of exercise, you should perform both aerobics and resistance-training exercises. Aerobics exercises include running, swimming and cycling, whereas resistance-training exercises include push-ups, pull-ups, planks and lifting weights. Both types will burn body fat and build muscle mass. However, aerobics exercises burn more body fat, while resistance-training exercises build more muscle mass. When combined, these two types of exercises work synergistically to help you achieve your New Year's weight loss resolution. As you develop more muscle mass, your body will burn more calories throughout the day for energy.
Don't Skip Meals
Skipping breakfast, lunch or dinner may sound like an effective way to cut calories and lose weight, but it doesn't work. A study published in the journal Metabolism found that people who skipped meals were more likely to overeat than people who consumed three full meals per day. To make matters worse, researchers found that meal skippers were more likely to experience metabolic disorders insulin resistance. When you skip a meal, it restricts your body of nutrients it needs to effectively function. This can lead to changes in your appetite and hormone levels that cause you to gain weight rather than lose it.
Bring Snacks And Meals To Work
Avoid the temptation of picking up fast food during your lunch break, and instead, try bringing your own snacks and meals to work. According to the CDC, the average adult consumes 1,300 calories per week at work. Most workplaces don't offer healthy eating options for their workers. Some have vending machines, but they are usually filled with heavily processed snacks. You can lose weight and save money in the process by bringing your own snacks and meals to work. Just remember to label your food if you intend to store in the communal break room. Otherwise, a coworker may scoop it up.
Avoid Salty Foods
Salt doesn't contain calories, but it still contributes to weight gain when consumed in excess. Research has shown that people who consume lots of salty foods in their diet are more likely experience digestive problems. When consumed in excess, salt provides food for bad bacteria in the digestive system. The bad bacteria in your digestive system thrive by feasting on salt. Not only does this increase the risk of bloating, abdominal pain and indigestion; it also promotes weight gain. Excess salt consumption even increases the amount of water that's stored in your body. As your body retains more water, you'll weigh more as a result. To keep your New Year's weight loss resolution on track, consume no more than 2,300 mg of sodium, about one teaspoon per day.
Track Calorie Consumption
Keeping track of how many calories you consume per day is an important step to achieving your New Year's weight loss resolution. Even with all the fad diets and gimmicky weight loss products, there's no substitution for cutting calories. For every pound you want to lose, you'll need to eliminate about 3,500 calories. Exercising is one way to eliminate calories, but another way is to reduce the amount of calories you consume. Of course, this requires knowledge of how many calories you consume throughout the day. Thankfully, there are smartphone apps that can help you track calorie consumption. Available for Android and iOS devices, MyFitnessPal is one such app that provides nutrition facts, including calories, on more than 2 million foods and beverages.
Announce Weight Loss Resolution To Friends And Family
Once you've decided to lose weight in 2019, announce this New Year's resolution to your friends and family. You can either do this in person, or you can make an announcement on social media. Announcing your weight loss resolution to friends and family essentially commits yourself to achieving it. Because of your friends' and family members' opinions, you'll feel more driven to follow through with your resolution. Furthermore, they'll likely offer advice, suggestions and words of encouragement to assist you throughout your weight loss journey.
Reward Yourself
Staying motivated is one of the biggest challenges people face when trying to lose weight. If you aren't motivated, you'll fall back into your old habits of eating unhealthy foods and lounging in front of the TV for hours. To stay motivated, consider rewarding yourself for staying with your weight loss resolution. Whether it's a day at the spa, a new outfit, new exercise equipment or even a weekend vacation, rewards are a source of self-motivation that will fuel your weight loss efforts.
2019 New Year's Weight Loss Resolution Tips Conclusion
There's no better time than the beginning of a new year to lose weight. It offers a fresh start, allowing you to start clean with your dieting and exercising strategy. And by following these 10 tips, you'll have an easier time achieving your 2019 New Year's weight loss resolution.